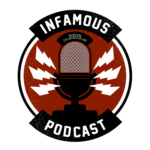 My Favorite Jacket is the One I Wore When Moon Knight Ended…
This Week on the podcast, Brian and Darryl talk about the further adventures of Ezra Miller. Review Moon Knight Episode 3. Then, give some predictions for DC Comics moving forward.
Episode Index
Intro: 0:11
Ezra Miller: 2:48
Moon Knight: 7:30
DC Comics: 24:05
News Bite
Hawaii Couple Dismisses Restraining Order Against Ezra Miller 2 Weeks After Filing https://people.com/movies/hawaii-couple-drops-restraining-order-against-ezra-miller/
Moon Knight (Season 1 Episode 3)
Out of 5 Spears to the Chest
Darryl: 2/5
Brian: 1/5
Title: "The Friendly Type"
Directed by: Mohamed Diab
Written by: Beau DeMayo and Peter Cameron & Sabir Pirzada
Release Date: April 13, 2022
Summary
Harrow and his followers discover the location of Ammit's tomb. In Cairo, Spector and Grant both experience several unusual blackouts while tracking down a lead to Harrow's location. After they fail to obtain information from Harrow's followers, Khonshu causes a solar eclipse to call for a council of the Egyptian gods and their avatars, who summon Spector to a chamber inside the Great Pyramid of Giza. Khonshu and Spector attempt to inform the gods of Harrow's plan to free Ammit, but the latter successfully denies the accusation when summoned. The avatar of the Egyptian goddess Hathor, Yatzil, tells Spector to find the sarcophagus of a medjay who knew of the location of Ammit's tomb. Spector later encounters Layla, who takes him to meet with Anton Mogart, an acquaintance of Layla who owns the medjay's sarcophagus. However, the meeting goes awry when Harrow arrives and destroys the sarcophagus, forcing Spector, Grant, and Layla to fight off Mogart's men and escape into the desert. Grant is able to assemble a set of fragments from the sarcophagus into an ancient star map, but the map is two thousand years out of date. Khonshu uses his powers to briefly turn back the night sky to resemble the map, allowing Grant and Layla to find the location of Ammit's tomb. However, Khonshu is then imprisoned by the other gods, leaving Grant's and Spector's body unconscious and powerless which pleases Harrow.
DC Comics
Warner Bros. Discovery Exploring Overhaul of DC Entertainment (EXCLUSIVE) https://variety.com/2022/film/news/dc-warner-bros-discovery-zaslav-hbo-max-1235232185/
Infamous Shirts for Naked Bodies

…

You'll feel "shirty" when you buy our gear from the Flying Pork Apparel Co.
Contact Us
The Infamous Podcast can be found wherever podcasts are found on the Interwebs, feel free to subscribe and follow along on social media. And don't be shy about helping out the show with a 5-star review on Apple Podcasts to help us move up in the ratings.
@infamouspodcast
facebook/infamouspodcast
instagram/infamouspodcast
stitcher
Apple Podcasts
Spotify
Google Play
iHeart Radio
contact@infamouspodcast.com
Our theme music is 'Skate Beat' provided by Michael Henry, with additional music provided by Michael Henry. Find more at MeetMichaelHenry.com.
The Infamous Podcast is hosted by Brian Tudor and Darryl Jasper, is recorded in Cincinnati, Ohio. The show is produced and edited by Brian Tudor.



Subscribe today!