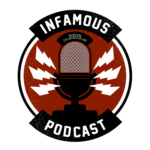 Is it the MCU or the M-She-U?
This week on the podcast, Brian and Darryl are STILL talking about Ezra Miller (he got arrested AGAIN!). Then Moon Knight Episode 4 dropped so they have thoughts. Finally, the give their thoughts on the MCU and where it's heading after seeing the Thor: Love and Thunder teaser.
Episode Index
Intro: 0:07
Ezra Miller: 5:45
Thor: 16:19
Doctor Strange: 25:40
Moon Knight: 33:08
MCU: 42:36
News Bites
Ezra Miller (again…we know!) https://ew.com/celebrity/ezra-miller-arrested-in-hawaii-again/
Warner Bros. Reportedly Not Worried About Ezra Miller Controversies https://www.out.com/celebs/2022/4/21/warner-bros-reportedly-not-worried-about-ezra-miller-controversies
Thor: Love and Thunder Teaser https://www.youtube.com/watch?v=tgB1wUcmbbw
Doctor Strange: The Multiverse of Madness https://www.youtube.com/watch?v=vfP-rsKVNKs
Moon Knight (Season 1 Episode 4)
Out of 5 Lesser Alternative Personalities
Darryl: 2.75/5
Brian: 2.51/5
Title: "The Tomb"
Directed by: Justin Benson & Aaron Moorhead
Written by: Alex Meenehan and Peter Cameron & Sabir Pirzada
Release Date: April 20, 2022
Summary
Grant and Layla find a deserted campsite at the location of Ammit's tomb, which is a maze in the shape of the Eye of Horus. They discover that some of Harrow's men have been killed by undead Egyptian priests, who attack them. Layla defeats the priests but encounters Harrow, who claims that Spector was one of the mercenaries who murdered her archaeologist father, Abdallah El-Faouly. Grant and Spector find the tomb and discover that Ammit's last avatar was Alexander the Great; they retrieve Ammit's ushabti from inside Alexander's body. Layla angrily confronts Spector who reveals that his partner killed Layla's father and Spector himself before Khonshu revived Spector as his avatar. Harrow arrives and shoots Spector, who wakes up in a psychiatric hospital populated by people from his life. After escaping from Harrow, who appears as a therapist at the hospital, Spector finds Grant in a separate body trapped in a sarcophagus. They also see a second sarcophagus with someone else trapped inside before being greeted by Taweret.
Infamous Shirts for Naked Bodies

…

You'll feel "shirty" when you buy our gear from the Flying Pork Apparel Co.
Contact Us
The Infamous Podcast can be found wherever podcasts are found on the Interwebs, feel free to subscribe and follow along on social media. And don't be shy about helping out the show with a 5-star review on Apple Podcasts to help us move up in the ratings.
@infamouspodcast
facebook/infamouspodcast
instagram/infamouspodcast
stitcher
Apple Podcasts
Spotify
Google Play
iHeart Radio
contact@infamouspodcast.com
Our theme music is 'Skate Beat' provided by Michael Henry, with additional music provided by Michael Henry. Find more at MeetMichaelHenry.com.
The Infamous Podcast is hosted by Brian Tudor and Darryl Jasper, is recorded in Cincinnati, Ohio. The show is produced and edited by Brian Tudor.



Subscribe today!