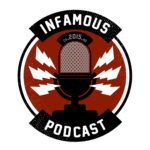 When you Do Weird Ish you Jump Bodies
This week on the podcast, Brian and Darryl talk about stuff. Kidding! They talk about Everything Everywhere All At Once, The Boys and More!
Episode Index
Intro: 0:07
Top Gun Box Office: 5:40
Ezra Miller: 12:14
Vinnie Mac: 19:47
Colbert Sparks Insurrection: 26:11
The Boys: 39:11
Everything Everywhere All at Once: 1:03:24
News Bites
Top Gun Maverick Box Office Watch: https://www.boxofficemojo.com/release/rl2500036097/?ref_=bo_hm_rd
Warner Bros. is under pressure to address 'The Flash' star Ezra Miller's spiraling legal scandals: https://www.cnbc.com/2022/06/17/ezra-miller-scandals-put-pressure-on-warner-bros-to-address-grooming-claims.html
Vince McMahon steps down as WWE CEO amid misconduct allegations, makes appearance at SmackDown: https://sports.yahoo.com/vince-mcmahon-voluntarily-steps-down-as-ceo-of-wwe-following-misconduct-allegations-121417866.html
'Late Show' Staffers Arrested for Unlawful Entry at U.S. Capitol After Taping Triumph the Insult Comic Dog Skit: https://www.hollywoodreporter.com/tv/tv-news/late-show-with-stephen-colbert-arrest-us-capitol-triumph-1235168123/
The Wrap Article: https://www.thewrap.com/tucker-carlson-calls-stephen-colbert-crews-u-s-capitol-arrest-another-insurrection-recommends-solitary-confinement-video/
The Boys Season 3 (Episode 4 & 5)
Out of 10 24 Hour Superpowers
Darryl: 7.5/10
Brain: 7/10
Title: "Glorious Five Year Plan"
Directed by: Julian Holmes
Written by: Meredith Glynn
Release Date: June 10, 2022
Summary
Butcher meets Little Nina and negotiates the Boys' travel to Russia in exchange for assassinating one of Nina's targets. Upon learning of the V24, Hughie asks Butcher to let him use it; Butcher refuses, but Hughie secretly takes a dose and uses it to kill one of the Russian soldiers guarding a secret laboratory. Inside, Butcher discovers a still-living Soldier Boy, who releases an energy blast that renders Kimiko powerless and wounded before escaping. During a press conference regarding Homelander's behavior, Neuman betrays Edgar by accusing him of corruption. In return, Homelander provides Neuman a sample of Compound V which she injects into her daughter Zoe. Annie recruits Maeve and Alex to help her face Homelander. Alex later attempts to recruit A-Train after witnessing him being mistreated by Homelander and the Deep. However, Homelander confronts Annie with Alex's corpse, having killed him after learning of the planned coup from A-Train, and threatens to kill Hughie unless Annie complies with his demands.
Title: "The Last Time to Look on This World of Lies"
Directed by: Nelson Craag
Written by: Ellie Monahan
Release Date: June 17, 2022
Summary
Frenchie admits an injured Kimiko to a hospital, where she is overjoyed to learn she lost her powers. She and Frenchie bond and share a kiss, but Nina confronts him afterward with another assassination job. Hughie reveals his use of V24 to Annie. Maeve gives Butcher another batch of V24 before drinking and having sex with him. Homelander and Noir later find out about this and capture her. Following Edgar's departure, Ashley is promoted to CEO of Vought. A-Train demands Blue Hawk, a Supe who has been racially profiling African-Americans in Trenton, New Jersey, to issue a public apology, but Blue Hawk incites a violent confrontation that injures several bystanders, including A-Train's brother Nathan. Upon his return to America, Soldier Boy inadvertently causes an explosion, alerting the Boys. MM, Hughie, and Butcher visit the Legend, a former Vought executive, who reveals that Soldier Boy is looking for Countess. The Boys find her first and incapacitate her. When Soldier Boy arrives, Butcher suggests a partnership between them, but the former kills Countess after learning she sold him out to the Russians. Annie, who arrived at MM's request, begs Hughie to not join Butcher and Soldier Boy as they leave, but Hughie reluctantly leaves her.
Everything Everywhere All At Once (2022)
Out of 10 Raccacoonies
Darryl: 8/10
Brian: 8.25/10
Summary
When an interdimensional rupture unravels reality, an unlikely hero must channel her newfound powers to fight bizarre and bewildering dangers from the multiverse as the fate of the world hangs in the balance.
Cast
Michelle Yeoh as Evelyn Quan Wang, a dissatisfied and overwhelmed laundromat owner
Ke Huy Quan as Waymond Wang, Evelyn's meek and goofy husband
Stephanie Hsu as Joy Wang / Jobu Tupaki, Evelyn and Waymond's daughter and a threat to the multiverse
James Hong as Gong Gong (Chinese "maternal grandfather"),] Evelyn's demanding father
Jamie Lee Curtis as Deirdre Beaubeirdre, an IRS inspector
Tallie Medel as Becky Sregor, Joy's girlfriend
Jenny Slate as Debbie the Dog Mom / "Big Nose", a laundromat customer. The character's original name ("Big Nose") is set to be changed for the film's digital release because of its association to Jewish stereotypes.
Harry Shum Jr. as Chad, a teppanyaki chef working alongside Evelyn in an alternate universe
Biff Wiff as Rick, a laundromat customer
Sunita Mani as TV Musical Queen
Aaron Lazar as TV Musical Soldier
Audrey Wasilewski and Peter Banifaz as Alpha RV Officers
Daniel Scheinert as District Manager
Andy Le and Brian Le as Alpha Trophy Jumpers
Directed by
Daniel Kwan
Daniel Scheinert
Written by
Daniel Kwan
Daniel Scheinert
Produced by
Joe Russo
Anthony Russo
Mike Larocca
Daniel Kwan
Daniel Scheinert
Jonathan Wang
Cinematography
Larkin Seiple
Edited by
Paul Rogers
Music by
Son Lux
Production Companies
A24
IAC Films
Gozie AGBO
Year of the Rat
Ley Line Entertainment
Distributed by
A24
Release dates
March 11, 2022 (SXSW)
March 25, 2022 (United States)
Running time
140 minutes
Budget
$25 million
Box office
$85.9 million
Infamous Shirts for Naked Bodies

…

You'll feel "shirty" when you buy our gear from the Flying Pork Apparel Co.
Contact Us
The Infamous Podcast can be found wherever podcasts are found on the Interwebs, feel free to subscribe and follow along on social media. And don't be shy about helping out the show with a 5-star review on Apple Podcasts to help us move up in the ratings.
@infamouspodcast
facebook/infamouspodcast
instagram/infamouspodcast
stitcher
Apple Podcasts
Spotify
Google Play
iHeart Radio
contact@infamouspodcast.com
Our theme music is 'Skate Beat' provided by Michael Henry, with additional music provided by Michael Henry. Find more at MeetMichaelHenry.com.
The Infamous Podcast is hosted by Brian Tudor and Darryl Jasper, is recorded in Cincinnati, Ohio. The show is produced and edited by Brian Tudor.



Subscribe today!