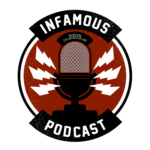 Well, That Was Graphic… But Not As Graphic As We Thought It Would Be.
This week on the podcast, Brian and Darryl are talking about The Boys Season 3 Episode 6, Herogasm, the season 2 penultimate episode of Superman and Lois, and have some News Bites for your earholes.
Episode Index
Intro: 0:07
Top Gun Box Office: 4:21
Ezra Miller: 8:09
GroomerFlix Layoffs: 18:16
The Boys: 27:22
Supes and Lolo: 45:59
News Bites
Top Gun Maverick Box Office Watch: https://www.boxofficemojo.com/release/rl2500036097/?ref_=bo_hm_rd
Guns, Bullets, and Weed: Ezra Miller Housing Three Young Children and Their Mother at Vermont Farm https://www.rollingstone.com/movies/movie-news/ezra-miller-young-children-vermont-farm-1372295/
Netflix Begins Second Round of Layoffs, 300 Positions Cut https://variety.com/2022/tv/news/netflix-layoffs-fired-jobs-lost-1235301553/
The Boys (Season 3 Episode 6)
Out of 5 Wrong Doors at the Wrong Time
Darryl: 4.5/5
Brain: 4.25/5
Title: "Herogasm"
Directed by: Nelson Cragg
Written by: Jessica Chou
Release Date: June 24, 2022
Summary
The Deep and Homelander uncover security footage of Soldier Boy killing Countess, leading Noir to cut out his tracking chip and disappear. Nina kidnaps Kimiko and Cherie and forces Frenchie to choose who to execute, but Kimiko frees herself and brutally kills Nina's henchmen while Nina escapes. Butcher and Hughie agree to help Soldier Boy track down his old Payback teammates – beginning with the TNT Twins – in exchange for his help in killing Homelander. MM and Annie find the Twins first in Vermont, where they are hosting "Herogasm" – an annual Supe orgy. Soldier Boy arrives shortly thereafter with the superpowered Hughie and Butcher. After learning from the Twins that Noir sold him out to the Russians, Soldier Boy accidentally releases another energy blast that destroys the house, killing the twins and most of the guests and servers inside. Soldier Boy, Butcher, and Hughie team up to fight Homelander, who escapes before Soldier Boy can kill him. A-Train collapses from heart failure after using his powers to kill Blue Hawk. Annie films a live video announcing her departure from the Seven, and publicly condemns Vought, Homelander and Soldier Boy.
Superman and Lois (Season 2 Episode 14)
Out of 5 Sad Supermans
Darryl: 4/5
Brian: 4/5
Title: "Worlds War Bizarre"
Directed by: Sheelin Choskey
Written by: Michael Narducci
Release Date: June 21, 2022
Summary
As the worlds begin merging, Earth-Prime's sky turns red and the Inverse World's cube sun appears in its sky. Objects flicker between their Earth-Prime and Inverse World appearances. John flies Clark to the Fortress where Lara tells them that it could take time for Clark's powers to return. Against Sam's wishes, Lois and Chrissy inform Lana about Ally and the worlds' merging. She goes public with the information at a town hall meeting at the high school and says that Superman will not be able to save them. The residents rebuke her claims, but Superman backs them. John locks Natalie's suit and tells her to protect her new family. He fights Ally in the space between worlds, but is defeated and loses contact with Natalie. Lana-Rho breaks Jon-El out and they attack the school, but are defeated by Jordan and Natalie. Sarah sees Jordan using his powers and gets upset with Lana upon realizing that she already knew and didn't tell her. The flickering worsens and affects the Kent house while Kyle vanishes.
Infamous Shirts for Naked Bodies

…

You'll feel "shirty" when you buy our gear from the Flying Pork Apparel Co.
Contact Us
The Infamous Podcast can be found wherever podcasts are found on the Interwebs, feel free to subscribe and follow along on social media. And don't be shy about helping out the show with a 5-star review on Apple Podcasts to help us move up in the ratings.
@infamouspodcast
facebook/infamouspodcast
instagram/infamouspodcast
stitcher
Apple Podcasts
Spotify
Google Play
iHeart Radio
contact@infamouspodcast.com
Our theme music is 'Skate Beat' provided by Michael Henry, with additional music provided by Michael Henry. Find more at MeetMichaelHenry.com.
The Infamous Podcast is hosted by Brian Tudor and Darryl Jasper, is recorded in Cincinnati, Ohio. The show is produced and edited by Brian Tudor.



Subscribe today!