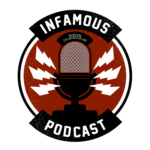 You're on the List… Move 1, Arm Bar
The week on the podcast, Brian and Darryl are keeping it simple with reviews of The Boys Season 3 Finale and a #SpoilerFree review of The Terminal List
Episode Index
Intro: 0:07
The Boys: 5:46
The Terminal List: 36:07
The Boys (Season 3 Episode 8)
Out of 5 One-Eyed Pirate Maeves
Darryl: 4/5
Brain: 4/5
Title: "The Instant White-Hot Wild"
Directed by: Sarah Boyd
Written by: Logan Ritchey & David Reed
Release Date: July 8, 2022
Summary
Homelander locates Ryan with the help of Neuman. Disgusted that A-Train killed Blue Hawk instead of bringing him to justice, Nathan cuts him out of his life. Before leaving with Soldier Boy, Butcher leaves Hughie at a gas station as a protective measure. Annie picks up Hughie, and they reconcile. Maeve escapes Vought's custody and meets with the Boys and Annie. Upon Noir's return to the Tower, Homelander kills him for never having revealed he is Soldier Boy's son. Butcher, Maeve, and Soldier Boy lock the rest of the Boys and Annie in a safe room to prevent them from interfering with their plan. At Vought Tower, Homelander introduces Soldier Boy to Ryan and appeals to him to be a father and grandfather, but Soldier Boy is disgusted at Homelander's emotional weakness and rejects him, leading to a fight. Butcher turns against Soldier Boy after he attacks Ryan, while Maeve attempts to kill Homelander, who gouges one of her eyes out. Annie and the Boys arrive, with Hughie overloading the power from the control room, allowing Annie to subdue Soldier Boy. Maeve tackles Soldier Boy out of a window as he fires another blast, saving the Boys' lives but losing her powers in the process. In the aftermath, the public mourns for Maeve's apparent sacrifice, unaware she is alive. Butcher is informed that he has months to live due to his usage of V24. Annie is accepted into the Boys. Under Mallory's watch, Soldier Boy is put in stasis. Neuman is chosen as Singer's running mate for Vice President after the presumptive nominee is killed by the Deep as part of Homelander's deal with Neuman. Homelander and Ryan attend a rally for Singer and Neuman, where Homelander kills a protesting Starlight supporter who throws a bottle at Ryan. The crowd cheers enthusiastically for a jubilant Homelander, while Ryan appears to accept his father's actions.
The Terminal List (Season 1)
Out of 10 Intestines Axed to a Post
Darryl: 8/10
Brian: 7/10 (so far)
Summary
The series follows Lieutenant Commander James Reece (Chris Pratt) after his platoon of Navy SEALs are ambushed while on a covert mission. Reece returns home to his family with conflicting memories of the event and questions about his culpability. As new evidence comes to light, Reece discovers dark forces working against him, endangering not only his life but the lives of those he loves.
Cast
Chris Pratt as Lt. Commander James Reece, a US Navy SEAL with eight combat deployments. Commander of Alpha Platoon, SEAL Team 7, and Task Force Odin's Sword.
Taylor Kitsch as Ben Edwards, a CIA's Ground Branch operative. He is a former Navy SEAL and James Reece's former teammate and BUD/S classmate.
Constance Wu as Katie Beranek, a seasoned war correspondent for Voltstream News.
Riley Keough as Lauren Reece, James Reece's wife.
Arlo Mertz as Lucy Reece, James Reece's daughter.
Jeanne Tripplehorn as Lorraine Hartley, Secretary of Defense.
Production
Executive producers
Chris Pratt
David DiGilio
Antoine Fuqua
Jack Carr
Jon Schumacher
Daniel Shattuck
David Auge
Producers
Max Adams
Kat Samick
Ronald Cosmo Vecchiarelli
Cinematography
Armando Salas
Evans Brown
Running time
51–65 minutes
Production companies
Indivisible Productions
Fuqua Films
DiGilio Films
Civic Center Media
MRC Television
Amazon Studios
Distributor
Amazon Studios
Original network
Amazon Prime Video
Original release
July 1, 2022
Infamous Shirts for Naked Bodies

…

You'll feel "shirty" when you buy our gear from the Flying Pork Apparel Co.
Contact Us
The Infamous Podcast can be found wherever podcasts are found on the Interwebs, feel free to subscribe and follow along on social media. And don't be shy about helping out the show with a 5-star review on Apple Podcasts to help us move up in the ratings.
@infamouspodcast
facebook/infamouspodcast
instagram/infamouspodcast
stitcher
Apple Podcasts
Spotify
Google Play
iHeart Radio
contact@infamouspodcast.com
Our theme music is 'Skate Beat' provided by Michael Henry, with additional music provided by Michael Henry. Find more at MeetMichaelHenry.com.
The Infamous Podcast is hosted by Brian Tudor and Darryl Jasper, is recorded in Cincinnati, Ohio. The show is produced and edited by Brian Tudor.



Subscribe today!