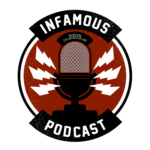 Darryl FINALLY Watched Ted Lasso!
This week on the podcast, Brian and Darryl review the first 2 seasons of Ted Lasso, since Darryl finally watched. Plus, News Bites about Justified: City Primeval, National Treasure, MCU X-Men, and Gabe Eltaeb goes ham on SJW Tom Taylor.
Episode Index
Intro: 0:07
Vinnie Mac: 0:22
Justified: 11:06
National Treasure: 16:03
MCU X-Men: 22:01
Gabe Eltaeb: 27:37
Ted Lasso: 35:56
News Bites
Vince McMahon Announces Retirement From WWE https://variety.com/2022/tv/news/vince-mcmahon-retirement-wwe-1235323378/
'Justified' Sequel Production Halted After Car Occupants Engaged In Gun Battle Break Through Barricades In Chicago https://deadline.com/2022/07/justified-city-primeval-production-halted-gunfight-barricades-1235074976/
Disney Provides First Look At Their Illegal Immigrant Version Of National Treasure https://boundingintocomics.com/2022/07/22/disney-provides-first-look-at-their-illegal-immigrant-version-of-national-treasure-starring-actress-hints-illegal-immigration-a-prevalent-theme-in-the-show/
The Mutants Reported As Title For MCU Debut Of The X-Men Following Marvel Studio Head Of Production Victoria Alonso's Accusation That The Team's Name Was "Outdated" https://boundingintocomics.com/2022/07/21/the-mutants-reported-as-title-for-mcu-debut-of-the-x-men-following-marvel-studio-head-of-production-victoria-alonsos-accusation-that-the-teams-name-was-outdated/
Rippaverse Colorist Gabe Eltaeb Thanks Superman: Son of Kal-El Writer Tom Taylor For Being "A Phony And A Racist SJW" And Inspiring Him To Leave DC Comics https://boundingintocomics.com/2022/07/21/rippaverse-colorist-gabe-eltaeb-thanks-superman-son-of-kal-el-writer-tom-taylor-for-being-a-phony-and-a-racist-sjw-and-inspiring-him-to-leave-dc-comics/
Darryl Reviews Ted Lasso
Out of 10 Led Tassos
Darryl: 9/10
Brian: 8/10
Season 3 Update
'Ted Lasso' Stars Prepare To Say Goodbye As Apple Series Shoots Final Episodes of Third & Possibly Final Season https://deadline.com/2022/07/ted-lasso-hannah-waddingham-toheeb-jimoh-kola-bokinni-on-series-finale-goodbye-1235072477/
Summary
An American football coach is hired to manage a British soccer team; what he lacks in knowledge, he makes up for in optimism, determination, and biscuits.
Developed by
Jason Sudeikis
Bill Lawrence
Brendan Hunt
Joe Kelly
Starring
Jason Sudeikis
Hannah Waddingham
Jeremy Swift
Phil Dunster
Brett Goldstein
Brendan Hunt
Nick Mohammed
Juno Temple
Sarah Niles
Music by
Marcus Mumford
Tom Howe
Country of origin
United States
Original language
English
No. of seasons 2
No. of episodes 22
Production
Executive producers
Bill Lawrence
Jason Sudeikis
Brendan Hunt
Joe Kelly
Jeff Ingold
Bill Wrubel
Production location
London
Running time
29–49 minutes
Production companies
Ruby's Tuna Inc.
Doozer
Universal Television
Warner Bros. Television Studios
Distributor
Warner Bros. Television Distribution
Apple Inc.
Release
Original network
Apple TV+
Original release
August 14, 2020 – present
Infamous Shirts for Naked Bodies

…

You'll feel "shirty" when you buy our gear from the Flying Pork Apparel Co.
Contact Us
The Infamous Podcast can be found wherever podcasts are found on the Interwebs, feel free to subscribe and follow along on social media. And don't be shy about helping out the show with a 5-star review on Apple Podcasts to help us move up in the ratings.
@infamouspodcast
facebook/infamouspodcast
instagram/infamouspodcast
stitcher
Apple Podcasts
Spotify
Google Play
iHeart Radio
contact@infamouspodcast.com
Our theme music is 'Skate Beat' provided by Michael Henry, with additional music provided by Michael Henry. Find more at MeetMichaelHenry.com.
The Infamous Podcast is hosted by Brian Tudor and Darryl Jasper, is recorded in Cincinnati, Ohio. The show is produced and edited by Brian Tudor.



Subscribe today!