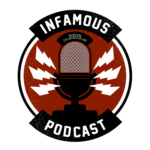 New Show, Lots of News, and The Old Man
This week on the podcast, Brian and Darryl bring back What are You Watching?. Then have News Bites about Supes and Lolo, Ezra Miller, DC Movie Delays, and MORE!. Plus reviews of the latest episodes of She-Hulk and House of the Dragon.
Episode Index
Intro: 0:07
What are YOU Watching: 1:23
Jordan Elsass: 9:25
Ezra Miller: 16:42
DC Delays: 22:45
Fantastic Four News: 29:45
She-Hulk: 36:43
Dragon Stuff: 49:00
News Bites
Jordan Elsass says he may quit acting after Superman & Lois exit https://www.avclub.com/superman-lois-jordan-elsass-says-he-may-quit-acting-1849445328
Ezra Miller Meets With Warners Leadership in a 'The Flash' Course Correct https://www.hollywoodreporter.com/movies/movie-news/ezra-miller-seeks-to-save-the-flash-warner-bros-1235206763/
'Fantastic Four': 'WandaVision' Director Matt Shakman in Talks to Helm https://www.hollywoodreporter.com/movies/movie-news/fantastic-four-marvel-director-2024-movie-1235162665/
'Aquaman,' 'Shazam!' Sequels Push Back Release Dates https://www.hollywoodreporter.com/movies/movie-news/aquaman-shazm-sequel-release-dates-1235191860/
She-Hulk: Attorney at Law (Season 1 Episode 2)
Out of 5 Abominations
Darryl: 2.25/5
Brain: 1.51/5
Title: "Superhuman Law"
Directed by: Kat Coiro
Written by: Jessica Gao
Release Date: August 25, 2022
Summary
In the aftermath of Titania's defeat, Walters gains notoriety as a new superhero publicly dubbed "She-Hulk", much to her dismay. However, she is fired from the district attorney's office for losing the case. After several failed attempts at finding new work, Walters is offered a position by Holden Holliway of Goodman, Lieber, Kurtzberg & Holliway (GLK&H) as head of their new Superhuman Law Division. Walters accepts on the condition that they also hire her best friend, Nikki Ramos, as her paralegal. On her first day, Walters learns that Holliway wants her to work as She-Hulk full-time and her first case is to represent Emil Blonsky for his parole. Though initially reluctant to take on the case due to Blonsky's past attempt to kill Banner, Walters agrees to meet with Blonsky in prison to hear his plea. She later contacts Banner and also receives his blessing to represent Blonsky, unaware that Banner is traveling in space in the Sakaaran spaceship. Walters calls Holliway to accept the case but then learns from a news report about leaked footage of Blonsky participating in an underground fight club as the Abomination with Wong.
House of the Dragon (Season 1 Episode 1)
Out of 5 Flat Dragons
Darryl: 3.25/5
Brian: 3.19/5
Title: "The Heirs of the Dragon"
Directed by: Miguel Sapochnik
Written by: Ryan Condal
Release Date: August 21, 2022
Summary
During old king Jaehaerys Targaryen's reign, tragedies took his sons' lives, leaving the succession undecided. A Great Council convenes to choose Westeros' future ruler. Westerosi law gives a male heir preference over a female, regardless of birth order. Jaehaerys' grandson, Prince Viserys, is chosen rather than Viserys' older cousin, Princess Rhaenys Targaryen. Nine years into King Viserys I's reign, the Triarchy, an alliance formed by the free cities of Essos, threatens the kingdom by wanting to seize the Stepstones region. Viserys must also restrain his brother Daemon's brutality as the City Watch commander in King's Landing. Meanwhile, Queen Aemma is about to give birth. Viserys, confident she will bear a male heir, holds a tournament to celebrate. During the event, Dornish knight Ser Criston Cole defeats Daemon in a competition while Queen Aemma and her son die in childbirth. The Hand of the King, Ser Otto Hightower, proposes that Viserys' only living child, the young princess Rhaenyra, be named heir to the Iron Throne. After a dispute with Daemon, Viserys proclaims Rhaenyra as the next ruler.
Infamous Shirts for Naked Bodies

…

You'll feel "shirty" when you buy our gear from the Flying Pork Apparel Co.
Contact Us
The Infamous Podcast can be found wherever podcasts are found on the Interwebs, feel free to subscribe and follow along on social media. And don't be shy about helping out the show with a 5-star review on Apple Podcasts to help us move up in the ratings.
@infamouspodcast
facebook/infamouspodcast
instagram/infamouspodcast
stitcher
Apple Podcasts
Spotify
Google Play
iHeart Radio
contact@infamouspodcast.com
Our theme music is 'Skate Beat' provided by Michael Henry, with additional music provided by Michael Henry. Find more at MeetMichaelHenry.com.
The Infamous Podcast is hosted by Brian Tudor and Darryl Jasper, is recorded in Cincinnati, Ohio. The show is produced and edited by Brian Tudor.



Subscribe today!