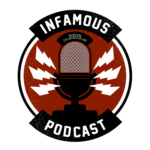 I Can't Say This Enough… CM Punk is a BITCH!
This week on the podcast, Brian and Darryl talk about what a whiny bitch CM Punk is, review Dragon Stuff episode 3, and dive into the first 4 episodes for Cobra Kai season 5.
Episode Index
Intro: 0:07
PG Punk: 2:42
Dragon Stuff: 19:19
Cobra Kai (cobra kai, cobra kai): 35:35
News Bites
CM Punk is a Bitch
Signs continue to indicate CM Punk's All Out media scrum tirade was premeditated https://www.cagesideseats.com/aew/2022/9/9/23344552/cm-punk-all-out-media-scrum-tirade-premeditated
House of the Dragon (Season 1 Episode 3)
Out of 5 Crabfeeder Torsos
Darryl: 3.5/5
Brian: 3.75/5
Title: "Second of His Name"
Directed by: Greg Yaitanes
Written by: Gabe Fonseca & Ryan Condal
Release Date: September 4, 2022
Summary
For three years, the conflicts in the southern Stepstones region have escalated. Lord Corlys and Prince Daemon battle Craghas Drahar and his pirates without support from the Crown, which remains neutral regarding the situation. Meanwhile, King Viserys plans a great hunt to celebrate his and pregnant Queen Alicent's son Aegon's second birthday. Rhaenyra resents the attention her father continually heaps on Aegon. Their relationship is further strained by the ailing king's insistence that Rhaenyra marry to form a strong alliance and protect their lineage. Among the suitors is Lord Jason Lannister of Casterly Rock, a match Rhaenyra opposes. Lord Strong recommends that Rhaenyra wed Ser Laenor Velaryon, Lord Corlys' son, to repair the rift between their two houses. On his brother Hobert's advice, Otto urges Alicent to persuade the king to name Aegon as heir, furthering the Hightowers' power and prestige. Viserys assures Rhaenyra she is the heir and can choose her consort. After Ser Vaemond Velaryon pleads for the king's help, Viserys relents and sends aid to the Stepstones. Seeing the arrival of his brother's aid as the end of his opportunity to prove himself, Daemon uses himself as bait to ambush and slaughter the Triarchy, killing the Crabfeeder in the ensuing battle.
Cobra Kai (Season 5, Episodes 1-4)
Out of 10 Crazy Chozen
Darryl: 8/10
Brian: 8.25/10
Episode 1
Title: "Long, Long Way from Home"
Directed by: Joel Novoa & Steven Tsuchida
Written by: Michael Jonathan Smith
Release Date: September 9, 2022
Summary
Johnny and Robby travel to Mexico in search of Miguel, who is looking for his biological father. Robby is initially displeased with the aim of their trip and wishes to return home, but relents after helping his dad take down scammers who had earlier conned Miguel. Miguel eventually finds his father, Hector Salazar, who is now remarried and has a young son named Luis. After saving Luis from the path of an oncoming vehicle, Miguel is invited by Hector to stay with his family as a reward. Silver has begun his expansion of the Cobra Kai franchise, opening up a flagship dojo in Encino. As part of his deal with Cobra Kai, Daniel decides to shut down Miyagi-Do Karate. While spying on Silver, Chozen recognizes Silver's moves and deduces his sensei was Kim Sung-Yung, a martial artist whose style of teaching was based on deception. Daniel and Chozen concoct a plan to expose Silver's true maniacal nature to the Valley, which involves Chozen posing as a local sensei auditioning alongside other senseis to become one at Cobra Kai.
Episode 2
Title: "Molé"
Directed by: Steven Tsuchida
Written by: Joe Piarulli & Luan Thomas
Release Date: September 9, 2022
Summary
In 1972, a young Chozen trains under his uncle Sato. Johnny and Robby get their van towed, forcing them to participate in a spicy pepper challenge to get it back. Miguel discovers that Hector doesn't know he exists and confronts his mother, who warns that he is a very dangerous man. Miguel accompanies Hector to an underground fight ring, where it is implied that Hector is a wanted man due to his shady history in Ecuador. Miguel realizes his mom was right and flees, before being found by Johnny and tearfully reuniting with him. Meanwhile, Silver introduces his new lineup of senseis to his students and becomes acquainted with Chozen, inviting him over to dinner later that day. Silver is confronted by Tory, who reveals she knows that Silver paid off the referee to ensure Cobra Kai's victory at the All-Valley Tournament. Silver discovers Chozen's true identity due to a toast the two shared during dinner and has the other senseis attack him, but Chozen easily defeats them and tells Silver to stay away from the LaRussos.
Episode 3
Title: "Playing with Fire"
Directed by: Marielle Woods
Written by: Mattea Greene
Release Date: September 9, 2022
Summary
Upon returning from Mexico, Carmen tells Johnny that she thinks she might be pregnant. Not wanting to fail the baby like he failed Robby, Johnny gets advice off the internet on how to prepare, later learning that Carmen is actually pregnant. Meanwhile, Miguel gets the idea that Sam wants to break up with him, so Eli and Demetri give him various ways to win her over. Sam, Yasmine and Moon go on a spa day to help Sam figure out who she really is, during which she confronts her past. Miguel and Sam meet up at Miyagi-Do, where Sam tells him she needs a break to figure out who she is. Daniel and Chozen spy on Silver's old friend, Mike Barnes, after deducing that Silver will call upon old friends for help, only to discover that he is a changed man and now owns a furniture store called Agoura Fine Furnishing which he inherited from his father-in law. Mike apologizes to Daniel for how harshly he treated him during the 1985 All-Valley Tournament and gives him the number to Silver's former attorney. Upon discovering that Daniel used Barnes for help, Silver burns down his furniture store in retaliation.
Episode 4
Title: "Downward Spiral"
Directed by: Steve Pink
Written by: Ashley Darnall
Release Date: September 9, 2022
Summary
Carmen fantasizes a life with Johnny, Miguel and her newborn baby. Daniel and Chozen find out about the furniture store fire, and Daniel has Chozen watching the dojo and the dealership while Amanda and him go to a charity auction. Shannon shows up at Johnny's and finds out he is having another kid and recommends him as a rideshare driver. Meanwhile, the teens get into a feud at the local waterpark after Anthony gets put into a bunch of tubes and gets kicked into the pool. Daniel and Amanda find out that the auction is run by Silver and Daniel tells Silver to not get in the way of his family. Demetri goes to Johnny helping him get a new phone for his new job. The teens have a race to see whoever comes down first, the other leaves. Tory and Hawk participate but when Tory wins, we find out that Hawk's tube was deflated by Kenny and then another fight ensues leaving them all getting kicked out. Silver buys $30,000 worth of bonsai trees from Daniel for the charity. Johnny after getting 1-star reviews from his new job, he gets inspired from the pawn shop worker to keep doing whatever he has to do for his family. Silver starts playing mind games with Daniel causing Amanda to leave him with their kids by himself with Chozen. Johnny lets Robby stay with him during the summer.
Infamous Shirts for Naked Bodies

…

You'll feel "shirty" when you buy our gear from the Flying Pork Apparel Co.
Contact Us
The Infamous Podcast can be found wherever podcasts are found on the Interwebs, feel free to subscribe and follow along on social media. And don't be shy about helping out the show with a 5-star review on Apple Podcasts to help us move up in the ratings.
@infamouspodcast
facebook/infamouspodcast
instagram/infamouspodcast
stitcher
Apple Podcasts
Spotify
Google Play
iHeart Radio
contact@infamouspodcast.com
Our theme music is 'Skate Beat' provided by Michael Henry, with additional music provided by Michael Henry. Find more at MeetMichaelHenry.com.
The Infamous Podcast is hosted by Brian Tudor and Darryl Jasper, is recorded in Cincinnati, Ohio. The show is produced and edited by Brian Tudor.



Subscribe today!