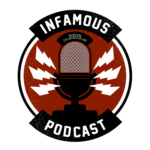 What is Going On in King's Landing?
This week on the podcast, Brian and Darryl talk more Dragon Stuff and Cobra Kia, plus check in on the Sept 2022 State of Play from Sony.
Episode Index
Intro: 0:07
Sony State of Play: 2:30
Dragon Stuff: 19:13
Cobra Kai (cobra kai, cobra kai): 39:16
News Bites
Everything announced at PlayStation's September 2022 State of Play https://www.msn.com/en-us/entertainment/gaming/everything-announced-at-playstation-s-september-2022-state-of-play/ar-AA11Nj8b
PS5, PS4 Blockbuster God of War Ragnarok the Big Winner from State of Play https://www.pushsquare.com/news/2022/09/ps5-ps4-blockbuster-god-of-war-ragnarok-the-big-winner-from-state-of-play
House of the Dragon (Season 1 Episode 4)
Out of 5 Indecent Interactions
Darryl: 4/5
Brian: 4.01/5
Title: "King of the Narrow Sea"
Directed by: Clare Kilner
Written by: Ira Parker
Release Date: September 11, 2022
Summary
Rhaenyra travels to Storm's End where she meets and rejects countless suitors. She returns to King's Landing just as Prince Daemon arrives from the Stepstones on his dragon, Caraxes. Daemon says he was named "King of the Narrow Sea" but swears allegiance to King Viserys and gives the king his crown. As the reunited brothers celebrate at a feast, Queen Alicent confides her loneliness to Rhaenyra, who misses their friendship. Late at night, Rhaenyra, disguised as a boy, sneaks out with Daemon to explore King's Landing; they drink, attend a bawdy play, and visit a brothel where Daemon seduces a willing Rhaenyra, but abandons her before they have sex. Returning to the Red Keep, Rhaenyra seduces Ser Criston. A spy informs Ser Otto about Daemon and Rhaenyra's exploits. Alicent, overhearing Ser Otto telling the king, privately questions Rhaenyra, who denies having had sex with Daemon. The king angrily confronts Daemon, who seemingly confirms the accusations and proposes that he wed Rhaenyra. Viserys claims Daemon only wants the marriage to gain the crown, then exiles his brother back to the Vale. To avoid scandal, Viserys orders Rhaenyra to marry Ser Laenor Velaryon. The king dismisses Ser Otto as his Hand, at Rhaenyra's insistence, feeling that Otto has manipulated him for personal gain. The king has Grand Maester Mellos give Rhaenyra a precautionary abortifacient tea.
Cobra Kai (Season 5, Episodes 5-10)
Out of 10 Old Man Karate Fights
Darryl: 9/10
Brian: 8.93/10
Episode 5
Title: "Extreme Measures"
Directed by: Jennifer Celotta
Written by: Bob Dearden
Release Date: September 9, 2022
Summary
Johnny tries numerous times to get Miguel and Robby to befriend each other, but they refuse due to their history in the past. Instead, Johnny has the two of them fight each other to help them get over their rivalry. They reconcile, during which Johnny accidentally reveals that Carmen is pregnant. Meanwhile, Daniel begins heavily drinking due to Amanda's departure. When he receives a newspaper clipping claiming that Stingray lied about Kreese assaulting him, he and Chozen pay him a visit. Stingray now lives a luxurious life, having been bribed by Silver to lie at Kreese's trial. When Daniel returns to apologize to Stingray for berating him earlier, he is ambushed by Silver and beaten to a pulp. In Ohio, Amanda learns from her cousin and Daniel's former best friend, Jessica Andrews, about how Silver tormented him and her in 1985. Finally learning how twisted Silver actually is, Amanda and the children return home to care for an injured Daniel. Meanwhile, Tory and an imprisoned Kreese scheme to take Silver down.
Episode 6
Title: "Ouroboros"
Directed by: Joel Novoa
Written by: Michael Jonathan Smith
Release Date: September 9, 2022
Summary
Silver recruits a group of senseis from Korea led by Kim Da-Eun, the granddaughter of his former mentor, Kim Sung-Yung. They take over a local dojo, Topanga Karate, and rebrand it as Cobra Kai, merging it into his new string of dojos. Kim forces the students into a combat tournament to push them to the top, during which former Eagle-Fang student Devon Lee fails to defeat Tory. The next day, Devon joins Cobra Kai. In prison, Kreese is harassed by a group of inmates but refuses to react, hoping to get a parole hearing so he can be released. Upon discovering that his parole hearing has been denied, Kreese gets into a fight with the group of inmates, earning their respect. Meanwhile, Daniel gives up karate and returns to work at the car dealership, upsetting his family, Chozen, and Johnny. Johnny and Chozen go to confront Silver at the Topanga dojo, but they fight one of his new senseis instead. Amanda takes Daniel to the Miyagi-Do dojo, where he becomes inspired to reopen Miyagi-Do to take down Silver once and for all.
Episode 7
Title: "Bad Eggs"
Directed by: Joel Novoa
Written by: Joe Piarulli & Luan Thomas
Release Date: September 9, 2022
Summary
In 1980, Silver and Kreese train under Kim Sung-Yung. Daniel and Johnny go to visit Kreese to get tips on how to beat Silver, leaving Chozen as the students' sensei. Chozen issues a challenge in which the students must protect an egg they are assigned from being destroyed, but they all fail when Chozen destroys the eggs. On their second attempt, the students win when they work together to protect the eggs. At Cobra Kai, Silver and Kim split the students into two groups, the boys and the girls, and have two students from each group work together to combat a respective sensei. Tory and Devon are paired up and fail to defeat sensei Kim, while Kyler and Kenny are paired up and fail to work together when Kyler deems himself superior to Kenny. After a pep talk from Silver, Kenny bests Kyler and manages to beat sensei O'Dell by himself. Daniel and Johnny trick Kreese into revealing that Silver wants to enter Cobra Kai into an international karate tournament called the Sakai Taikai, hoping to get Cobra Kai worldwide recognition.
Episode 8
Title: "Taikai"
Directed by: Marielle Woods
Written by: Ashley Darnall
Release Date: September 9, 2022
Summary
The sponsors of The Sekai Taikai have arrived at Cobra Kai to talk to Silver. Daniel, Johnny, Chozen, and Amanda also show up and start telling them about Silver's lies, which leads to a tournament-style presentation to decide which dojo goes into the Sakai Taikai tournament. The tournament committee sees Cobra Kai, Miyagi-Do, and Eagle Fang's techniques. The tournament committee decides to make the tournament one male and one female from each dojo to fight. Miyagi Do and Eagle Fang choose Sam and Eli, while Cobra Kai chooses Tory and Kenny. Kreese tells Tory to choose her own way on how to take down Silver since he is not getting out. Sam finds the octopus Miguel left on the ground while she is leaving the dojo for the night. Silver teaches Kenny his own technique, which would knock the wind out of his opponent. The tournament is held at Cobra Kai due to their tournament-style mats. Hawk and Kenny have their fight, but Tory realizes that Silver bribed the referee again since no points are going to Hawk. Kenny uses the "Silver Bullet" to knock down Hawk, resulting in an automatic win for Kenny. When it is time for the girl's fight, Tory disappears from the dojo, which leads to Devon fighting Sam. Sam ultimately defeats Devon. The committee includes both dojos in the tournament. A celebration is held at Johnny and Miguel's apartment complex. Sam heads to the complex with the octopus in hand when she finds Miguel kissing another girl. She leaves in sorrow, when Tory shows up and tells her about what happened at the All-Valley tournament.
Episode 9
Title: "Survivors"
Directed by: Steven Tsuchida
Written by: Michael Jonathan Smith
Release Date: September 9, 2022
Summary
Sam attacks Tory after hearing about what happened at the tournament. Silver bumps into Johnny and Carmen in the hospital elevator. Amanda, Daniel, and Chozen find out that Johnny is having a baby, and they go out to celebrate. The teens decide to visit Stingray to see if he would tell the truth about Silver. Robby shows up at the Cobra Kai dojo to convince everyone to leave, but no one follows. The adults have their night trying to have a night stress-free with no Silver problems. Using Dungeons and Dragons, Stingray tells the teens about what Silver did to him, but that is not enough evidence to convict him. Silver and Kim put Tory into breaking stone bricks which injures her hand. Daniel learns about how Chozen is in love with a certain woman, who is revealed to be Kumiko. Louie finds Anoush is dating his sister Vanessa and picks a fight with Anoush. Chozen, Daniel, and Johnny decide to head to another bar to have fun. Tory tells Sam about how difficult it was for her to do the right thing when she knew about the bribery and how remorse she feels about what happened, and the two become friends. Chozen, Daniel, and Johnny get kidnapped as the person who drove them there is still at the previous bar. The three think that it is one of Silver's goons that have kidnapped them.
Episode 10
Title: "Head of the Snake"
Directed by: Joel Novoa
Written by: Bob Dearden
Release Date: September 9, 2022
Summary
A despondent Kreese is apparently killed in a prison fight. At the same time, Barnes reveals himself as the one who hijacked the limo, blaming Daniel for the loss of his furniture store. When the three explain that Silver is the one responsible, Barnes convinces Johnny and Chozen to go after Silver with him, leaving Daniel stranded on the side of the road in the middle of nowhere. However, Silver and his senseis quickly knock Barnes out and overpower Johnny; after a sword fight, Chozen is seriously wounded and seemingly left for dead. After looking at his physical printout of his unborn child's sonogram, Johnny is reinvigorated and defeats the senseis with Barnes' help and gets Chozen medical attention while Barnes steals a painting to cover his destroyed furniture store. Daniel gets rescued by Stingray after he shows up at Daniel's house, and he, Daniel, Amanda, and Carmen head to the dojo. At the same time, Tory proposes hacking into the Cobra Kai servers and uploading the security footage of Silver's attack on Stingray to the dojo's YouTube channel to expose Silver. The kids discover that Silver deleted the video, but Tory instead has them use the footage of Silver admitting his bribery to her. Mitch betrays the group, leading to an all-out brawl as the Miyagi-Do's and Eagle Fang's protect Anthony as he works; when Kim attacks Tory, Devon switches sides to help her friend. Anthony successfully uploads the video and plays it on the Cobra Kai training room television, breaking their faith in Silver. Silver challenges Daniel to a rematch, and Daniel, using Silver's training of him, overpowers Silver and finally defeats him with a crane kick. The Cobra Kais abandon Silver, who is arrested on a litany of charges, aided by Stingray revealing the truth about the attack on him. Tory and Robby reconcile, as do Sam and Miguel, who confess their love for each other. As everyone celebrates, Kreese is revealed to have faked his death, and he escapes from prison.
Infamous Shirts for Naked Bodies

…

You'll feel "shirty" when you buy our gear from the Flying Pork Apparel Co.
New Comics This Week – Sponsored by comiXology

Brian
Contact Us
The Infamous Podcast can be found wherever podcasts are found on the Interwebs, feel free to subscribe and follow along on social media. And don't be shy about helping out the show with a 5-star review on Apple Podcasts to help us move up in the ratings.
@infamouspodcast
facebook/infamouspodcast
instagram/infamouspodcast
stitcher
Apple Podcasts
Spotify
Google Play
iHeart Radio
contact@infamouspodcast.com
Our theme music is 'Skate Beat' provided by Michael Henry, with additional music provided by Michael Henry. Find more at MeetMichaelHenry.com.
The Infamous Podcast is hosted by Brian Tudor and Darryl Jasper, is recorded in Cincinnati, Ohio. The show is produced and edited by Brian Tudor.



Subscribe today!