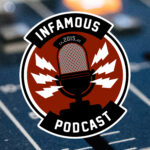 In Westeros… Don't. Poke. The. Bear.
This week on the podcast, Brian and Darryl have some Ted Lasso (He's in the Game!) updates, Darryl talks RRR on Netflix, and Dragon Stuff Episode 5 is fire!
Episode Index
Intro: 0:07
Ted Lasso: 2:32
RRR: 12:24
Dragon Stuff: 29:02
News Bites
Ted Lasso Has On-Set Drama, Too https://www.vulture.com/2022/09/ted-lasso-production-delays-jason-sudeikis-drama.html
Ted Lasso, AFC Richmond are making their debut in EA Sports FIFA 23 https://www.espn.com/soccer/blog-the-toe-poke/story/4751240/ted-lassoafc-richmond-are-making-their-debut-in-ea-sports-fifa-23
Trailer: https://www.youtube.com/watch?v=TUamiLX6gp4
RRR (Rise, Roar, Revolt) https://www.netflix.com/title/81476453
House of the Dragon (Season 1 Episode 5)
Out of 5 Wedding Mishaps
Darryl: 4/5
Brian: 4.15/5
Title: "We Light the Way"
Directed by: Clare Kilner
Written by: Charmaine Degraté
Release Date: September 18, 2022
Summary
In the Vale, Daemon murders his wife, Lady Rhea Royce. Rhaenyra and Ser Laenor Velaryon are betrothed, mollifying Lord Corlys. Understanding Laenor's homosexuality, Rhaenyra proposes they perform royal duties while having lovers; she rejects Ser Criston's wish that they run away together. Before leaving King's Landing, Ser Otto warns Queen Alicent that Rhaenyra becoming queen makes Alicent's children a threat to the crown. Alicent questions Ser Criston about Rhaenyra and Daemon, only to learn Criston was the princess's lover. At a celebratory feast, Alicent enters the hall during the king's speech, purposefully wearing a green gown, the signal color for House Hightower's call to arms. Ser Gerold Royce confronts Daemon, claiming he murdered his cousin, Lady Rhea. Daemon denies it and demands his wife's inheritance as her sole heir. Laenor's lover, Ser Joffrey Lonmouth, surmises Criston is Rhaenyra's paramour. When Joffrey smugly suggests guarding each other's secrets, Criston becomes enraged, perceiving it a threat, and brutally kills him, devastating Laenor and horrifying guests. Rhaenyra and Laenor are privately wed late that night; Viserys collapses after the ceremony. Later, Alicent intervenes as Criston is about to commit suicide.
Infamous Shirts for Naked Bodies

…

You'll feel "shirty" when you buy our gear from the Flying Pork Apparel Co.
Contact Us
The Infamous Podcast can be found wherever podcasts are found on the Interwebs, feel free to subscribe and follow along on social media. And don't be shy about helping out the show with a 5-star review on Apple Podcasts to help us move up in the ratings.
@infamouspodcast
facebook/infamouspodcast
instagram/infamouspodcast
stitcher
Apple Podcasts
Spotify
Google Play
iHeart Radio
contact@infamouspodcast.com
Our theme music is 'Skate Beat' provided by Michael Henry, with additional music provided by Michael Henry. Find more at MeetMichaelHenry.com.
The Infamous Podcast is hosted by Brian Tudor and Darryl Jasper, is recorded in Cincinnati, Ohio. The show is produced and edited by Brian Tudor.



Subscribe today!