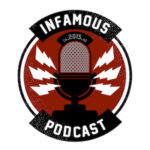 Bitchy Little Princelings Fighting with Knives
This week on the podcast, Brian and Darryl review the long-awaited ISOM #1 from Rippaverse Comics, and then talk about more Dragon Stuff!
Episode Index
Intro: 0:07
Rippaverse: 4:52
Dragon Stuff: 22:33
ISOM #1
Out of 5 Inaugural Issues
Darryl: 4.5/5
Brian: 4/5
Written by: Eric D July
Art: Cliff Richards
Colors: Gabe ElTaeb
Summary
Avery Silman is a common rancher, but that wasn't always the case. After obtaining some unique abilities, Avery spent a brief stint being a hero under the moniker Isom in the city of Florepark, Texas. Realizing that it wasn't for him, he walked away from this life.
House of the Dragon (Season 1 Episode 7)
Out of 5 Eyes for an Eye
Darryl: 4/5
Brian: 3.75/5
Title: "Driftmark"
Directed by: Miguel Sapochnik
Written by: Kevin Lau
Release Date: October 2, 2022
Summary
King Viserys and his court attend Lady Laena's funeral in Driftmark. Rhaenyra and Daemon reunite and are physically intimate. Viserys tries and fails to reconnect with Daemon. Prince Aemond claims Vhagar as his dragon, leading to an altercation with his cousins and nephews in which Lucerys slashes Aemond's eye with a knife. Viserys denies Queen Alicent's demand that Lucerys' eye be gouged out as retribution. When Alicent lunges at Lucerys with Viserys' Valyrian steel dagger, Rhaenyra blocks her; Alicent stabs Rhaenyra's arm during the struggle. After claims that Rhaenyra's children are bastards, Viserys decrees that anyone questioning their legitimacy will be silenced. Reinstated Hand of the King, Otto Hightower tells Alicent they will soon prevail. Rhaenyra and Daemon unite against Alicent and her supporters. Ser Qarl Correy appears to murder Laenor, with Princess Rhaenys and Lord Corlys believing that a charred body is their son's. Meanwhile, Daemon and Rhaenyra privately marry in the Old Valyrian tradition to continue the pure Targaryen bloodline. Following his faked death, Laenor, his head shaved, secretly flees Driftmark with Ser Qarl.
Infamous Shirts for Naked Bodies

…

You'll feel "shirty" when you buy our gear from the Flying Pork Apparel Co.
Contact Us
The Infamous Podcast can be found wherever podcasts are found on the Interwebs, feel free to subscribe and follow along on social media. And don't be shy about helping out the show with a 5-star review on Apple Podcasts to help us move up in the ratings.
@infamouspodcast
facebook/infamouspodcast
instagram/infamouspodcast
stitcher
Apple Podcasts
Spotify
Google Play
iHeart Radio
contact@infamouspodcast.com
Our theme music is 'Skate Beat' provided by Michael Henry, with additional music provided by Michael Henry. Find more at MeetMichaelHenry.com.
The Infamous Podcast is hosted by Brian Tudor and Darryl Jasper, is recorded in Cincinnati, Ohio. The show is produced and edited by Brian Tudor.



Subscribe today!