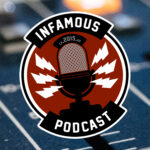 This week on the podcast, Brian and Darryl are talking about the Wakanda Forever box office, John Leguizamo losing his mind more, Tár, some Andor news, and Warrior Nun!
Episode Index
Intro: 0:07
Wakanda Forever Box Office: 3:26
John Leguizamo Loses His Mind: 16:13
Tár May Not Be Woke: 22:47
Andor News: 31:10
Warrior Nun: 44:23
News Bites
Wakanda Forever Box Office https://www.boxofficemojo.com/release/rl3573908993/?ref_=bo_hm_rd
John Leguizamo Outraged That 'The Super Mario Bros. Movie' Did Not Cast An "Actor Of Color" As Title Hero: "They're Going Backwards" https://boundingintocomics.com/2022/11/19/john-leguizamo-outraged-that-the-super-mario-bros-movie-did-not-cast-an-actor-of-color-as-title-hero-theyre-going-backwards/
New Cate Blanchett Film 'Tár' Sees Title Character Issue A Scathing Take Down Of Identity Politics https://boundingintocomics.com/2022/11/18/new-cate-blanchett-film-tar-sees-title-character-issue-a-scathing-take-down-of-identity-politics/
'Andor' Showrunner Admits Show Is "Chasing The Audience" After Expecting To Have a "Gigantic Instantaneous Audience" https://boundingintocomics.com/2022/11/18/andor-showrunner-admits-show-is-chasing-the-audience-after-expecting-to-have-a-gigantic-instantaneous-audience/
Warrior Nun (Season 2, Episodes 1-2)
Out of 5 Angry Demon Nuns
Darryl: 3.25/5
Brian: 4/5
Episode 1 Title: "Galatians 6:4-5"
Directed by: Sarah Walker
Written by: Simon Barry
Summary: Ava and Beatrice jump into action when they meet an ally eager to take down a self-proclaimed prophet and his followers; tragedy strikes at the convent.
Episode 2 Title: "Colossians 3:9-10"
Directed by: Sarah Walker
Written by: Amy Berg & Andréa Vasilo
Summary: A mysterious nun makes contact with the OCS, while Adriel proposes a partnership to the pope; Lilith turns to an unexpected source for help.
Infamous Shirts for Naked Bodies

…

You'll feel "shirty" when you buy our gear from the Flying Pork Apparel Co.
Contact Us
The Infamous Podcast can be found wherever podcasts are found on the Interwebs, feel free to subscribe and follow along on social media. And don't be shy about helping out the show with a 5-star review on Apple Podcasts to help us move up in the ratings.
@infamouspodcast
facebook/infamouspodcast
instagram/infamouspodcast
stitcher
Apple Podcasts
Spotify
Google Play
iHeart Radio
contact@infamouspodcast.com
Our theme music is 'Skate Beat' provided by Michael Henry, with additional music provided by Michael Henry. Find more at MeetMichaelHenry.com.
The Infamous Podcast is hosted by Brian Tudor and Darryl Jasper, is recorded in Cincinnati, Ohio. The show is produced and edited by Brian Tudor.



Subscribe today!