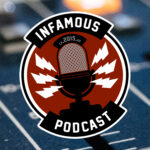 People are Friends, Not Food.
This week on the podcast, Brian and Darryl review the remainder of Warrior Nun season 2, talk Bob Iger's return, Tarantino's truth bomb about MCU actors, and why cannibalism is suddenly popular in modern movies!
Episode Index
Intro: 0:07
Wakanda Forever Box Office: 3:02
Bob Iger: 8:50
MCU Non-Movie Stars: 21:02
Cannibalism, Why?: 33:53
Warrior Nun: 41:56
News Bites
Disney Shocker: Bob Iger Returning as CEO, Bob Chapek Exits https://www.hollywoodreporter.com/business/business-news/disney-bob-iger-returning-ceo-bob-chapek-exits-1235266823/
Quentin Tarantino Says Marvel Actors Aren't Movie Stars: 'Captain America Is the Star,' Not Chris Evans https://variety.com/2022/film/news/quentin-tarantino-marvel-killed-movie-star-1235439798/
Why Cannibalism Is Suddenly Trendy on Screen https://www.hollywoodreporter.com/movies/movie-features/why-cannibalism-trendy-1235269019/
Warrior Nun (Season 2, Episodes 3-8)
Out of 10 Stolen Erotic Pastry Vans
Darryl: 7.25/10
Brian: 8.5/10
Episode 3 Title: "Luke 8:17"
Directed by: Kasia Adamik
Written by: Brenden Gallagher
Summary: After the Order sends out an urgent call, Beatrice and Ava connect with old friends in Madrid and stop by a museum; Jillian investigates an anomaly.
Episode 4 Title: "Corinthians 10:20-21"
Directed by: Kasia Adamik
Written by: Suzanne Keilly
Summary: As a plague sweeps the city, Ava uncovers new revelations about Miguel and Adriel's methods; Lilith explores new possibilities.
Episode 5 Title: "Mark 10:45"
Directed by: Denis Rovira
Written by: Sheila Wilson
Summary: Seeking Lilith's whereabouts, the sisters and Miguel visit Jillian; an unnerving discovery upsets Camila; conflict erupts over Adriel at a conclave.
Episode 6 Title: "Isaiah 40:31"
Directed by: Denis Rovira
Written by: David Hayter
Summary: The Order and their allies prepare for a showdown against Adriel at his new cathedral but learn their adversaries have been making plans of their own.
Episode 7 Title: "Psalms 116:15"
Directed by: Simon Barry
Written by: David Hayter & Sheila Wilson
Summary: After an intense battle, Ava's halo saves a life, while one of Adriel's followers has a crisis of faith; Camila finds herself behind enemy lines.
Episode 8 Title: "Jeremiah 29:13"
Directed by: Simon Barry
Written by: Simon Barry
Summary: Ava visits the other realm and returns with a new plan to end Adriel's unholy charade, but it will require superhuman strength and painful sacrifices.
Infamous Shirts for Naked Bodies

…

You'll feel "shirty" when you buy our gear from the Flying Pork Apparel Co.
Contact Us
The Infamous Podcast can be found wherever podcasts are found on the Interwebs, feel free to subscribe and follow along on social media. And don't be shy about helping out the show with a 5-star review on Apple Podcasts to help us move up in the ratings.
@infamouspodcast
facebook/infamouspodcast
instagram/infamouspodcast
stitcher
Apple Podcasts
Spotify
Google Play
iHeart Radio
contact@infamouspodcast.com
Our theme music is 'Skate Beat' provided by Michael Henry, with additional music provided by Michael Henry. Find more at MeetMichaelHenry.com.
The Infamous Podcast is hosted by Brian Tudor and Darryl Jasper, is recorded in Cincinnati, Ohio. The show is produced and edited by Brian Tudor.



Subscribe today!