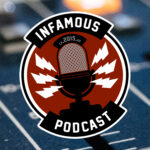 But What Percent of a Plan?
This week on the podcast, Brian and Darryl break down the DC Studios news and rumors about where the new studio is heading.
Episode Index
Intro: 0:07
Wakanda Forever Box Office: 7:29
Movie Trailers: 16:07
DC Studios: 31:11
Trailers
Indiana Jones and the Dial of Destiny Official Trailer https://www.youtube.com/watch?v=ZfVYgWYaHmE
Transformers: Rise of the Beasts Teaser Trailer https://www.youtube.com/watch?v=S5ymRv6wk98
Marvel Studios' Guardians of the Galaxy Volume 3 Official Trailer https://www.youtube.com/watch?v=u3V5KDHRQvk
DC Studios
'Black Adam' Star Dwayne Johnson Blasts Old Warner Bros. Regime For "Inexcusable" Decision Of Not Using Henry Cavill As Superman https://boundingintocomics.com/2022/11/29/black-adam-star-dwayne-johnson-blasts-old-warner-bros-regime-for-inexcusable-decision-of-not-using-henry-cavill-as-superman/
Rumor: James Gunn To Adapt Classic DC Story 'Kingdom Come' As Crisis-Level Cinematic Event https://boundingintocomics.com/2022/11/30/rumor-james-gunn-to-adapt-classic-dc-story-kingdom-come-as-crisis-level-cinematic-event/
DC Studios Co-Chairman James Gunn Confirms DC Universe Will Connect Video Games To Live-Action Films, Shows, And Cartoons https://boundingintocomics.com/2022/11/29/dc-studios-co-chairman-james-gunn-confirms-dc-universe-will-connect-video-games-to-live-action-films-shows-and-cartoons/
Infamous Shirts for Naked Bodies

…

You'll feel "shirty" when you buy our gear from the Flying Pork Apparel Co.
Contact Us
The Infamous Podcast can be found wherever podcasts are found on the Interwebs, feel free to subscribe and follow along on social media. And don't be shy about helping out the show with a 5-star review on Apple Podcasts to help us move up in the ratings.
@infamouspodcast
facebook/infamouspodcast
instagram/infamouspodcast
stitcher
Apple Podcasts
Spotify
Google Play
iHeart Radio
contact@infamouspodcast.com
Our theme music is 'Skate Beat' provided by Michael Henry, with additional music provided by Michael Henry. Find more at MeetMichaelHenry.com.
The Infamous Podcast is hosted by Brian Tudor and Darryl Jasper, is recorded in Cincinnati, Ohio. The show is produced and edited by Brian Tudor.



Subscribe today!