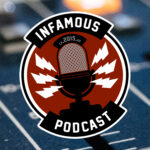 Cavill Goes Full Thanos… and Will Do It Himself
This week on the podcast, Brian and Darryl, talk about Henry Cavill doing it all himself to get what he wants, James Gunn has Superman updates, and the best rumor yet that Kathleen Kennedy might be moving on.
Episode Index
Intro: 0:07
Lucasfilm: 5:02
God of War: 12:38
Superman: 29:20
Warhammer: 46:57
News Bites
Kathleen Kennedy Signs Severance Deal With Lucasfilm, According to New Rumor https://thedirect.com/article/kathleen-kennedy-lucasfilm-severance-deal
'God of War' TV Series a Go at Amazon https://www.hollywoodreporter.com/tv/tv-news/amazon-god-of-war-tv-series-1235281943
Cavill-cade of News
Henry Cavill on Not Returning as Superman: "This News Isn't the Easiest" https://www.hollywoodreporter.com/movies/movie-news/henry-cavill-responds-superman-james-gunn-1235282516/
James Gunn Writing Superman Movie https://www.hollywoodreporter.com/movies/movie-news/superman-movie-in-the-works-james-gunn-1235282481/
Henry Cavill's Next Play: 'Warhammer 40,000' Series for Amazon https://www.hollywoodreporter.com/tv/tv-news/henry-cavill-warhammer-40000-amazon-1235283251/
Infamous Shirts for Naked Bodies

…

You'll feel "shirty" when you buy our gear from the Flying Pork Apparel Co.
Contact Us
The Infamous Podcast can be found wherever podcasts are found on the Interwebs, feel free to subscribe and follow along on social media. And don't be shy about helping out the show with a 5-star review on Apple Podcasts to help us move up in the ratings.
@infamouspodcast
facebook/infamouspodcast
instagram/infamouspodcast
stitcher
Apple Podcasts
Spotify
Google Play
iHeart Radio
contact@infamouspodcast.com
Our theme music is 'Skate Beat' provided by Michael Henry, with additional music provided by Michael Henry. Find more at MeetMichaelHenry.com.
The Infamous Podcast is hosted by Brian Tudor and Darryl Jasper, is recorded in Cincinnati, Ohio. The show is produced and edited by Brian Tudor.



Subscribe today!