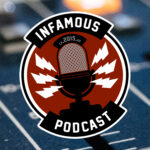 Pedro Just Refuses to Wear a Mask… Why is He Anti-Mask?
This week on the podcast, Brian and Darryl are talking about episode 1 of The Last of Us, and the best news of the week.
Episode Index
Intro: 0:07
Cobra Kai: 5:29
The Mandalorian: 7:57
Chris Pratt: 16:49
Tron: Ares: 22:30
Disney/CCP: 28:37
GK "Robin": 35:34
The Last of Us: 40:30
News Bites
Cobra Kai |Season 6 Announcement only on Netflix https://www.youtube.com/watch?v=xVYAh0MQtiI
'The Mandalorian' Reveals Season 3 Trailer, New Directors https://www.hollywoodreporter.com/tv/tv-news/the-mandalorian-season-3-trailer-1235301198/
Chris Pratt Will 'Probably' Join New DC Universe, Says James Gunn https://thedirect.com/article/chris-pratt-dc-universe-james-gunn
Disney Moving On 'Tron: Ares'; Joachim Rønning In Talks To Helm Jared Leto In Sci-Fi Sequel https://deadline.com/2023/01/tron-ares-joachim-ronning-helm-jared-leto-disney-sci-fi-sequel-1235227464/
Report: The Walt Disney Company And Marvel Studios To Educate Actors In Order To Placate Communist China https://boundingintocomics.com/2023/01/18/report-the-walt-disney-company-and-marvel-studios-to-educate-actors-in-order-to-placate-communist-china/
Race-Bent Robin Arrives In New Trailer For The CW's 'Gotham Knights' https://boundingintocomics.com/2023/01/20/race-bent-robin-arrives-in-new-trailer-for-the-cws-gotham-knights/
The Last of Us (Season 1, Episode 1)
Out of 5 Useless Batteries
Darryl: 3.5/5
Brian: 3/5
Title: "When You're Lost in the Darkness"
Directed by: Craig Mazin
Written by: Craig Mazin & Neil Druckman
Aired: January 15, 2023
Summary:
In 2003, a mass fungal infection sparks a global pandemic and turns its victims into bloodthirsty attackers. Joel flees with his daughter Sarah as the fungus starts to spread, but she is killed by a soldier who attacks them, while Joel is saved by his brother Tommy. Twenty years later, Joel lives in the Boston quarantine zone managed by the Federal Disaster Response Agency (FEDRA) as a smuggler with his partner Tess. When Tommy fails to contact them from his location in Wyoming, they try to buy a car battery from a local dealer but it is instead sold to the Fireflies, a rebel group that opposes FEDRA. Attempting to retrieve it, they find the deal has gone awry and Marlene, the Fireflies' wounded leader, begs Joel and Tess to take young Ellie to the Old State House in exchange for supplies. They are caught by a soldier while sneaking out and Ellie stabs him when he tests them for infection. When the soldier tries to shoot her, Joel beats him to death. Tess realizes Ellie is infected, but Ellie promises them she will not turn. They enter a biological contamination area to flee the pursuing FEDRA soldiers.
Infamous Shirts for Naked Bodies

…

You'll feel "shirty" when you buy our gear from the Flying Pork Apparel Co.
Contact Us
The Infamous Podcast can be found wherever podcasts are found on the Interwebs, feel free to subscribe and follow along on social media. And don't be shy about helping out the show with a 5-star review on Apple Podcasts to help us move up in the ratings.
@infamouspodcast
facebook/infamouspodcast
instagram/infamouspodcast
stitcher
Apple Podcasts
Spotify
Google Play
iHeart Radio
contact@infamouspodcast.com
Our theme music is 'Skate Beat' provided by Michael Henry, with additional music provided by Michael Henry. Find more at MeetMichaelHenry.com.
The Infamous Podcast is hosted by Brian Tudor and Darryl Jasper, is recorded in Cincinnati, Ohio. The show is produced and edited by Brian Tudor.



Subscribe today!