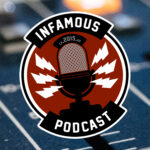 The Bombs Won't Explode Themselves
This week on the podcast, Brian and Darryl talk about the Last of Us Episode 2, more WBD DC Comics cancellations, Daredevil: Born Again, The Razzies, and changes to Adam Warlock.
Episode Index
Intro: 0:07
WBD Cancellations: 5:38
Daredevil: Reborn: 10:30
Razzies: 19:00
Adam Warlock: 30:00
The Last of Us: 38:36
News Bites
James Gunn Says Decision to End 'Doom Patrol' and 'Titans' Was Not His: It 'Precedes' Our Takeover of DC Studios https://variety.com/2023/tv/news/james-gunn-doom-patrol-titans-canceled-decision-1235503120/
Daredevil: Born Again Signs on Arrowverse Writers Jill Blankenship and Grainne Godfree https://movieweb.com/daredevil-born-again-arrowverse-writers/
Razzie Awards Organizers Apologize and Remove 12-Year-Old Ryan Kiera Armstrong From Nominee Ballot After Backlash https://www.hollywoodreporter.com/movies/movie-news/razzie-awards-remove-yan-kiera-armstrong-nominee-ballot-backlash-1235309549/
Marvel Comics To Seemingly Change Adam Warlock's Origin, Introduce Eve Warlock Who Is "Stronger, Faster, And Smarter" https://boundingintocomics.com/2023/01/26/marvel-comics-to-seemingly-change-adam-warlocks-origin-introduce-eve-warlock-who-is-stronger-faster-and-smarter/
The Last of Us (Season 1, Episode 2)
Out of 5 Worst First Kisses
Darryl: 3/5
Brian: 3/5
Title: "Infected"
Directed by: Neil Druckman
Written by: Craig Mazin
Aired: January 22, 2023
Summary:
Two days before the outbreak, in Jakarta, a mycologist learns of the oncoming pandemic and advises the government to bomb the city to prevent it from spreading. In the present, Ellie explains to Joel and Tess that she is being transported west in hopes of being used to find a cure. Discovering the path to the State House is swarmed with infected, the three cut through a museum where they are attacked by blind infected known as "clickers"; Ellie is bitten. They arrive at the State House only to find the Fireflies dead. Tess reveals she was bitten while Ellie's bite begins to heal, proving her immunity. Joel shoots an infected, which alerts the swarm to their location. Tess convinces him to escape with Ellie while she stays behind, blowing up the building and killing herself along with the horde.
Infamous Shirts for Naked Bodies

…

You'll feel "shirty" when you buy our gear from the Flying Pork Apparel Co.
Contact Us
The Infamous Podcast can be found wherever podcasts are found on the Interwebs, feel free to subscribe and follow along on social media. And don't be shy about helping out the show with a 5-star review on Apple Podcasts to help us move up in the ratings.
@infamouspodcast
facebook/infamouspodcast
instagram/infamouspodcast
stitcher
Apple Podcasts
Spotify
Google Play
iHeart Radio
contact@infamouspodcast.com
Our theme music is 'Skate Beat' provided by Michael Henry, with additional music provided by Michael Henry. Find more at MeetMichaelHenry.com.
The Infamous Podcast is hosted by Brian Tudor and Darryl Jasper, is recorded in Cincinnati, Ohio. The show is produced and edited by Brian Tudor.



Subscribe today!