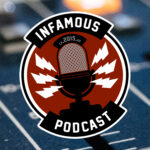 The Naked Man Works 3 out of 4 Times
The Week on the Podcast Brian and Darryl, discuss The Last of Us Episode 3, the DC Studios' announcement, the 2023 Royal Rumble, and more!
Episode Index
Intro: 0:07
DC Studios:
Outside the Lines:
Royal Rumble:
The Last of Us:
News Bites
DC Slate Unveiled: New Batman, Supergirl Movies, a Green Lantern TV Show, and More https://www.hollywoodreporter.com/movies/movie-features/james-gunn-unveils-dc-slate-batman-superman-1235314176/
'Outside the Lines' Canceled at ESPN After 33 Years, News Brand Will Live on Other Platforms https://www.hollywoodreporter.com/tv/tv-news/espn-cancels-outside-the-lines-1235317008/
'Gladiator 2′ Gets Pre-Thanksgiving 2024 Release https://deadline.com/2023/02/gladiator-2-release-date-1235249039/
2023 Royal Rumble Review
WWE Royal Rumble 2023 review: Sami Zayn makes his choice https://www.f4wonline.com/news/wwe/wwe-royal-rumble-2023-review-sami-zayn-makes-his-choice
The Last of Us (Season 1, Episode 3)
Out of 5 When You're Brokeback in the Apocalypses
Darryl: **/5
Brian: 2/5
Title: "Long Long Time"
Directed by: Peter Hoar
Written by: Craig Mazin
Aired: January 29, 2023
Summary:
Joel and Ellie heed Tess's final instructions and hike to meet allies Bill and Frank. Joel teaches Ellie about the government's execution of innocents during the early days of the outbreak. In 2007, Frank stumbles onto the compound of paranoid survivalist Bill, who takes him in. They begin a romance, sharing a love of music and food. Years later, Frank contacts Tess by radio and the couples enter into a tenuous friendship. In the present, Frank is terminally ill and asks Bill to euthanize him after they marry. Bill, not wanting to live without Frank, kills himself as well. Joel and Ellie arrive sometime later. They discover a letter Bill left for Joel, explaining that protecting Frank is what gave his life meaning after the outbreak and leaving Joel his supplies. Joel takes Bill's truck and sets out with Ellie to find Tommy.
Infamous Shirts for Naked Bodies

…

You'll feel "shirty" when you buy our gear from the Flying Pork Apparel Co.
Contact Us
The Infamous Podcast can be found wherever podcasts are found on the Interwebs, feel free to subscribe and follow along on social media. And don't be shy about helping out the show with a 5-star review on Apple Podcasts to help us move up in the ratings.
@infamouspodcast
facebook/infamouspodcast
instagram/infamouspodcast
stitcher
Apple Podcasts
Spotify
Google Play
iHeart Radio
contact@infamouspodcast.com
Our theme music is 'Skate Beat' provided by Michael Henry, with additional music provided by Michael Henry. Find more at MeetMichaelHenry.com.
The Infamous Podcast is hosted by Brian Tudor and Darryl Jasper, is recorded in Cincinnati, Ohio. The show is produced and edited by Brian Tudor.



Subscribe today!