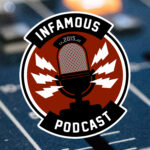 Is the KC BBQ Worth the Danger of Visiting?
This week on the podcast, Brian and Darryl visit Kansas City with Joel and Ellie… and shocker, it's still not a safe place to visit. All that plus News Bites!
Episode Index
Intro: 0:07
Showtime: 5:55
Disney: 14:27
Spider-Man Noir: 29:50
Matthew McConaughey: 35:50
The Last of Us: 40:05
News Bites
'Dexter,' 'Billions' Spinoffs in the Works as Showtime Doubles Down on Franchise Plan https://www.hollywoodreporter.com/tv/tv-news/dexter-billions-spinoffs-showtime-franchises-paramount-merger-1235318737/
Disney Targets $3B in Content Cost Savings Over Next Few Years https://www.hollywoodreporter.com/business/business-news/disney-content-writedown-1235320727/
'Spider-Man Noir' Live-Action Series in the Works from Lord Miller, Amazon https://www.hollywoodreporter.com/tv/tv-news/spider-man-noir-tv-show-phil-lord-chris-miller-1235321554/
'Yellowstone' Spinoff With Matthew McConaughey in Talks Amid Report of Kevin Costner's Uncertain Future https://www.hollywoodreporter.com/tv/tv-news/yellowstone-spinoff-matthew-mcconaughey-kevin-costner-future-1235319081/
The Last of Us (Season 1, Episode 4)
Out of 5 Unlikely Warlords
Darryl: 2.5/5
Brian: 3/5
Title: "Please Hold to My Hand"
Directed by: Jeremy Webb
Written by: Craig Mazin
Aired: February 5, 2023
Summary:
Traveling through Missouri on their way to Wyoming, Joel and Ellie take a necessary detour through the ruins of Kansas City, where they are ambushed by bandits. Joel kills two of them, but a third overpowers him and nearly strangles him to death before Ellie saves him by shooting the man with Frank's pistol. More bandits, led by Kathleen, find the bodies; Kathleen, believing Joel and Ellie are in contact with a man she seeks named Henry, orders a manhunt. Joel and Ellie bond and he lets her keep the pistol. Kathleen's second-in-command, Perry, shows her a room with something growing underground, but Kathleen orders him to conceal it until they find Henry. Until they can scout a way out of the city, they sleep in a high-rise apartment for the night. They awake to find Henry and his brother Sam holding them at gunpoint.
Infamous Shirts for Naked Bodies

…

You'll feel "shirty" when you buy our gear from the Flying Pork Apparel Co.
Contact Us
The Infamous Podcast can be found wherever podcasts are found on the Interwebs, feel free to subscribe and follow along on social media. And don't be shy about helping out the show with a 5-star review on Apple Podcasts to help us move up in the ratings.
@infamouspodcast
facebook/infamouspodcast
instagram/infamouspodcast
stitcher
Apple Podcasts
Spotify
Google Play
iHeart Radio
contact@infamouspodcast.com
Our theme music is 'Skate Beat' provided by Michael Henry, with additional music provided by Michael Henry. Find more at MeetMichaelHenry.com.
The Infamous Podcast is hosted by Brian Tudor and Darryl Jasper, is recorded in Cincinnati, Ohio. The show is produced and edited by Brian Tudor.



Subscribe today!