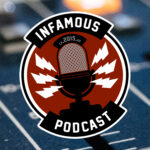 Never Accept Medical Advice From a Kid
This week on the podcast, Brian and Darryl are talking about The Last of Us Episode 5, Ted Lasso news, and our annual Super Bowl movie trailer reviews.
Episode Index
Intro: 0:07
Ted Lasso: 3:15
SB LVII Movie Trailers: 7:20
The Last of Us: 34:42
News Bites
'Ted Lasso' Books Season 3 Premiere Date https://www.hollywoodreporter.com/tv/tv-news/ted-lasso-season-3-premiere-date-1235324825/
The Flash https://www.youtube.com/watch?v=hebWYacbdvc&t=0s
Fast X https://www.youtube.com/watch?v=VVbIrBSlBvo
Transformers: Rise of the Beasts https://www.youtube.com/watch?v=XqLAexu4OOE&t=30s
Indiana Jones and the Dial of Destiny https://www.youtube.com/watch?v=o9hk76aL3go
Guardians of the Galaxy Vol. 3 https://youtu.be/JqcncLPi9zw
Creed III https://www.youtube.com/watch?v=xTaIZo8OJYE
The Last of Us (Season 1, Episode 5)
Out of 5 Why You Gotta Do Perry Like Thats
Darryl: 2.5/5
Brian: 2.5/5
Title: "Endure and Survive"
Directed by: Jeremy Webb
Written by: Craig Mazin
Aired: February 12, 2023
Summary:
Henry and Sam make a tentative truce with Joel and Ellie. Joel wants to part ways, but Henry proposes they escape the city together using underground tunnel routes that only Henry knows; Joel hesitantly agrees. Henry confesses to Joel he was responsible for the death of Kathleen's brother, turning him over to FEDRA in exchange for medication for Sam's leukemia. After escaping through the tunnels, the group is attacked by a sniper from an upper-story window. Joel sneaks up and kills him, but finds out he was radioing Kathleen, who arrives with her militia. Kathleen has Henry in her sights but, before she can shoot, a multitude of infected emerge from underground, including a large "bloater" that beheads Perry and a child clicker that infects Kathleen. After the group escapes to a motel, Sam shows Ellie he was bitten on the leg. The next morning, Sam is infected and attacks Ellie; Henry is forced to kill him, but then shoots himself. Joel and Ellie bury them and set off on foot heading west.
Infamous Shirts for Naked Bodies

…

You'll feel "shirty" when you buy our gear from the Flying Pork Apparel Co.
Contact Us
The Infamous Podcast can be found wherever podcasts are found on the Interwebs, feel free to subscribe and follow along on social media. And don't be shy about helping out the show with a 5-star review on Apple Podcasts to help us move up in the ratings.
@infamouspodcast
facebook/infamouspodcast
instagram/infamouspodcast
stitcher
Apple Podcasts
Spotify
Google Play
iHeart Radio
contact@infamouspodcast.com
Our theme music is 'Skate Beat' provided by Michael Henry, with additional music provided by Michael Henry. Find more at MeetMichaelHenry.com.
The Infamous Podcast is hosted by Brian Tudor and Darryl Jasper, is recorded in Cincinnati, Ohio. The show is produced and edited by Brian Tudor.



Subscribe today!