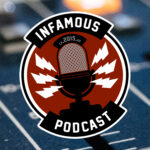 Family Reunions are a Bummer
This week on the podcast, Brian and Darryl are talking about The Last of Us, Hogwarts Legacy making BANK, Ant-Man not so much in the making bank column, M.O.D.O.K silliness, and LOTR news.
Episode Index
Intro: 0:07
Hogwartz Legacy Earns Big: 2:19
Ant-Man Box Office Watch: 11:40
M.O.D.O.K Silliness: 27:44
LOTR… Groan: 33:32
The Last of Us: 47:00
News Bites
'Hogwarts Legacy' Earns $850 Million, Sells More Than 12 Million Units in First Two Weeks https://variety.com/2023/gaming/news/hogwarts-legacy-sales-850-million-1235533614/
Ant-Man and the Wasp: Quantumania Box Office https://www.boxofficemojo.com/release/rl3195306753/?ref_=bo_hm_rd
M.O.D.O.K. Speaks! How Corey Stoll Played 'Quantumania's' Biggest Scene Stealer https://variety.com/2023/film/news/modok-corey-stoll-ant-man-quantumania-marvel-1235534305/
New 'Lord of the Rings' Movies in the Works at Warners, New Line https://www.hollywoodreporter.com/movies/movie-news/lord-of-the-rings-new-movies-in-the-works-1235332695/
The Last of Us (Season 1, Episode 6)
Out of 5 Death Rivers
Darryl: 3/5
Brian: 2.75/5
Title: "Kin"
Directed by: Jasmila Žbanić
Written by: Craig Mazin
Aired: February 19, 2023
Summary:
Three months after Henry and Sam's deaths, Joel and Ellie reach a small, thriving community in Jackson, Wyoming, where Joel is reunited with Tommy, whose wife Maria is pregnant. Ellie learns about Sarah's fate from Maria. Joel confides in Tommy about Ellie's immunity and his own declining mental state. Joel asks Tommy to take Ellie to the Fireflies, as he is afraid he cannot keep her safe. Ellie overhears them and confronts Joel, who insists they will part ways. In the morning, Joel changes his mind after remembering his daughter, and the two of them travel to Colorado on horseback. They find the Fireflies have vacated their base, possibly relocating to a hospital in Utah. Joel and Ellie attempt to escape a group of raiders. When one of them attacks Joel, Joel kills him but is stabbed during the struggle. Joel and Ellie escape the others, but Joel soon collapses and falls off their horse, leaving Ellie unsure of how to proceed.
Infamous Shirts for Naked Bodies

…

You'll feel "shirty" when you buy our gear from the Flying Pork Apparel Co.
Contact Us
The Infamous Podcast can be found wherever podcasts are found on the Interwebs, feel free to subscribe and follow along on social media. And don't be shy about helping out the show with a 5-star review on Apple Podcasts to help us move up in the ratings.
@infamouspodcast
facebook/infamouspodcast
instagram/infamouspodcast
stitcher
Apple Podcasts
Spotify
Google Play
iHeart Radio
contact@infamouspodcast.com
Our theme music is 'Skate Beat' provided by Michael Henry, with additional music provided by Michael Henry. Find more at MeetMichaelHenry.com.
The Infamous Podcast is hosted by Brian Tudor and Darryl Jasper, is recorded in Cincinnati, Ohio. The show is produced and edited by Brian Tudor.



Subscribe today!