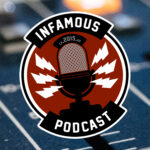 Why Can't The Last of Us Tell a Good Story… it was all laid out for them.
This week on the podcast, The Mandalorian is BACK, The Last of Us falls flat, and other news.
Episode Index
Intro: 0:07
Hellboy: 6:06
Grand Death Lotto: 10:27
Mrs. Maisel: 14:40
The Last of Us: 16:30
The Mandalorian: 31:23
News Bites
Hellboy Movie 'The Crooked Man' Casts Actor Jack Kesy as the Antihero https://www.hollywoodreporter.com/movies/movie-news/hellboy-movie-the-crooked-man-casts-jack-kesy-1235339493/
Awkwafina, Simu Liu to Star With John Cena in Action-Comedy 'Grand Death Lotto' https://www.hollywoodreporter.com/movies/movie-news/awkwafina-simu-liu-john-cena-comedy-grand-death-lotto-1235339159/
'The Marvelous Mrs. Maisel' Sets Season 5 Premiere Date https://deadline.com/2023/03/the-marvelous-mrs-maisel-season-5-premiere-date-watch-teaser-trailer-final-season-1235276795/
The Last of Us (Season 1, Episode 7)
Out of 5 Worthless Flashbacks
Darryl: 2/5
Brian: 1.5/5
Title: "Left Behind"
Directed by: Liza Johnson
Written by: Neil Druckmann
Aired: February 26, 2023
Summary:
Ellie and an injured Joel shelter in an abandoned house. As Joel approaches death, he urges Ellie to leave him. She remembers her time in FEDRA military school, which she attended with her best friend Riley Abel. While Ellie causes trouble and fights with her peers, Riley ran away and has been missing for three weeks. Riley sneaks back into their dorm room and reveals to Ellie she has joined the Fireflies. She brings Ellie to an abandoned mall, where they explore a photo booth, an arcade, and a carousel. Riley tells Ellie the Fireflies have assigned her to a post in Atlanta, and it is her last night in Boston. While Ellie is initially upset, she convinces Riley to stay, and they kiss. An infected attacks them and Ellie manages to kill it, but both get bitten during the struggle. Tearfully, they decide to stay together and wait for the infection to take hold. In the present, Ellie finds a sewing needle and begins to stitch up Joel's wound.
The Mandalorian (Season 3, Episode 1)
Out of 5 I Can't Believe That Wasn't Din at The Start of the Episodes
Darryl: 2.5/5
Brian: 3/5
Title: "Chapter 17: The Apostate"
Directed by: Rick Famuyiwa
Written by: John Favreau
Aired: March 1, 2023
Summary:
The Armorer and a group of Mandalorians hold a ceremony to induct a young child into the tribe. The ceremony is interrupted when an aquatic monster attacks the Mandalorians. They fight back but are soon overpowered. Din Djarin arrives, killing the creature with his starfighter and revealing that Grogu has chosen to stay with him. The Armorer confirms that if the mines of Mandalore still exist, Djarin may become a Mandalorian once more. Djarin travels to Nevarro to meet Greef Karga, who is now the High Magistrate. Djarin helps Karga stop a group of pirates who have been attacking citizens and schools on Nevarro. Karga offers Djarin the newly vacated position of marshal, but Djarin refuses, stating that he came to rebuild IG-11. Djarin successfully revives IG-11, but the droid defaults to his original, violent programming. Djarin brings his parts to a group of Anzellan mechanics, who tell him that they need a new memory core to fully repair the droid. As Djarin leaves Nevarro, the pirate crew attacks his ship, but he destroys several of their fighters and escapes. Djarin meets with Bo-Katan in an old Mandalorian castle, who reveals that after losing the Darksaber, she has abandoned her plans to reclaim Mandalore and suggests that Djarin should travel there alone.
Infamous Shirts for Naked Bodies

…

You'll feel "shirty" when you buy our gear from the Flying Pork Apparel Co.
Contact Us
The Infamous Podcast can be found wherever podcasts are found on the Interwebs, feel free to subscribe and follow along on social media. And don't be shy about helping out the show with a 5-star review on Apple Podcasts to help us move up in the ratings.
@infamouspodcast
facebook/infamouspodcast
instagram/infamouspodcast
stitcher
Apple Podcasts
Spotify
Google Play
iHeart Radio
contact@infamouspodcast.com
Our theme music is 'Skate Beat' provided by Michael Henry, with additional music provided by Michael Henry. Find more at MeetMichaelHenry.com.
The Infamous Podcast is hosted by Brian Tudor and Darryl Jasper, is recorded in Cincinnati, Ohio. The show is produced and edited by Brian Tudor.



Subscribe today!