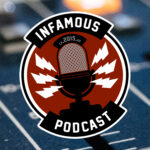 Clark Kent and Ted Lasso… the crossover we never knew we wanted.
This week on the podcast, Brian and Darryl are happy to be reviewing so many great season 3 shows!
Episode Index
Intro: 0:07
Last of Us: 1:34
The Mandalorian: 12:38
Picard: 24:51
Ted Lasso: 33:44
Supes & Lolo: 43:53
The Last of Us (Season 1, Episode 8)
Out of 5 Lies, You Tell to Not be a Heroe's
Darryl: 3.5/5
Brian: 3/5
Title: "Look for the Light"
Directed by: Ali Abbasi
Written by: Craig Mazin & Neil Druckmann
Aired: March 12, 2023
Summary:
In a flashback, Ellie's mother Anna is bitten by an infected as she gives birth to Ellie. She is found by Marlene, who hesitantly takes Ellie and kills Anna, at the latter's request. In the present day, Joel tells Ellie of his failed suicide after Sarah's death. Firefly soldiers capture Ellie and knock Joel unconscious. After Joel awakens in a hospital, Marlene explains that doctors are preparing Ellie for surgery in hope of developing a cure, and Joel protests when he realizes the procedure will kill her. Marlene orders Joel to be taken away, but he kills several Firefly soldiers and Ellie's surgeon. Joel carries an unconscious Ellie from the hospital. Marlene intercepts them, stating there is still time to find a cure, but Joel shoots and kills her. When Ellie awakens, Joel lies and tells her the Fireflies had already failed to develop a cure from other immune people. As they hike to Jackson, Ellie insists Joel swear his story about the Fireflies is true. When he does so, she replies "Okay".
The Mandalorian (Season 3, Episode 3)
Out of 5 One of Us, One of Us, One of Us's
Darryl: 3/5
Brian: 3/5
Title: "Chapter 19: The Convert"
Directed by: Lee Isaac Chung
Written by: Noah Kloor & Jon Favreau
Aired: March 15, 2023
Summary:
After Djarin recovers, he and Bo-Katan depart Mandalore, though Bo-Katan withholds the Mythosaur's existence from him. Upon returning to Kalevala, they are attacked by Imperial TIE squads, who destroy Bo-Katan's home, and are forced to retreat. Meanwhile, on Coruscant, Dr. Pershing receives a pardon by the New Republic, but is startled to find Elia Kane among the amnesty program's recipients. Kane agrees to assist Pershing in his efforts to continue his cloning research, which has been outlawed by the Republic. They sneak aboard a decommissioned Imperial-class Star Destroyer to steal the necessary materials, but Kane betrays Pershing to the Republic's lawkeepers and later secretly sabotages the mind-wiping procedure used on him, significantly worsening its effect. Djarin and Bo-Katan arrive at the secret Mandalorian enclave, where Djarin presents the Armorer with a sample of the Living Waters as proof of his redemption. Because she has also bathed in the Waters, Bo-Katan is welcomed to the enclave as well.
Picard (Season 3, Episodes 6)
Out of 5 Are You Kidding Me How Is Starfleet this DUMBs!!???!?!
Darryl: 3.5/5
Brian: 2.5/5
Title: "Imposters"
Directed by: Dan Liu
Written by: Cindy Appel & Chris Derrick
Aired: March 16, 2023
Summary:
Jack's visions begin showing him murdering the crew. Riker returns command of the Titan to Shaw. Shaw contacts Starfleet, who promptly send the USS Intrepid to intercept them and take Picard and Riker into custody. The Starfleet officer heading the security team is Ro Laren, who betrayed Starfleet years earlier by defecting to the Maquis, but returned after her imprisonment. Beverly conducts the impostor's autopsy, discovering the Changelings have evolved to hold their shape longer and evade body scanning technology, and notifies Picard, but Ro dragoons him into the holodeck. Ro suspects the Changeling conspiracy compromised Starfleet's highest levels and both Intrepid and Titan. Picard realizes he still trusts her. They reconcile, before Ro gives Picard her earring. Ro pilots her shuttle, but Changeling saboteurs plant a bomb onboard, forcing her to steer into the Intrepid, sacrificing herself. The saboteurs attempt to transport out with Jack, but he is overcome by his visions and shoots them all dead. Picard and Riker realize Ro's earring contains the intelligence she gathered, and a communicator. Worf and Raffi continue their investigation into the M'Talas Prime attack, finding the Vulcan criminal Krinn, who forces them to duel. Raffi seemingly defeats Worf, but Worf manages to kill Krinn's minions, forcing Krinn to give vital information about the attack. Worf contacts Picard and Riker via Ro's earring, just as the Titan flees the Intrepid. Jack admits to Beverly he thinks there's something wrong with himself.
Ted Lasso (Season 3, Episodes 1)
Out of 5 You're Gonna Have to Fight's
Darryl: 3.25/5
Brian: 3.5/5
Title: "Smells Like Mean Spirit"
Directed by: MJ Delaney
Written by: Leann Bowen
Aired: March 15, 2023
Summary:
Richmond is projected to finish in last place for the new Premier League season, while West Ham is expected to be in the top four. The forecast demoralizes the team; to lift their spirits, Ted gives them a tour of London's sewer system to teach them a lesson about relying on one another amidst hardship. Photos of the team entering the sewer go viral; Nate mocks the team and Ted during a press conference arranged by Rupert, but Ted responds during his own press conference with self-deprecating jokes that charm the reporters. Roy and Keeley inform Phoebe that they are breaking up, as Roy's increased coaching responsibilities and Keeley's busy job running her new PR firm give them little time together, but Keeley suggests there are deeper problems in their relationship. Over the phone, Ted's son Henry shows him a toy that his mother's "friend" Jake bought him, unsettling Ted.
Superman & Lois (Season 3, Episodes 1)
Out of 5 Slumpbusters
Darryl: 3/5
Brian: 4/5
Title: "Closer"
Directed by: Tom Cavanagh
Written by: Brent Fletcher & Todd Helbing
Aired: March 14, 2023
Summary:
Season three of SUPERMAN & LOIS opens weeks after Superman's blowout defeat of Ally Allston. Clark (Tyler Hoechlin) and Lois (Elizabeth Tulloch) are now working at the Smallville Gazette together and enjoying small-town life. But the Kents' romantic bliss only shines a light on how isolating "the secret" can be, as Chrissy (Sofia Hasmik) struggles to balance a new love interest and her friendship with Lois. However, Lois' own work-life balance is put to the test when an undercover assignment reveals a deadly foe that promises to change the Kent family forever. Superman would move heaven and earth for his family, but with a villain this merciless, even that might not be enough. Meanwhile, the Kent boys find themselves being pulled in opposite directions. Amid all this upheaval, John Henry (Wolé Parks) is haunted by his doppelgänger's past, leading to dangerous consequences for him and Natalie (Tayler Buck). Lana Lang (Emmanuelle Chriqui) and Kyle (Erik Valdez) redefine their family post-separation, while Sarah (Inde Navarrette) explores what the future holds for her and Jordan now that she knows the truth about his powers. Having learned the hard way that no one else can be trusted to work with Superman, General Samuel Lane (Dylan Walsh) reclaims his post at the Department of Defense, only to face his own conflict in working with his grandson, Jordan.
Infamous Shirts for Naked Bodies

…

You'll feel "shirty" when you buy our gear from the Flying Pork Apparel Co.
Contact Us
The Infamous Podcast can be found wherever podcasts are found on the Interwebs, feel free to subscribe and follow along on social media. And don't be shy about helping out the show with a 5-star review on Apple Podcasts to help us move up in the ratings.
@infamouspodcast
facebook/infamouspodcast
instagram/infamouspodcast
stitcher
Apple Podcasts
Spotify
Google Play
iHeart Radio
contact@infamouspodcast.com
Our theme music is 'Skate Beat' provided by Michael Henry, with additional music provided by Michael Henry. Find more at MeetMichaelHenry.com.
The Infamous Podcast is hosted by Brian Tudor and Darryl Jasper, is recorded in Cincinnati, Ohio. The show is produced and edited by Brian Tudor.



Subscribe today!