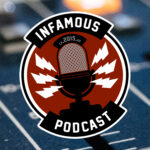 Ding Dong Vickie's Gone!!!!
This week on the podcast, VICTORIA ALONSO is GONE from Marvel Studios!!!!! Brian and Darryl cover the news, then review the latest episodes of The Mandalorian, Ted Lasso, Supes & Lolo, and Picard.
Episode Index
Intro: 0:07
Victoria Alonso Fired: 6:15
The Mandalorian: 15:59
Ted Lasso: 28:39
Superman and Lois: 40:20
Picard: 53:30
News Bite
Inside the Firing of Victoria Alonso: Her Oscar-Nominated Movie 'Argentina, 1985' at Center of Exit https://www.hollywoodreporter.com/movies/movie-news/marvels-victoria-alonso-fired-argentina-1985-1235360231/
The Mandalorian (Season 3, Episode 4)
Out of 5 How Are You Going to Train Your Dragons
Darryl: 3.5/5
Brian: 4/5
Title: "Chapter 20: The Foundling"
Directed by: Carl Weathers
Written by: Dave Filoni & Jon Favreau
Aired: March 22, 2023
Summary:
Djarin introduces Grogu to Mandalorian combat training. Grogu wins a training match, but his opponent Ragnar Vizsla is captured by a large Shriek-hawk. Bo-Katan gathers a hunting party, which includes Djarin and Ragnar's father Paz Vizsla and leads them to the Shriek-hawk's nest. The Armorer forges a new piece of Mandalorian armor for Grogu, a rondel bearing Djarin's mudhorn sigil. As she works, Grogu has visions of his rescue from the burning Jedi Temple by Jedi Master Kelleran Beq and sympathetic members of the Naboo Armed Forces. Vizsla's over-eagerness to save Ragnar disrupts Bo-Katan's plan and leads to a difficult aerial rescue in which Bo-Katan and Djarin rescue the boy unharmed, kill the Shriek-hawk, collect its chicks, and earn the clan's respect. As the Armorer replaces Bo-Katan's pauldron, lost in the scuffle with the pterosaur, Bo-Katan reveals her encounter with the Mythosaur, but the Armorer meets her account with indifferent disbelief.
Ted Lasso (Season 3, Episodes 2)
Out of 5 I Can't Believe He Held a Grudge for That Longs
Darryl: 3.5/5
Brian: 3.75/5
Title: "(I Don't Want to Go to) Chelsea"
Directed by: MJ Delaney
Written by: Sasha Garron
Aired: March 23, 2023
Summary:
Trent Crimm visits AFC Richmond, wanting to write a book about the club. Despite warnings from Rebecca, Keeley, and Higgins, Ted tells Trent to write it. Roy gives Trent the cold shoulder and encourages the club to do the same due to Trent's harsh words written about him when Roy played for Chelsea as a teenager. The club discovers that Roy and Keeley have broken up, shocking everyone. Keeley struggles to make decisions for her PR firm and hires an inexperienced friend, Shandy, frustrating the firm's CFO, Barbara. Zava, a talented but exasperating footballer, has left Juventus F.C. and many clubs want him. Rebecca pushes to sign him after realizing that West Ham is interested in him. During a Richmond game against Chelsea that Zava attends, Rebecca insults him in the bathroom, an action that drives Zava to choose to play for Richmond, announcing his decision in a post-game press conference. Roy reconciles with Trent at the request of Ted, and Richmond manages to finish the game in a 1-1 tie. Roy reflects on his career with Chelsea, realizing he needed to stop worrying and enjoy his time there.
Superman & Lois (Season 3, Episodes 2)
Out of 5 Why Does the Kent Farm to be So Dustys?
Darryl: 3/5
Brian: 2.75/5
Title: "Uncontrollable Forces"
Directed by: Elizabeth Henstridge
Written by: Katie Aldrin
Aired: March 23, 2023
Summary:
Clark (Tyler Hoechlin) and Chrissy (Sofia Hasmik) both notice a small crack in Lois' (Elizabeth Tulloch) game face. Meanwhile, Sarah (Inde Navarette) and Jordan (Alex Garfin) have an awkward encounter. Lastly, Lana (Emmanuelle Chriqui) receives a panicked phone call.
Picard (Season 3, Episodes 6)
Out of 5 Will Riker Theys Won't Will Riker Theys?
Darryl: 4.26/5
Brian: 4.25/5
Title: "The Bounty"
Directed by: Dan Liu
Written by: Christoper Monfette
Aired: March 23, 2023
Summary:
Worf and Raffi board the Titan and together with the crew develop and execute a plan to infiltrate Daystrom Station. The Titan is forced to flee after Starfleet ships arrive. Picard seeks out help from Geordi La Forge, his former Chief Engineer, now a Commodore in charge of the Starfleet Museum. The away team discovers that a Soong-type android containing the memories of Data, B-4, Lal, Lore, and Altan Soong, is at the heart of Daystrom and also contains the projects database they are looking for. Equipped with a Klingon cloaking device stolen by Jack (who is suffering from Picard's old neurological condition) and La Forge's daughters, the crew returns to Daystrom, where they recover the away team (minus Riker who was captured). They discover that the item stolen by the Changelings was the original dead organic body of Jean-Luc Picard. Riker is brought aboard the Shrike, where he is reunited with his wife Deanna Troi who was also kidnapped by the Changelings.
Infamous Shirts for Naked Bodies

…

You'll feel "shirty" when you buy our gear from the Flying Pork Apparel Co.
Contact Us
The Infamous Podcast can be found wherever podcasts are found on the Interwebs, feel free to subscribe and follow along on social media. And don't be shy about helping out the show with a 5-star review on Apple Podcasts to help us move up in the ratings.
@infamouspodcast
facebook/infamouspodcast
instagram/infamouspodcast
stitcher
Apple Podcasts
Spotify
Google Play
iHeart Radio
contact@infamouspodcast.com
Our theme music is 'Skate Beat' provided by Michael Henry, with additional music provided by Michael Henry. Find more at MeetMichaelHenry.com.
The Infamous Podcast is hosted by Brian Tudor and Darryl Jasper, is recorded in Cincinnati, Ohio. The show is produced and edited by Brian Tudor.



Subscribe today!