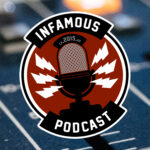 John Wick Gives the Energizer Bunny a Run for His Money
This week on the podcast, Brian and Darryl review John Wick 4 and all the usual suspects from the small screen.
Episode Index
Intro: 0:07
The Mandalorian: 2:03
Ted Lasso: 16:31
Superman and Lois: 30:49
Picard: 41:10
John Wick 4: 54:32
The Mandalorian (Season 3, Episode 5)
Out of 5 Why is She Allowed to Take Her Helmet Offs
Darryl: 3.25/5
Brian: 3.5/5
Title: "Chapter 21: The Pirate"
Directed by: Peter Ramsey
Written by: Jon Favreau
Aired: March 29, 2023
Summary:
Gorian Shard invades Nevarro in retaliation for Vane's expulsion, and Greef Karga contacts Carson Teva. Suspecting that the attack is a prelude to a new rise of the Empire, Teva informs Colonel Tuttle. But when Tuttle shows indifference, he tracks down the Mandalorian covert and asks Din Djarin for help. Djarin convinces the covert to come to Karga's aid despite their prior confrontations with him, and Bo-Katan assumes command of the attack force. As the Mandalorians overcome the pirates, Vane flees, Shard is killed, and the remaining ones are detained. The Mandalorians are welcomed back by Karga and the people, and move back into their old enclave. The Armorer meets with Bo-Katan, acknowledging the Mythosaur's reappearance as an omen that Bo-Katan is the one who can reunite all Mandalorians, and bids her to remove her helmet to symbolize this new position. On his way back to Adelphi, Teva encounters the wreckage of Moff Gideon's prison transport which had gone missing during transit. He also finds a fragment of beskar alloy, implying that Mandalorians have broken Gideon out.
Ted Lasso (Season 3, Episodes 3)
Out of 5 Zavas
Darryl: 3/5
Brian: 3/5
Title: "4-5-1"
Directed by: Destiny Ekaragha
Written by: Bill Wrubel
Aired: March 29, 2023
Summary:
Richmond enjoys an unprecedented winning streak with Zava on the team. Sam takes the team to celebrate at his yet-to-open Nigerian restaurant, Ola's. Ted is disturbed to learn that his ex-wife Michelle is dating their former couple's therapist, Dr. Jacob; both Sharon and Sassy validate his concern that it is an ethical violation. Jamie feels overshadowed by Zava's stardom; Roy offers to train him. Rebecca visits her mother's psychic Tish, who tells her she will one day be a mother; Rebecca angrily rebuffs Tish as a fraud, but is later stunned when Sam hands her one of the green matchbooks he is giving out to the team, in line with one of Tish's premonitions. Colin introduces his boyfriend Michael to the team as just a friend, but Trent spots them kissing in private while leaving the restaurant.
Superman & Lois (Season 3, Episodes 3)
Out of 5 Trucks Stolen By Your Girlfriend's Dads
Darryl: 3/5
Brian: 3/5
Title: "In Cold Blood"
Directed by: Gregory Smith
Written by: Jai Jamison
Aired: March 30, 2023
Summary:
Lois (Elizabeth Tulloch) and Chrissy (Sofia Hasmik) pursue a new lead in the Mannheim investigation against Clark's (Tyler Hoechlin) wishes. Meanwhile, Jonathan (Michael Bishop), Jordan (Alex Garfin), and Nat's (Taylor Buck) attempt at a kind gesture is complicated by an unexpected obstacle. Lastly, Lana (Emmanuelle Chriqui), Sarah (Inde Navarette), and Kyle (Erik Valdez) adjust to their own new normal.
Picard (Season 3, Episodes 7)
Out of 5 We're Not Giving Up the Bridge, Ok I Give Ups
Darryl: 2.5/5
Brian: 3.25/5
Title: "Dominion"
Directed by: Deborah Kampmeier
Written by: Jane Maggs
Aired: March 30, 2023
Summary:
The Titan hides amid shipwrecks in the Chin'toka battlespace. Geordi works against Lore's persona to restore Data's dominance of the android's mind. Worf and Raffi take La Sirena out on another intelligence mission. Seven tries to contact her former crewmate Tuvok. The respondent passes Seven's first trust test, but fails her second, revealing himself to be a Changeling and leaving the real Tuvok's fate ambiguous. Picard, surmising that the Changelings are using his corpse to target Starfleet's anniversary festivities, devises and enacts a plan to trap Vadic and her crew on the Titan with force fields, using Jack, who is developing telepathy, and Sidney as bait. Picard and Beverly interrogate Vadic in the trap. Vadic reveals she was one of ten Changelings whom Starfleet doctors torturously experimented on to develop a breed of super-spies; upon their escape, she swore revenge and formed the rogue Changeling faction, taking her torturer's form. Beverly confirms the experiments' existence; Picard realizes he has to kill Vadic, but Geordi fails to revive Data in time to stop Lore from taking over the Titan's computers and disabling the force fields, allowing Vadic to escape, storm Titan's bridge, and announce she knows Jack's true nature.
John Wick: Chapter 4 (2023)
Out of 10 How Many Bullets are in a 21 Round Pit Viper Mags
Darryl: 6/10
Brian: 6.5/10
Summary
John Wick uncovers a path to defeating The High Table. But before he can earn his freedom, Wick must face off against a new enemy with powerful alliances across the globe and forces that turn old friends into foes.
Cast
Keanu Reeves
Donnie Yen
Bill Skarsgård
Laurence Fishburne
Hiroyuki Sanada
Shamier Anderson
Lance Reddick
Rina Sawayama
Scott Adkins
Ian McShane
Crew
Directed by
Chad Stahelski
Written by
Shay Hatten
Michael Finch
Based on Characters by
Derek Kolstad
Produced by
Basil Iwanyk
Erica Lee
Chad Stahelski
Cinematography by
Dan Laustsen
Edited by
Nathan Orloff
Music by
Tyler Bates
Joel J. Richard
Production
Production Companies
Summit Entertainment
Thunder Road Films
87Eleven Productions
Distributed by
Lionsgate
Release dates
March 6, 2023 (London)
March 24, 2023 (United States)
Running time
169 minutes**
Country
United States
Language
English
Budget
$100 million
Box office
$157.3 million*
*as of recording
** Run Time is Too Long
Infamous Shirts for Naked Bodies

…

You'll feel "shirty" when you buy our gear from the Flying Pork Apparel Co.
Contact Us
The Infamous Podcast can be found wherever podcasts are found on the Interwebs, feel free to subscribe and follow along on social media. And don't be shy about helping out the show with a 5-star review on Apple Podcasts to help us move up in the ratings.
@infamouspodcast
facebook/infamouspodcast
instagram/infamouspodcast
stitcher
Apple Podcasts
Spotify
Google Play
iHeart Radio
contact@infamouspodcast.com
Our theme music is 'Skate Beat' provided by Michael Henry, with additional music provided by Michael Henry. Find more at MeetMichaelHenry.com.
The Infamous Podcast is hosted by Brian Tudor and Darryl Jasper, is recorded in Cincinnati, Ohio. The show is produced and edited by Brian Tudor.



Subscribe today!