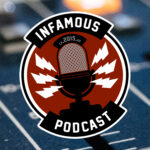 Attack of the Dooooo-ah-ck… ATTACK!
This week on the podcast, Brian and Darryl review the latest episodes of Supes & Lolo and Ted Lasso. Then they jump in the Chris Gore-powered time machine to talk about his new documentary Attack of the Doc and reminisce about the days of yore and Attack of the Show!.
Episode Index
Intro: 0:07
Supes & Lolo: 5:05
Ted Lasso: 20:26
Attack of the Doc: 35:30
Superman & Lois (Season 3, Episodes 6)
Out of 5 At Least The Boys Had a Better Story This Weeks
Darryl: 2.39/5
Brian: 2.41/5
Title: "Of Sound Mind"
Directed by: Diana Valentine
Written by: George Kitson
Aired: April 25, 2023
Summary:
One month later, Clark joins a support group for chemo patients' spouses. Distefano suffers from tumors and is brought to Mannheim by Superman, but is dismissed and dies in the hospital. Lois shares a meal with a patient who trusts in Mannheim's philanthropy. Jordan tries to convince Clark that he is ready to help, but is agitated by the endless lessons. Clark tries to apologize, but the figure baits him using Lois's voice and ambushes him with Kryptonite blasters. Jordan is blasted while trying to rescue him, but they escape and realize that Jordan is not as vulnerable to Kryptonite. Meanwhile, Sarah and Jonathan lose track of Sophie. Jonathan finds her at the county fair and convinces her that her family hasn't forgotten about her. As thanks, Kyle gives Jonathan a new uniform. After Lana sees Kyle and Chrissy together, they go public with their relationship. The figure tells Mannheim that her powers are fading. She is revealed to be Peia, Mannheim's wife and the patient Lois was with, and Mannheim promises to save her.
Ted Lasso (Season 3, Episodes 7)
Out of 5 Ripped from the Headlines
Darryl: 3.87/5
Brian: 4.11/5
Title: "The Strings That Bind Us"
Directed by: Matt Lipsey
Written by: Phoebe Walsh
Aired: April 26, 2023
Summary:
Ted, Beard, and Roy begin to introduce Total Football to the team with a series of training exercises that encourage them to be versatile (by swapping the players' positions during practice) and aware of each other's positions on the pitch (by connecting them to each other with ropes tied to their penises). Attempting the strategy in a game against Arsenal F.C., they fall behind 3–0 in the first half, but after a pep talk from Jamie, they come together to score an elegant goal in the second half, convincing Trent that Ted's supportive style of coaching will succeed. Nate works up the courage to ask Jade on a date. Rebecca expresses concern that Jack is love-bombing Keeley with extravagant gifts, and so Keeley tells Jack she wants their relationship to be on more equal terms. Just before his father is to visit, Sam criticizes a bigoted Cabinet minister on Twitter, and the next day his restaurant is vandalized by the minister's supporters; when he brings his father to see the wreckage he finds the whole team there, cleaning and repairing the restaurant.
Attack of the Doc (2023)
Out of 10 Chocolate Pudding Cream Pie Plunges
Darryl: 8/10
Brian: 8.03/10
Summary
Before the rise of big tech, social media, and Marvel movies, Attack of the Show. chronicled nerd culture's unlikely acceptance into the mainstream. G4TV's flagship show launched the careers of hosts Olivia Munn and Kevin Pereira and was beloved by fans – a unique celebration of geek culture before it was cool. Diving into colossal cream pies, wearing funny fat suits, and putting internet servers where the sun doesn't shine – anything could happen on an Attack of the Show! episode. It's been years since the original show went off the air in 2013 and one question remains: what really happened to G4TV and Attack of the Show?
Crew
Directed by
Chris Gore
Writing by
Chris Gore
Music by
Austin Smith
Film Editing by
Bobby Schwarts
Anthony Ray Bench
Glenn Brown
Phillip H. Eubanks
Cast
Chris Gore
Kevin Pereira
Olivia Munn
Kevin Rose
Sarah Lane
Zach Selwyn
Sara Underwood
Candace Bailey
Blair Butler
Infamous Shirts for Naked Bodies

…

You'll feel "shirty" when you buy our gear from the Flying Pork Apparel Co.
Contact Us
The Infamous Podcast can be found wherever podcasts are found on the Interwebs, feel free to subscribe and follow along on social media. And don't be shy about helping out the show with a 5-star review on Apple Podcasts to help us move up in the ratings.
@infamouspodcast
facebook/infamouspodcast
instagram/infamouspodcast
stitcher
Apple Podcasts
Spotify
Google Play
iHeart Radio
contact@infamouspodcast.com
Our theme music is 'Skate Beat' provided by Michael Henry, with additional music provided by Michael Henry. Find more at MeetMichaelHenry.com.
The Infamous Podcast is hosted by Brian Tudor and Darryl Jasper, is recorded in Cincinnati, Ohio. The show is produced and edited by Brian Tudor.



Subscribe today!