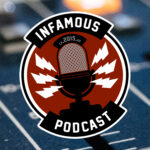 This week on the podcast, Brian and Darryl look at the GoTG vol. 3 box office woes, discuss the WGA Strike, and review Supes and Lolo and Ted Lasso.
Episode Index
Intro: 0:07
Writer's Strike: 2:19
Guardians: 14:55
Spider-Verse: 24:29
Supes and Lolo: 31:37
Ted Lasso: 45:12
News Bites
All the TV Shows and Movies Affected by the WGA Writers Strike https://variety.com/2023/tv/news/tv-shows-movies-affected-wga-writers-strike-2023-1235601094/
Guardians of the Galaxy, Vol. 3 Box Office Watch: https://www.boxofficemojo.com/release/rl2977202945/?ref_=bo_hm_rd
'Spider-Man: Across the Spider-Verse' Tracking for Huge $70M-$80M Box Office Opening hollywoodreporter.com/movies/movie-news/spider-man-across-spider-verse-box-office-tracking-1235485329/
Superman & Lois (Season 3, Episodes 8)
Out of 5 Getting Coffee for Real Heroes
Darryl: 3.25/5
Brian: 3.66/5
Title: "Guess Who's Coming to Dinner"
Directed by: Gregory Smith
Written by: Aaron Helbing
Aired: May 9, 2023
Summary:
Kyle promotes Jonathan. A fire breaks out and Kyle has Jonathan stay by the truck, but Jordan rescues someone and leaves them by him, leading Kyle to believe that Jonathan disobeyed him. While searching for evidence on Mannheim, Sam misses a date and instead talks with Lana. Clark and Chrissy interview a chemo patient who knew Peia, but learn nothing. The group discovers that Mannheim framed Luthor for Moxie's death. Natalie meets Matteo's parents, unaware of who they are. While with Darlene, John learns that the restaurant Natalie is at is where his doppelgänger would meet with Mannheim. John goes there and fights Mannheim and Peia and is joined by Superman. Peia faints while using her powers and Superman brings her to the DOD. Meanwhile, the twins argue about the fire. Sarah helps Jordan see Jonathan's perspective and he convinces her to go to The Cure concert with Lana. Jordan apologizes and Jonathan tells him that Kyle knows that someone with powers is intervening. Lois worries that Luthor was wrongfully imprisoned, John orders Natalie not to see Matteo and takes her phone, Matteo argues with his dad, and the Inverse Superman awakens.
Ted Lasso (Season 3, Episodes 9)
Out of 5 Trust Me Bruvs
Darryl: 4.11/5
Brian: 4.23/5
Title: "La Locker Room Aux Folles"
Directed by: Erica Dunton
Written by: Chuck Hayward
Aired: May 10, 2023
Summary:
Isaac is left troubled after finding out Colin is gay, and it strains the friendship between the two men. After a poor showing by Richmond in the first half of a match against Brighton, a Richmond fan uses "the other F-word" against the team, causing Isaac to attack the fan and receive a red card as punishment, though the fan is also kicked out. In the locker room Colin comes out to the rest of the team and they accept his sexuality. Richmond wins the match and Colin posts a season best performance. Rupert is introduced to Jade by Nate, but after inviting him out for a "guys night out" Nate makes an excuses and leaves when he realizes Rupert has purposely invited several women to join them. Isaac later visits Colin at his home and reveals that he was disappointed that Colin hadn't come out to him earlier, though Colin explains that he was scared that Isaac would reject him and Isaac admits that he would not have been able to keep it a secret anyway, Colin invites Isaac inside and the two bond again as friends.
Infamous Shirts for Naked Bodies

…

You'll feel "shirty" when you buy our gear from the Flying Pork Apparel Co.
Contact Us
The Infamous Podcast can be found wherever podcasts are found on the Interwebs, feel free to subscribe and follow along on social media. And don't be shy about helping out the show with a 5-star review on Apple Podcasts to help us move up in the ratings.
@infamouspodcast
facebook/infamouspodcast
instagram/infamouspodcast
stitcher
Apple Podcasts
Spotify
Google Play
iHeart Radio
contact@infamouspodcast.com
Our theme music is 'Skate Beat' provided by Michael Henry, with additional music provided by Michael Henry. Find more at MeetMichaelHenry.com.
The Infamous Podcast is hosted by Brian Tudor and Darryl Jasper, is recorded in Cincinnati, Ohio. The show is produced and edited by Brian Tudor.



Subscribe today!