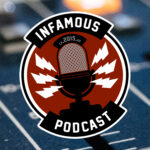 This is One of the Least Important Character Deaths of All Time.
This week on the podcast, Darryl DIDN'T get out to see Guardians 3, so he and Brian are talking Ted Lasso ep 10, and a whole bunch of news, specifically the Death of Ms. Marvel.
Episode Index
Intro: 0:07
Entourage Funnies: 1:44
Indy Woes: 6:59
The Fate of Supes and Lolo: 13:46
Galactic Starcruiser Crash and Burn: 18:42
So Long Kamala Khan: 27:07
Ted Lasso: 36:47
News Bites
'Entourage' Creator Flips Out Over Proposed Changes to Show, Not Realizing It Was a Joke https://www.hollywoodreporter.com/tv/tv-news/entourage-creator-doug-ellin-rant-1235496198/
'Indiana Jones and the Dial of Destiny' Review: Harrison Ford Cracks the Whip One Last Time in a Final Chapter Short on Both Thrills and Fun https://www.hollywoodreporter.com/movies/movie-reviews/indiana-jones-and-the-dial-of-destiny-review-harrison-ford-james-mangold-1235495914/
The CW President Brad Schwartz Says Fate Of 'Superman & Lois' Mostly Dependent On Cost: "It's Expensive [And] Doesn't Make Money For Us" https://boundingintocomics.com/2023/05/19/the-cw-president-brad-schwartz-says-fate-of-superman-lois-mostly-dependant-on-cost-its-expensive-and-doesnt-make-money-for-us/
Disney World Closing Pricey 'Star Wars'-Themed Galactic Starcruiser Experience https://deadline.com/2023/05/disney-world-galactic-starcruiser-star-wars-closing-1235372297/
Ms. Marvel's Death In 'Amazing Spider-Man #26' Upsets And Baffles Fans https://boundingintocomics.com/2023/05/18/ms-marvels-death-in-amazing-spider-man-26-upsets-and-baffles-fans-this-is-racism/
Ted Lasso (Season 3, Episodes 10)
Out of 5 Dani Rojas Goes Psychos
Darryl: 3.81/5
Brian: 4.43/5
Title: "International Break"
Directed by: Matt Lipsey
Written by: Jane Becker
Aired: May 17, 2023
Summary:
Several Richmond players are called up to play for their national teams, but Sam is left disappointed when he is not selected for Nigeria; he later learns that Edwin Akufo had bribed officials to keep him off the team out of spite. Nate unexpectedly quits West Ham and recuperates at his parents' home, and repairs his strained relationship with his father. Keeley is left devastated after her firm suddenly shuts down when her funding is pulled, but Rebecca invests in her firm instead. She reopens the firm and rehires Barbara as CFO. Dani breaks Van Damme's nose with a shot at goal as the two play against each other in an international game between Mexico and Canada, while Jamie makes his debut for England. Rupert tries to recruit Rebecca into joining Akufo's new exclusive Super League. Although she attends the meeting after some prompting from Higgins, she berates Akufo and the other owners for taking football away from working-class people just to make more money for themselves. She ultimately sways Rupert and the others into rejecting Akufo's plan, who promptly throws a tantrum (and food) at them. In the aftermath, Rupert tries to kiss Rebecca, but she rejects him, although she no longer wants to beat him. Roy's gradual change in attitude inspires him to apologize to Keeley for ending their relationship, and they get back together. Nathan sneaks into the Richmond locker room and leaves Will an apology note for his past behavior.
Infamous Shirts for Naked Bodies

…

You'll feel "shirty" when you buy our gear from the Flying Pork Apparel Co.
Contact Us
The Infamous Podcast can be found wherever podcasts are found on the Interwebs, feel free to subscribe and follow along on social media. And don't be shy about helping out the show with a 5-star review on Apple Podcasts to help us move up in the ratings.
@infamouspodcast
facebook/infamouspodcast
instagram/infamouspodcast
stitcher
Apple Podcasts
Spotify
Google Play
iHeart Radio
contact@infamouspodcast.com
Our theme music is 'Skate Beat' provided by Michael Henry, with additional music provided by Michael Henry. Find more at MeetMichaelHenry.com.
The Infamous Podcast is hosted by Brian Tudor and Darryl Jasper, is recorded in Cincinnati, Ohio. The show is produced and edited by Brian Tudor.



Subscribe today!