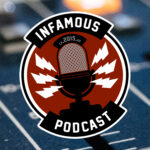 Seriously! Jamie and His Mom Have a Strange Relationship
This week on the podcast, Brian and Darryl are talking DC Studios news and cameos, Superman and Lois Episode 9, and the PENULTIMATE Episode of Ted Lasso Season 3.
Episode Index
Intro: 0:07
James Gunn: 03:05
The Flash: 15:02
Supes and Lolo: 21:00
Ted Lasso: 34:06
News Bites
'Superman: Legacy' Audition Process Gears Up As James Gunn Dives Into The Search To Find The Next Clark Kent, Lois Lane And Lex Luthor https://deadline.com/2023/05/superman-legacy-james-gunn-clark-kent-lois-lane-lex-luthor-1235365908/
'The Flash' Has An Unexpected Super Cameo By A Superstar Actor
https://deadline.com/2023/05/the-flash-has-an-unexpected-super-cameo-by-nic-cage-1235380405/
Superman and Lois (Season 3, Episode 9)
Out of 5 Superman is a Boob Guys
Darryl: 2.55/5
Brian: 2.18/5
Title: "The Dress"
Directed by: Stephen Maier
Written by: Kristi Korzec
Aired: May 23, 2023
Summary: In flashbacks, Clark buys Lois a dress to wear to a gala for her nomination for a journalism award. In the present, Jordan asks Jonathan not to tell their parents about what Kyle said. At the DOD, John demands that Mannheim turn over all stolen DOD assets in exchange for visiting Peia. With his lawyer present, Mannheim refuses and has Orr lead an attack on John and Natalie, but they pull back due to witnesses. John retaliates by leading on a DOD raid on Mannheim's apartment, interrupting a meeting between Mannheim and Superman, and Sam has John go home. Meanwhile, Lois tries to give the dress to Lana and the two talk about her upcoming double mastectomy. Jonathan advises Natalie to give up on seeing Matteo. He later apologizes and has Matteo come to Smallville and Natalie learns that John has been keeping Peia from her family. Mannheim orders Dr. Hook to dispatch a revived Miller to attack John, wrecking his house and Main Street in the ensuing fight, and John is seen killing Miller in self-defense. Later, Mannheim shows Matteo the Inverse Superman's body where he plans to make a cure for Peia that comes from him. Lois puts on the dress and flies with Clark.
Ted Lasso (Season 3, Episodes 11)
Out of 5 Jamie Tart Do Do Do Doot Do Doots
Darryl: 4.11/5
Brian: 4.47/5
Title: "Mom City"
Directed by: Declan Lowney
Story by: Brendan Hunt & Jason Sudeikis
Teleplay by : Joe Kelly
Aired: May 24, 2023
Summary:
Ted's mother Dottie unexpectedly arrives in London. Although she proves popular with his co-workers, her presence makes Ted anxious. Nathan begins working at Jade's restaurant; Will and the players ask him to come back to Richmond but he turns them down. Jade tells Nathan he should go back to Richmond and convinces their boss to fire him. Roy notices Jamie acting uncharacteristically depressed, and he becomes distraught when Roy confronts him. The team travels to Manchester to play Manchester City; Jamie brings Roy and Keeley to his mother's home and confesses his anxieties to his mother over his father possibly being at the game and how he'll be received by his hometown. Despite the hostile crowd, Jamie helps Colin score and blocks a shot on goal, but injures his ankle. Ted elects not to sub Jamie out. While he receives treatment on the sidelines, Ted suggests Jamie forgive his father, which helps him regain his confidence and seal victory for Richmond. The crowd applauds his performance, including his father, who is watching the game at a rehab facility. Ted convinces Coach Beard, the only holdout against Nathan's return, to let him come back. Beard visits Nathan and reveals that Ted helped him when he was at his lowest point, and returns the favor by forgiving Nathan and offering him a job with the club. Ted and Dottie discuss their past issues and shared anxieties about being parents, and he admits he misses his son. Bex and Ms. Kakes appear at Rebecca's door, asking for advice.
Infamous Shirts for Naked Bodies

…

You'll feel "shirty" when you buy our gear from the Flying Pork Apparel Co.
Contact Us
The Infamous Podcast can be found wherever podcasts are found on the Interwebs, feel free to subscribe and follow along on social media. And don't be shy about helping out the show with a 5-star review on Apple Podcasts to help us move up in the ratings.
@infamouspodcast
facebook/infamouspodcast
instagram/infamouspodcast
stitcher
Apple Podcasts
Spotify
Google Play
iHeart Radio
contact@infamouspodcast.com
Our theme music is 'Skate Beat' provided by Michael Henry, with additional music provided by Michael Henry. Find more at MeetMichaelHenry.com.
The Infamous Podcast is hosted by Brian Tudor and Darryl Jasper, is recorded in Cincinnati, Ohio. The show is produced and edited by Brian Tudor.



Subscribe today!