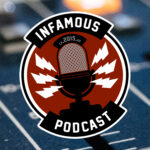 It Was Never About Ted Anyway.
This week on the podcast, Brian and Darryl have a simple episode for y'all… Supes and Lolo and the Ted Lasso Finale.
Episode Index
Intro: 0:07
Supes and Lolo: 5:04
Ted Lasso: 20:5
Superman and Lois (Season 3, Episode 10)
Out of 5 Matteo Mannheim Ill-Fitting Suits
Darryl: 2.58/5
Brian: 2.65/5
Title: "Collision Course"
Directed by: Elaine Mongeon
Written by: Max Cunningham & Max Kronick
Aired: May 30, 2023
Summary:
Lois finishes chemotherapy. At the DOD, she tries to get Peia to confess to framing Lex Luthor. Lana and Chrissy meet with Governor Kerry Wexler. Clark tries to spend time with the twins, but they decide to go to a party. While there, Jordan interrupts a conversation between Sarah and George Jr., upsetting her. The sheriff and his deputies bust the party and Sarah and George Jr. crash her car while trying to escape, but Jordan rescues them. Kyle arrives and George Jr. tells him that he saw someone with powers while Sarah is charged with a DUI. They go to the diner where Wexler leaves after seeing Sarah under arrest. Matteo visits Peia and gives her Mannheim's cure hidden in one of his cuff buttons. With her powers restored, she escapes, threatening Lois, and wrecking the DOD on her way out. Meanwhile, Jordan admits to being spotted. Clark realizes that he was drinking and also confronts Jonathan, who admits to going to the party but did not drink anything. Kyle, convinced that Jonathan has powers, confronts Clark and sees him fly off stating that he'll explain everything tomorrow. Peia happily reunites with Mannheim and Matteo.
Ted Lasso (Season 3, Episodes 12)
Out of 5 Goodbyes
Darryl: 4.18/5
Brian: 4.79/5
Title: "So Long, Farewell"
Directed by: Declan Lowney
Written by : Brendan Hunt & Joe Kelly & Jason Sudeikis
Aired: May 31, 2023
Summary:
Richmond is potentially one win away from winning the league, only needing to win the last game against West Ham providing Manchester City loses or draws their final game. News hits that Bex is divorcing Rupert over his affair with Ms. Kakes and other infidelities. Ted has informed Rebecca that he and Coach Beard will go home and the team make plans for the future without them, but Rebecca also floats the idea of selling the club. Nathan starts working as assistant kit man under Will, and is jokingly fined by the players for missing the season; he later tearfully apologizes to Ted. Trent gives Ted and Beard a draft of his book and asks for their feedback. Roy asks Jamie to "step aside" when it comes to Keeley and they end up getting into a fight over who gets to be with her. When they ask Keeley to choose, she turns them both away. Rebecca tells Ted she has decided to sell the club, but she tries unsuccessfully to convince him to stay so she won't have to. During the game West Ham takes a two-goal lead at halftime; during the break, the players reveal to Ted that they all still have pieces of the "Believe" sign in their possession and they put it together before returning to the pitch. Richmond soon equalizes after Isaac scores his first penalty by kicking the ball through the net. A furious Rupert demands new West Ham manager George Cartrick get his players to injure Jamie and assaults him when he refuses, causing the crowd to jeer Rupert as he leaves the stadium. Sam's goal seals the win for Richmond, and amidst the celebration after the final whistle, Colin kisses his boyfriend on the pitch. Richmond ends up finishing second in the league after Manchester City, and Rebecca decides to stay with the club, selling 49% to the fans. Rebecca farewells Ted at the airport, where she is reunited with the man from the houseboat in Amsterdam, who is revealed to be a pilot. On the plane Beard decides to stay in England (mainly for Jane's sake) and fakes a medical emergency to get himself evacuated; he later marries her at Stonehenge. Roy becomes Richmond's new manager and starts attending sessions with Dr. Sharon, who has become the official AFC Richmond Head of Mental Health. Sam ends up playing for Nigeria, and Jamie makes amends with his father. Keeley proposes that Richmond form a women's team. Ted tells Trent he loved the book but wants to change the title, The Lasso Way because it was never about him; Trent retitles it The Richmond Way. Beard, Roy, and Nathan put the "Believe" sign back up in the Richmond locker room. Ted returns home and becomes the coach of his son's soccer team.
Infamous Shirts for Naked Bodies

…

You'll feel "shirty" when you buy our gear from the Flying Pork Apparel Co.
Contact Us
The Infamous Podcast can be found wherever podcasts are found on the Interwebs, feel free to subscribe and follow along on social media. And don't be shy about helping out the show with a 5-star review on Apple Podcasts to help us move up in the ratings.
@infamouspodcast
facebook/infamouspodcast
instagram/infamouspodcast
stitcher
Apple Podcasts
Spotify
Google Play
iHeart Radio
contact@infamouspodcast.com
Our theme music is 'Skate Beat' provided by Michael Henry, with additional music provided by Michael Henry. Find more at MeetMichaelHenry.com.
The Infamous Podcast is hosted by Brian Tudor and Darryl Jasper, is recorded in Cincinnati, Ohio. The show is produced and edited by Brian Tudor.



Subscribe today!