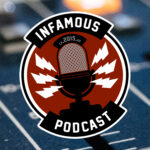 The Flash Trips at the Starting Line
This week on the podcast, Brian and Darryl send condolences for the passing of John Romita Sr., discuss if superhero fatigue is a thing, share Rippaverse news, and look at the debacle of an opening weekend that is The Flash.
Episode Index
Intro: 0:07
John Romita Sr.: 3:20
Superhero Fatigue: 8:30
Rippaverse: 19:33
Ezra Miller Comments: 30:00
The Flash So Far: 34:47
News Bites
John Romita Sr., Legendary Marvel Artist, Dies at 93 https://www.hollywoodreporter.com/movies/movie-news/john-romita-sr-dead-marvel-artist-1235515094/
Phil Lord And Christopher Miller Push Back Against "Superhero Fatigue" Theory https://boundingintocomics.com/2023/06/16/spider-man-across-the-spider-verse-writers-phil-lord-and-christopher-miller-push-back-against-superhero-fatigue-theory-the-audience-in-the-theater-cannot-be-sustained-on-easter-eggs-and-re/
Eric July Launches Another Smashing Success For The Rippaverse With 'Isom #2,' Nearly $1 Million Sold In 48 Hours https://boundingintocomics.com/2023/06/14/eric-july-launches-another-smashing-success-for-the-rippaverse-with-isom-2-nearly-1-million-sold-in-48-hours/
Isom #2 Animation Trailer from Rippaverse Studios https://www.youtube.com/watch?v=fu0XFgA2LmE
Ezra Miller Issues First Public Comments Since Misconduct Allegations at 'The Flash' Premiere https://variety.com/2023/film/news/ezra-miller-flash-premiere-speech-misconduct-dc-studios-1235641961/
"The Flash' Director Andy Muschietti Claims Film's Terrible CGI Was Intentional https://boundingintocomics.com/2023/06/16/the-flash-director-andy-muschietti-claims-films-terrible-cgi-was-intentional-meant-to-put-audiences-in-the-perspective-of-the-scarlet-speedster/
'The Flash' Loses Speed With $60M 3-Day Opening: Here's Why https://deadline.com/2023/06/box-office-the-flash-bomb-elemental-1235419478/
Infamous Shirts for Naked Bodies

…

You'll feel "shirty" when you buy our gear from the Flying Pork Apparel Co.
Contact Us
The Infamous Podcast can be found wherever podcasts are found on the Interwebs, feel free to subscribe and follow along on social media. And don't be shy about helping out the show with a 5-star review on Apple Podcasts to help us move up in the ratings.
@infamouspodcast
facebook/infamouspodcast
instagram/infamouspodcast
stitcher
Apple Podcasts
Spotify
Google Play
iHeart Radio
contact@infamouspodcast.com
Our theme music is 'Skate Beat' provided by Michael Henry, with additional music provided by Michael Henry. Find more at MeetMichaelHenry.com.
The Infamous Podcast is hosted by Brian Tudor and Darryl Jasper, is recorded in Cincinnati, Ohio. The show is produced and edited by Brian Tudor.



Subscribe today!