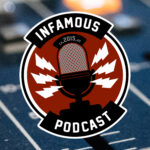 Chris Hemsworth is the 2nd Best Chris after PrattPrattPratt
This week on the podcast, Brian and Darryl are talking about Extraction 2, Supes & Lolo, and News Bites.
Episode Index
Intro: 0:07
Jonathan Majors: 4:20
The Flash: 20:33
Kraven Trailer: 26:10
Supes & Lolo: 33:48
Extraction 2: 46:07
News Bites
New Evidence, Eyewitnesses in Jonathan Majors Assault Case Appear to Tell a Different Story https://www.yahoo.com/news/evidence-eyewitnesses-jonathan-majors-assault-202039766.html
The Flash Box-Office: https://www.boxofficemojo.com/release/rl2225635841/?ref_=bo_tt_gr_1
KRAVEN THE HUNTER Official Red Band Trailer https://www.youtube.com/watch?v=rze8QYwWGMs
Superman and Lois (Season 3, Episode 12)
Out of 5 Rat Eating Bizzaros
Darryl: 3.64/5
Brian: 3.11/5
Title: "Injustice"
Directed by: Sudz Sutherland
Written by: Michael Narducci
Aired: June 20, 2023
Summary:
Luthor is released from prison and has the warden delay the news. George Jr. is interviewed about his rescuer. Jordan praises the rescuer, upsetting Sarah, who feels that it isn't fair to have to keep Jordan's secret if he's going to brag about it. Lana tells Clark and Lois, and they take his suit at Sam's suggestion. Meanwhile, Jonathan worries that Kyle is treating him differently. Clark overhears and talks to Kyle, and Kyle tells Jonathan to keep things between them. Jordan argues with Sarah at the diner. As a tornado sweeps in, Jordan goes to Sam and takes his suit back before helping Superman get rid of the tornado. The public embraces him and he goes viral. That night, Jordan argues with his parents about their restrictions and Sarah asks Lana to dye her hair. Luthor appears at the Kent house and demands that Lois retire. He leaves with his henchman Otis and they locate the Inverse Superman who kills Otis. In flashbacks, Luthor coerces Otis, the warden, and the other inmates into serving him.
Extraction 2 (2023)
Out of 10 Enemies Left for Dead Coming Back to Bite You in the Assees
Darryl: 6.11/10
Brian: 5.5/10
Summary
Back from the brink of death, commando Tyler Rake embarks on a dangerous mission to save a ruthless gangster's imprisoned family.
Movie Info
Directed by
Sam Hargrave
Written by
Joe Russo
Based on Ciudad by
Ande Parks
Joe Russo
Anthony Russo
Fernando León González
Eric Skillman
Produced by
Joe Russo
Anthony Russo
Chris Hemsworth
Patrick Newall
Sam Hargrave
Mike Larocca
Angela Russo-Otstot
Eric Gitter
Peter Schwerin
Starring
Chris Hemsworth
Golshifteh Farahani
Adam Bessa
Olga Kurylenko
Daniel Bernhardt
Tinatin Dalakishvili
Idris Elba
Cinematography
Greg Baldi
Edited by
Álex Rodríguez
William Hoy
Music by
Henry Jackman
Alex Belcher
Production Companies
AGBO
Wild State
T.G.I.M. Films
Distributed by
Netflix
Release date
June 16, 2023
Running time
122 minutes
Infamous Shirts for Naked Bodies

…

You'll feel "shirty" when you buy our gear from the Flying Pork Apparel Co.
Contact Us
The Infamous Podcast can be found wherever podcasts are found on the Interwebs, feel free to subscribe and follow along on social media. And don't be shy about helping out the show with a 5-star review on Apple Podcasts to help us move up in the ratings.
@infamouspodcast
facebook/infamouspodcast
instagram/infamouspodcast
stitcher
Apple Podcasts
Spotify
Google Play
iHeart Radio
contact@infamouspodcast.com
Our theme music is 'Skate Beat' provided by Michael Henry, with additional music provided by Michael Henry. Find more at MeetMichaelHenry.com.
The Infamous Podcast is hosted by Brian Tudor and Darryl Jasper, is recorded in Cincinnati, Ohio. The show is produced and edited by Brian Tudor.



Subscribe today!