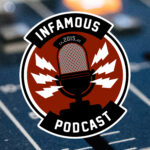 Gunn Finds his Man of Steel and Damsel in a Dress
This week on the podcast, Brian and Darryl talk about The Flash box office woes, the new Man of Steel, and the season 3 Supes & Lolo finale.
Episode Index
Intro: 0:07
The Flash Box Office Update:
Heels Season 2:
DC Studios' Superman and Lois:
Supes & Lolo:
News Bites
The Flash Box Office https://www.boxofficemojo.com/release/rl2225635841/
Rumor Claims Over 1500 Theaters Will Drop Ezra Miller's 'The Flash' Film This Weekend https://boundingintocomics.com/2023/06/30/new-rumor-claims-over-1500-theaters-will-drop-ezra-millers-the-flash-film-this-weekend/
Heels Season 2 Official Trailer STARZ https://www.youtube.com/watch?v=AvrF5CS_QnI
'Superman: Legacy' Finds Leads With David Corenswet and Rachel Brosnahan https://www.hollywoodreporter.com/movies/movie-news/superman-legacy-cast-david-corenswet-rachel-brosnahan-1235358907/
Who Is David Corenswet? Meet DC's New Superman https://www.hollywoodreporter.com/movies/movie-news/who-is-david-corenswet-everything-to-know-new-superman-1235525044/
New Superman Actor David Corenswet Said Superman Was His Dream Role: I Want Him to Be 'Bright and Optimistic' After Henry Cavill's 'Gritty Take' https://variety.com/2023/film/news/david-corenswet-superman-optimistic-henry-cavill-gritty-1235657110/
Superman and Lois (Season 3, Episode 13)
Out of 5 I Was Totally Right About it Being Doomsdays
Darryl: 3**/5
Brian: 4.01/5
Title: "What Kills You Only Makes You Stronger"
Directed by: Gregory Smith
Written by: Brent Fletcher & Todd Helbing
Aired: June 27, 2023
Summary:
32 days later, Smallville prepares for a meteor shower celebration. Chrissy learns that she is pregnant, and she and Kyle tell their friends and family. The Kent family plans a trip to Italy, Sam offers John a job creating tech for the DOD in Metropolis, John and Lana go on a date, Jonathan tries to regain Coach Gaines' trust, and Clark pushes Jordan to reconcile with Sarah, though they decide not to remain friends. Meanwhile, Luthor has Judge Reagen killed. Sam meets with a woman he met online named Gretchen, but she abducts him and delivers him to Luthor. At the celebration, Kyle and Chrissy get engaged. After discovering that the Inverse Superman is revived and strengthened each time he dies, Luthor repeatedly kills him and transforms him into a monster. Luthor unleashes the monster on Superman, who publicly defeats him and carries him into space. Remembering his family, Clark continues fighting on the moon.
Infamous Shirts for Naked Bodies

…

You'll feel "shirty" when you buy our gear from the Flying Pork Apparel Co.
Contact Us
The Infamous Podcast can be found wherever podcasts are found on the Interwebs, feel free to subscribe and follow along on social media. And don't be shy about helping out the show with a 5-star review on Apple Podcasts to help us move up in the ratings.
@infamouspodcast
facebook/infamouspodcast
instagram/infamouspodcast
stitcher
Apple Podcasts
Spotify
Google Play
iHeart Radio
contact@infamouspodcast.com
Our theme music is 'Skate Beat' provided by Michael Henry, with additional music provided by Michael Henry. Find more at MeetMichaelHenry.com.
The Infamous Podcast is hosted by Brian Tudor and Darryl Jasper, is recorded in Cincinnati, Ohio. The show is produced and edited by Brian Tudor.



Subscribe today!