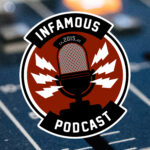 God's Children Aren't for Sale, BUT The Souls of Legacy Media Are
This week on the podcast, Brian and Darryl review the new film Sound of Freedom. Then discuss the lack of morality and decency in Legacy Media.
Episode Index
Intro: 0:07
Sound of Freedom: 3:41
Sound of Freedom (2023)
Summary
Sound of Freedom is a 2023 American action film directed and co-written by Alejandro Monteverde, and stars Jim Caviezel, Mira Sorvino, and Bill Camp. Caviezel plays Tim Ballard, a former government agent who embarks on a mission to rescue children from sex traffickers in Colombia.
Production and Crew
Directed by
Alejandro Monteverde
Written by
Rod Barr
Alejandro Monteverde
Produced by
Eduardo Verastegui
Starring
Jim Caviezel
Mira Sorvino
Bill Camp
Cinematography
Gorka Gómez
Andreu Aec
Edited by
Brian Scofield
Music by
Javier Navarrete
Production Company
Santa Fe Films
Distributed by
Angel Studios
Release date
July 4, 2023
Running time
131 minutes
Country
United States
Languages
English
Spanish
Budget
$14.5 million
Box office
$40.2 million*
* as of recording
Source Material
History vs. Hollywood – Sound of Freedom https://www.historyvshollywood.com/reelfaces/sound-of-freedom/
Reactions
'Sound of Freedom' is a box office hit whose star embraces QAnon https://www.washingtonpost.com/arts-entertainment/2023/07/07/sound-of-freedom-qanon-theories-jim-caviezel/
Sound of Freedom: the QAnon-adjacent thriller seducing America https://www.theguardian.com/film/2023/jul/06/sound-of-freedom-movie-qanon-jim-caviezel
'Sound Of Freedom' Is a Superhero Movie for Dads With Brainworms https://www.rollingstone.com/tv-movies/tv-movie-reviews/sound-of-freedom-jim-caviezel-child-trafficking-qanon-movie-1234783837/
Rothschild Begs Americans To NOT SEE Huge Hit Sound of Freedom Movie https://dailytruthreport.com/rothschild-begs-americans-to-not-see-huge-hit-sound-of-freedom-movie/
How Jim Caviezel's Faith-Based 'Sound of Freedom' Became This Summer's Unlikely Box Office Hit https://variety.com/2023/film/box-office/sound-of-freedom-box-office-success-1235664837/
Infamous Shirts for Naked Bodies

…

You'll feel "shirty" when you buy our gear from the Flying Pork Apparel Co.
Contact Us
The Infamous Podcast can be found wherever podcasts are found on the Interwebs, feel free to subscribe and follow along on social media. And don't be shy about helping out the show with a 5-star review on Apple Podcasts to help us move up in the ratings.
@infamouspodcast
facebook/infamouspodcast
instagram/infamouspodcast
stitcher
Apple Podcasts
Spotify
Google Play
iHeart Radio
contact@infamouspodcast.com
Our theme music is 'Skate Beat' provided by Michael Henry, with additional music provided by Michael Henry. Find more at MeetMichaelHenry.com.
The Infamous Podcast is hosted by Brian Tudor and Darryl Jasper, is recorded in Cincinnati, Ohio. The show is produced and edited by Brian Tudor.



Subscribe today!