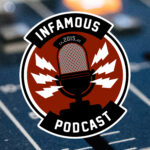 Paramount is Just Funding Tom Cruise's Action Sports Addiction
This week on the podcast, Brian and Darryl review Mission: Impossible – Dead Reckoning Part One.
Episode Index
Intro: 0:07
Dead Reckoning: 2:44
Mission: Impossible – Dead Reckoning Part One (2023)
Out of 10 Crazy Tom Cruise Jumping Offa Stuffs
Darryl: 8.11/10
Brian: 8/10
Summary
In Mission: Impossible – Dead Reckoning Part One, Ethan Hunt (Tom Cruise) and his IMF team embark on their most dangerous mission yet: To track down a terrifying new weapon that threatens all of humanity before it falls into the wrong hands. With control of the future and the fate of the world at stake, and dark forces from Ethan's past closing in, a deadly race around the globe begins. Confronted by a mysterious, all-powerful enemy, Ethan is forced to consider that nothing can matter more than his mission — not even the lives of those he cares about most.
Cast
Tom Cruise as Ethan Hunt,
Hayley Atwell as Grace
Ving Rhames as Luther Stickell
Simon Pegg as Benji Dunn
Rebecca Ferguson as Ilsa Faust
Vanessa Kirby as Alanna Mitsopolis
Esai Morales as Gabriel
Pom Klementieff as Paris
Mariela Garriga as Marie
Henry Czerny as Eugene Kittridge,
Shea Whigham as Jasper Briggs
Greg Tarzan Davis as Degas
Frederick Schmidt as Zola Mitsopolis
Crew
Directed by
Christopher McQuarrie
Written by
Christopher McQuarrie
Erik Jendresen
Based on Mission: Impossible by
Bruce Geller
Produced by
Tom Cruise
Christopher McQuarrie
Cinematography
Fraser Taggart
Edited by
Eddie Hamilton
Music by
Lorne Balfe
Production
Production Companies
Skydance
TC Productions
Distributed by
Paramount Pictures
Release dates
June 19, 2023 (Rome)
July 12, 2023 (United States)
Running time
163 minutes
Budget
$291 million
Box office
$63.6 million*
*as of recording
Infamous Shirts for Naked Bodies

…

You'll feel "shirty" when you buy our gear from the Flying Pork Apparel Co.
Contact Us
The Infamous Podcast can be found wherever podcasts are found on the Interwebs, feel free to subscribe and follow along on social media. And don't be shy about helping out the show with a 5-star review on Apple Podcasts to help us move up in the ratings.
@infamouspodcast
facebook/infamouspodcast
instagram/infamouspodcast
stitcher
Apple Podcasts
Spotify
Google Play
iHeart Radio
contact@infamouspodcast.com
Our theme music is 'Skate Beat' provided by Michael Henry, with additional music provided by Michael Henry. Find more at MeetMichaelHenry.com.
The Infamous Podcast is hosted by Brian Tudor and Darryl Jasper, is recorded in Cincinnati, Ohio. The show is produced and edited by Brian Tudor.



Subscribe today!