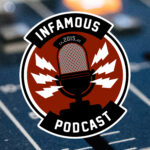 Three Reviews… None of Them Barbie
This week on the podcast, Brian and Darryl are talking about Oppenheimer, Justified: City Primeval, and the Atom Eve standalone episode on Amazon Prime.
Episode Index
Intro: 0:07
Atom Eve: 5:28
Justified: 18:25
Oppenheimer: 32:01
Invincible Presents: Atom Eve (2023)
Out of 5 Spot-On Character Representations
Darryl 4.44/5
Brian 4.59/5
Summary
A special prequel episode titled "Invincible Atom Eve" is available to stream exclusively on Amazon Prime Video. The episode depicts how Samantha Eve Wilkins, also known as Atom Eve, grew up out of place in her own family and discovers her tragic backstory and the origin and true potential of her powers She was born as a government weapon manipulated at birth to have the supernatural power to manipulate objects at the molecular level, but grew up with the Wilkins family after the scientist who created her saved her from her fate. The episode sheds light on her past on-screen and sheds light on how she received her powers and became a hero. Invincible Season 2 will return with the first half of episodes coming on November 3, followed by the second half in early 2024.
Justified: City Primeval (Episodes 1-3)
Out of 10 What Happened to Boon's Hats
Darryl: 6.75/10
Brian: 7.5/10
Episode 1
Title: "City Primeval"
Directed by: Michael Dinner
Written by: Dave Andron & Michael Dinner
Aired: July 18, 2023\U.S. Viewers: 4,930,000
Summary:
At the Everglades, Raylan (Timothy Olyphant) meets with his daughter, Willa (Vivian Olyphant), taking her to a camp. On the way, their car is rammed by a pick-up driven by two thugs. The thugs want to steal Raylan's car, but Raylan surprises them by flattening their tires with a shotgun and arresting them after showing his badge.
In Detroit, Clement Mansell (Boyd Holbrook) steals a car from a gas station. Alvin Guy (Keith David), a judge for the Third Circuit Judicial Court of Wayne County, survives an assassination attempt when his car explodes. Despite the attempt, he still continues his job through the day with a new case. The case involves Raylan, who has been called after arresting one of the thugs, Tyrone (Jalen Gilbert), who was a fugitive in Michigan. During the trial, Tyrone's lawyer, Carolyn Wilder (Aunjanue Ellis), questions Raylan over his perceived hostility and possible mistreatment of the criminals. Upset with Raylan's behavior, the Judge releases Tyrone on bail with the charges in Florida dropped.
Episode 2
Title: "The Oklahoma Wildman"
Directed by: Michael Dinner
Written by: Dave Andron & Michael Dinner
Aired: July 18, 2023
U.S. Viewers: 8,848,000
Summary:
In 2017, Mansell (Boyd Holbrook) robs a crew of drug dealers at their house, with the help of Sweety (Vondie Curtis-Hall). After retrieving the money, Mansell kills the dealers and flees with Sweety. Three days later, Mansell is arrested when one of the dealers survives and identifies him. In prison, Mansell is visited by Carolyn (Aunjanue Ellis), who says she will represent him as his lawyer.
In the present day, Raylan (Timothy Olyphant) and Wendell (Victor Williams) visit Sandy (Adelaide Clemens) at her penthouse. The penthouse belongs to a person known as Del Weems, and Weems' car was the one that Mansell drove the previous night. Sandy claims to have driven the car and had an incident. As she asks them to leave, Wendell recognizes her as the person who was with Mansell on the night of his arrest. After they leave, Mansell asks Sandy to drop the incriminating gun into the River Rouge. She leaves, unaware that she is being followed by Raylan and Wendell. At the River Rouge, she cannot bring herself to throw it, so she hides it on the ceiling of Sweety's bar's restroom.
Episode 3
Title: "Backstabbers"
Directed by: Jon Avent
Written by: Eisa Davis & Chris Provenzano
Aired: July 25, 2023
U.S. Viewers: 5,600,000
Summary:
In Grosse Pointe, Carolyn (Aunjanue Ellis) calls Jamal over a tax lien that just arrived. Suddenly, she is visited by Mansell (Boyd Holbrook), who reveals that Raylan (Timothy Olyphant) assaulted him. Finding that he was talking to Willa (Vivian Olyphant), Carolyn warns him to stay away from her and her house.
Wendell (Victor Williams) arrests Sandy (Adelaide Clemens) at the casino, while authorities conduct a raid at the bar and arrest Mansell at the penthouse. During their interrogation, authorities try to get a confession, but neither Mansell, Sandy nor Sweety (Vondie Curtis-Hall) give in. Due to Carolyn's pressure, they are forced to release them due to a lack of evidence, as the gun was not found in Sweety's Tavern. The weapon is revealed to be in Sweety's position, who hides in a jukebox at the tavern. Raylan questions Skender (Alexander Pobutsky), deeming him a prime suspect. However, Skender reveals that he plans to marry Sandy but will meet "her brother" for his blessing. This makes Raylan realize that Skender is actually the target. Raylan tries to send Willa back home, but she refuses, demanding to stay and spend more time with him.
Oppenheimer (2023)
Out of 10 No Time For Pee Breaks
Darryl: 7.76/10
Brian: 7.75/10
Summary
A 2023 biographical thriller film written and directed by Christopher Nolan. Based on the 2005 biography American Prometheus by Kai Bird and Martin J. Sherwin, the film chronicles the life of J. Robert Oppenheimer, an American theoretical physicist who was pivotal in developing the first nuclear weapons as part of the Manhattan Project, and thereby ushering in the Atomic Age. Cillian Murphy stars as Oppenheimer, with Emily Blunt as Oppenheimer's wife Katherine "Kitty" Oppenheimer, Matt Damon as General Leslie Groves, director of the Manhattan Project, and Robert Downey Jr. as Lewis Strauss, a senior member of the United States Atomic Energy Commission. The ensemble supporting cast includes Florence Pugh, Josh Hartnett, Casey Affleck, Rami Malek, and Kenneth Branagh.
Crew
Directed by
Christopher Nolan
Screenplay by
Christopher Nolan
Based on American Prometheus
by Kai Bird
Martin J. Sherwin
Produced by
Emma Thomas
Charles Roven
Christopher Nolan
Cinematography
Hoyte van Hoytema
Edited by
Jennifer Lame
Music by
Ludwig Göransson
Cast
Cillian Murphy as J. Robert Oppenheimer
Emily Blunt as Katherine "Kitty" Oppenheimer
Matt Damon as Gen. Leslie Groves
Robert Downey Jr. as Lewis Strauss
Florence Pugh as Jean Tatlock
Josh Hartnett as Ernest Lawrence
Casey Affleck as Boris Pash
Rami Malek as David L. Hill
Kenneth Branagh as Niels Bohr
Benny Safdie as Edward Teller
Dane DeHaan as Maj Gen. Kenneth Nichols
Jason Clarke as Roger Robb
David Krumholtz as Isidor Isaac Rabi
Tom Conti as Albert Einstein
Alden Ehrenreich as a Senate aide to Lewis Strauss
Dylan Arnold as Frank Oppenheimer
Gustaf Skarsgård as Hans Bethe
Michael Angarano as Robert Serber
Jack Quaid as Richard Feynman
Production
Production Companies
Syncopy Inc.
Atlas Entertainment
Distributed by
Universal Pictures
Release dates
July 21, 2023 (United States and United Kingdom)
Running Time
180 minutes
Budget
$100 million
Box Office
$241.7 million*
*as of recording
Infamous Shirts for Naked Bodies

…

You'll feel "shirty" when you buy our gear from the Flying Pork Apparel Co.
Contact Us
The Infamous Podcast can be found wherever podcasts are found on the Interwebs, feel free to subscribe and follow along on social media. And don't be shy about helping out the show with a 5-star review on Apple Podcasts to help us move up in the ratings.
@infamouspodcast
facebook/infamouspodcast
instagram/infamouspodcast
stitcher
Apple Podcasts
Spotify
Google Play
iHeart Radio
contact@infamouspodcast.com
Our theme music is 'Skate Beat' provided by Michael Henry, with additional music provided by Michael Henry. Find more at MeetMichaelHenry.com.
The Infamous Podcast is hosted by Brian Tudor and Darryl Jasper, is recorded in Cincinnati, Ohio. The show is produced and edited by Brian Tudor.



Subscribe today!