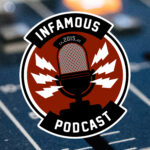 It's a Rasslin' Heavy Episode
This week on the podcast, Brian and Darryl are talking about Heels Season 2 Episode 1, City Primeval Episode 4, and the amazing documentary about the AMERICAN NIGHTMARE… Cody Rhodes.
Episode Index
Intro: 0:07
Stephen Amell: 2:15
Heels: 16:50
Justified: 24:39
American Nightmare: 37:44
Stephen Amell Clarifies His 'Misinterpreted' Strike Comments https://people.com/stephen-amell-clarifies-misterpreted-sag-strike-comments-7568428
Heels (Season 2, Episode 1)
Out of 5 Winning State Championships on BullShit Calls
Darryl: 3.75/5
Brian: 3.35/5
Title: "Ten-Bell Salute"
Directed by: Peter Segal
Written by: Mike O'Malley
Aired: July 28, 2023
Summary:
After the DWL's successful South Georgia State Fair showing, Ace is left reeling from Jack's revelation to him in the ring. He flees Duffy, leaving his brother behind to reflect upon the tragedy of their father's death.
Justified: City Primeval (Episode 4)
Out of 5 Is She Really Raylan's Types
Darryl: 3.6/5
Brian: 3.5/5
Title: "Kokomo"
Directed by: Gwyneth Horder-Payton
Written by: Taylor Elmore
Aired: August 1, 2023
U.S. Viewers: 6,003,000
Summary:
In the secret room, an upset Mansell (Boyd Holbrook) brutally beats Skender (Alexander Pobutsky). Convinced by Sandy (Adelaide Clemens), he spares Skender, but forces him to let the door crush his leg before fleeing.
Raylan (Timothy Olyphant) arrives at the hospital as the officers inform him about Skender's status. Realizing that Skender's boss is his uncle Toma Kastiot (Terry Kinney), Raylan convinces Skender's entourage into setting a meeting. He and Bryl (Norbert Leo Butz) visit Kastiot at his office, who is not proud of Skender's actions. Despite being suggested that Mansell was involved, Kastiot refuses to provide any information and decides to take matters into his own hands. Meanwhile, Albanian criminals are trying to locate Sandy and force her boss, Rick Newley (Ravi V. Patel) into revealing her address.
American Nightmare: Becoming Cody Rhodes (2023)
Out of 10 Adrenaline in My Souls
Darryl: 8/10
Brian: 8/10
Summary
American Nightmare: Becoming Cody Rhodes" is a 120-minute documentary produced by Vincent K. McMahon, Kevin Dunn, Cody Rhodes, Chris Kaiser, Chris Chambers, and Ben Houser. The documentary delves into the life and career of Cody Rhodes, the son of legendary wrestler Dusty Rhodes. Rhodes talks about his feelings growing up as the son of Dusty Rhodes and how he learned to trust his instincts and bet on himself in his quest to reach the highest echelon of sports entertainment. In a Q&A with Variety, Rhodes revealed that he struggled to watch one part of the documentary. The documentary is available for exclusive live streaming on Paramount.
Infamous Shirts for Naked Bodies

…

You'll feel "shirty" when you buy our gear from the Flying Pork Apparel Co.
Contact Us
The Infamous Podcast can be found wherever podcasts are found on the Interwebs, feel free to subscribe and follow along on social media. And don't be shy about helping out the show with a 5-star review on Apple Podcasts to help us move up in the ratings.
@infamouspodcast
facebook/infamouspodcast
instagram/infamouspodcast
stitcher
Apple Podcasts
Spotify
Google Play
iHeart Radio
contact@infamouspodcast.com
Our theme music is 'Skate Beat' provided by Michael Henry, with additional music provided by Michael Henry. Find more at MeetMichaelHenry.com.
The Infamous Podcast is hosted by Brian Tudor and Darryl Jasper, is recorded in Cincinnati, Ohio. The show is produced and edited by Brian Tudor.



Subscribe today!