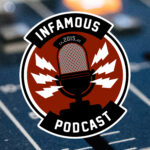 I'll Make Everyone a Jedi… Then No One Will Be a Jedi
This week on the podcast, Brian and Darryl are catching up on Heels and Justified City Primeval, then reviewing the first two episodes of Ahsoka, plus some Dune Part Two news, Rebel Moon, and the passing of WWE Superstar Bray Wyatt.
Episode Index
Intro: 0:07
Bray Wyatt: 5:23
Dune Part 2: 11:40
Rebel Moon: 15:04
Heels: 21:41
Justified: 32:03
Ahsoka: 45:38
News Bites
Pro wrestling world to unite for Bray Wyatt? Few unexpected things that may happen on WWE SmackDown https://www.sportskeeda.com/wwe/pro-wrestling-world-unite-bray-wyatt-few-unexpected-things-may-happen-wwe-smackdown-tonight
'Dune: Part Two' Delayed to 2024 Amid Strikes https://variety.com/2023/film/news/dune-2-delayed-2024-strikes-1235703991/
REBEL MOON Trailer https://www.youtube.com/watch?v=jNrSC8fSlSA
Heels (Season 2, Episode 3)
Out of 5 Team-Ups with Your Worst Enemys
Darryl: 3.25/5
Brian: 3.25/5
Title: "Discord"
Directed by: Peter Segal
Written by: Mike O'Malley, Patrick Pierut, Michael Waldron
Aired: August 11, 2023
Summary:
Jack goes on the road to find Ace. The DWL has been left in the hands of Willie, who uses the opportunity to start developing a Women's Division with Crystal. Gully comes to town with an offer the DWL can't refuse.
Heels (Season 2, Episode 4)
Out of 5 Is It a Work or Is It a Shoots
Darryl: 3.65/5
Brian: 3.43/5
Title: "Heavy Heads"
Directed by: Michael Lehmann
Written by: Blake Masters
Aired: August 18, 2023
Summary:
Ace returns to Duffy determined to leave the DWL and wrestling behind. Back at the DWL, Crystal worries about her first Women's Division bout. And as things with Bobby-Pin start heating up, Jack contends with a still-smarting Gully.
Justified: City Primeval (Episode 6)
Out of 5 Stealing Stolen Paintings
Darryl: 2.9/5
Brian: 3.10/5
Title: "Adios"
Directed by: Sylvain White
Written by: Taylor Elmore & V.J. Boyd
Aired: August 15, 2023
U.S. Viewers: 6,650,000
Summary:
Raylan (Timothy Olyphant) is visited by Carolyn (Aunjanue Ellis), who reveals that she saw the Judge's book, and found some of the targets. Somewhere, Dickey (David Cross) visits a friend, Lonnie (Kevin Anderson), hiring him to take back the painting that Mansell (Boyd Holbrook) took from his house.
Mansell and Sweety (Vondie Curtis-Hall) meet at a parking garage with another person in the book. However, the man only has $12,000 instead of the $15,000 they asked. When Mansell rams his car, the man flees and accidentally falls off the building to his death. Raylan talks to Downey (Marin Ireland) about getting to know about the book, with Downey correctly deducing he slept with Carolyn. They meet with prosecutor Diane (Regina Taylor), blackmailing her into working with them. As her name is in the book, she will be part of a trap set for Mansell and Sweety, or she will be exposed for taking bribes.
Lonnie arrives at Sweety's Tavern, forcing Sweety to leave Mansell's penthouse to meet him. Their meeting is interrupted when Sweety is called by Diane, who offers $30,000 to get her name removed from the book, agreeing to meet later. Sweety also gives up Mansell's name to Lonnie, instructing him that Mansell must be killed while Sweety himself gets the painting for him. Sweety tricks Mansell into going to the meeting alone, although Sandy (Adelaide Clemens) is revealed to have taken the painting to sell it.
Justified: City Primeval (Episode 7)
Out of 5 Slippery Oklahoma Mad Mans
Darryl: 3.2/5
Brian: 3.23/5
Title: "The Smoking Gun"
Directed by: Katrelle Kindred
Written by: Dave Andron & Michael Dinner
Aired: August 22, 2023
U.S. Viewers: 5,900,000
Summary:
In 1988, Sweety (Vondie Curtis-Hall) plays with his band at a nightclub. Sweety is also revealed to be taking care of a young Carolyn, after promising her dying father to do so. He takes her to a dilapidated bar, planning to reconstruct it and turn it into a new tavern for him.
In the present day, Carolyn (Aunjanue Ellis) sees an ambulance take Sweety's body away from the destroyed tavern. She and Raylan (Timothy Olyphant) visit a grieving Trennell (Joseph Anthony Byrd), who confesses to having taken Sweety's gun off the jukebox. Raylan then visits Sandy (Adelaide Clemens), who refuses to testify against Mansell (Boyd Holbrook). However, she is shocked when Raylan informs her that they found the gun that Mansell used to kill the Judge, Rose, and Sweety, with Sandy unaware of the latter's death. Sandy decides to visit Skender (Alexander Pobutsky) at the hospital to reconcile, but panics once he calls her "a dead woman."
Carolyn arrives home to find Mansell waiting for her. He starts talking about his childhood in Oklahoma, partly about how his mother had sex with many men from the Glenn Pool Oil Reserve. Angry, he waited until a man left and killed his mother. He also points out that his story may be false, suggesting his mother actually died in a tornado. She threatens to back off as her lawyer, but he holds her at gunpoint. The following day, Raylan finds that Downey (Marin Ireland) is actually in Mansell's book, which explains why she allowed him to go. Bryl (Norbert Leo Butz) also admits to Raylan that he has framed criminals due to insufficient evidence, but he also provides him with Mansell's murder weapon.
Ahsoka (Season 1, Episode 1 & 2)
Out of 10 Beskar Plot Armors
Darryl: 5.5/10
Brian: 5.38/10
Episode One
Title: "Part One: Master and Apprentice"
Directed by: Dave Filoni
Written by: Dave Filoni
Aired: August 22, 2023
Summary:
Baylan Skoll, a former Jedi now working as a mercenary, and his apprentice, Shin Hati, assault a New Republic cruiser carrying Lady Morgan Elsbeth, who had previously been captured by Ahsoka Tano.[a] The pair rescue Lady Elsbeth, who informs Skoll that Ahsoka is searching for Thrawn. Ahsoka and Huyang obtain a star map to the location of Grand Admiral Thrawn and potentially Ezra Bridger before being informed of Lady Elsbeth's escape. Regrouping with the fleet, Ahsoka meets with General Hera Syndulla, whereupon Huyang reveals that the star map is still locked. Syndulla advises Ahsoka to obtain Sabine Wren's help unlocking the map. Just as Wren opens the map, she is confronted by Shin, who steals the map and stabs Wren during a duel.
Episode Two
Title: "Part Two: Toil and Trouble"
Directed by: Steph Green
Written by: Dave Filoni
Aired: August 22, 2023
Summary:
Wren recovers and informs Ahsoka of her findings, and also traces the droids that attacked her to Elsbeth's factories on Corellia. Seeking the star map, Ahsoka and Syndulla travel to the Corellian shipyards in time to see a massive hyperdrive built for Elsbeth's ship to travel to Thrawn's location in a neighboring galaxy—the transport carrying the hyperdrive escapes, but not before Chopper attaches a tracking device. After arresting the shipyard workers as spies for the Empire, Ahsoka is contacted by Wren who is ready to become her Padawan again and find Bridger. Elsbeth is contacted by Skoll, Hati, and Marrok who obtained the hyperdrive so they can finish building her ship, the Eye of Sion, and find Admiral Thrawn.
Infamous Shirts for Naked Bodies

…

You'll feel "shirty" when you buy our gear from the Flying Pork Apparel Co.
Contact Us
The Infamous Podcast can be found wherever podcasts are found on the Interwebs, feel free to subscribe and follow along on social media. And don't be shy about helping out the show with a 5-star review on Apple Podcasts to help us move up in the ratings.
@infamouspodcast
facebook/infamouspodcast
instagram/infamouspodcast
stitcher
Apple Podcasts
Spotify
Google Play
iHeart Radio
contact@infamouspodcast.com
Our theme music is 'Skate Beat' provided by Michael Henry, with additional music provided by Michael Henry. Find more at MeetMichaelHenry.com.
The Infamous Podcast is hosted by Brian Tudor and Darryl Jasper, is recorded in Cincinnati, Ohio. The show is produced and edited by Brian Tudor.



Subscribe today!