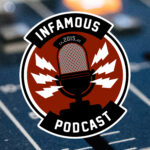 Ahsoka is MIIIIIIIIIIIID… and That's Being Nice!
This week on the 400th Episode of the podcast, Brian and Darryl celebrate the latest milestone. Then get into the weekly reviews of Heels, Justified City Primeval, and Ahsoka.
Episode Index
Intro: 0:07
CM Punk: 2:54
400th Episode: 12:55
Heels: 52:00
Justified: 57:00
Ahsoka: 1:01:12
News Bite
CM Punk is FIRED! https://www.f4wonline.com/news/video/wor-video-cm-punk-gone-from-aew
What's Gone Good and What's Gone Bad Since Episode 1
Darryl
The Rise and Fall of the MCU
Brian
John Wick as a Genre
The Collapse of Modern America Comics
Heels (Season 2, Episode 5)
Out of 5 Is Crystal Really Gonna Screw the DWLs
Darryl: 4.25/5
Brian: 4.55/5
Title: "Who The Hell is the Condamned"
Directed by: Pete Segal
Written by: Bryce Ahart & Stephanie McFarlane
Aired: August 25, 2023
Summary:
A mysterious new wrestler surges in popularity in Duffy, igniting Gully's ire. He demands the DWL make an appearance at Florida Wrestling Dystopia to make amends. Jack asks Staci to take on more responsibility at the Dome.
Justified: City Primeval (Episode 8)
Out of 5 Holy Shit, He Escaped
Darryl: 4/5
Brian: 4.23/5
Title: "The Question"
Directed by: Michael Dinner
Written by: Dave Andron & Michael Dinner
Aired: August 29, 2023
U.S. Viewers: 670,000
Summary:
The Albanians bring Raylan and Mansell to Skender's house, where the former is allowed to seal the latter inside the safe room to die. The police detain Downey with intent to charge her. Carolyn implicates Rogers as corrupt in hopes of getting Guy's position. Skender, wanting to kill Mansell and regain his honor, opens the room but is killed by Mansell, who massacres and robs the Albanians. Suspecting he will go after Carolyn next, Raylan waits for him in her house and kills him when he reaches for what Raylan believes is a gun, actually a cassette tape of Mansell's music. Raylan returns to Miami and retires despite a retiring Dan Grant offering to give him his position as chief deputy. Carolyn, now a judge, writes to him and asks to meet him again someday. In Kentucky, Boyd fakes an illness and seduces a guard to escape from prison. Out on a boat with Raylan, Willa's question about why he quit is interrupted by his a call from the Lexington marshal's office.
Ahsoka (Season 1, Episode 3)
Out of 5 Holy Shit, the Plot Armor Got Worses
Darryl: 2.15/5
Brian: 2.10/5
Title: "Part Three: Time to Fly"
Directed by: Steph Green
Written by: Dave Filoni
Aired: August 29, 2023
Summary:
Wren restarts her training under Ahsoka and Huyang's guidance as she struggles to use the Force. Syndulla meets with Mon Mothma, the Chancellor of the New Republic, and a group of influential senators in order to gain permission to send Republic forces to Seatos. Despite Mothma's support, the senators refuse to believe that Thrawn and Bridger are alive and deny Syndulla's request. Having been informed of this by Syndulla, Ahsoka, Wren, and Huyang travel to Seatos where they discover the Eye of Sion, but are intercepted by a squadron of fighters led by Hati and Marrok as Elsbeth uses the lasers on the Eye of Sion to fire on them. Just as Huyang finishes scanning the Sion, Ahsoka's shuttle takes a direct hit, forcing the group to make an emergency landing on the planet, passing through a pod of Purrgil in its skies along the way to evade the remaining enemy fighters. After taking refuge in a forest, Huyang gives his complete analysis of the Eye of Sion which he classifies as a Hyperjump Gate. However, Hati soon becomes aware of their attempt to hide, prompting her master Skoll to dispatch his forces into the woods to hunt them down.
Infamous Shirts for Naked Bodies

…

You'll feel "shirty" when you buy our gear from the Flying Pork Apparel Co.
Contact Us
The Infamous Podcast can be found wherever podcasts are found on the Interwebs, feel free to subscribe and follow along on social media. And don't be shy about helping out the show with a 5-star review on Apple Podcasts to help us move up in the ratings.
@infamouspodcast
facebook/infamouspodcast
instagram/infamouspodcast
stitcher
Apple Podcasts
Spotify
Google Play
iHeart Radio
contact@infamouspodcast.com
Our theme music is 'Skate Beat' provided by Michael Henry, with additional music provided by Michael Henry. Find more at MeetMichaelHenry.com.
The Infamous Podcast is hosted by Brian Tudor and Darryl Jasper, is recorded in Cincinnati, Ohio. The show is produced and edited by Brian Tudor.



Subscribe today!