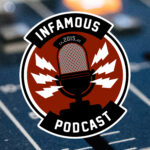 How Bad Will It Get For The MCU?
This week on the podcast Brian and Darryl are talking about the State of the MCU TV, Ahsoka Ep 4, Heels Ep 6, and a couple of WB News Bites.
Episode Index
Intro: 0:07
WB Overalls: 9:52
Max Streaming: 17:31
Heels: 25:37
Ahsoka: 32:16
MCU TV: 49:20
News Bites
Warner Bros. Television Suspends Top Overall Deals with Greg Berlanti, Bill Lawerence, Mindy Kaling & More https://deadline.com/2023/09/warner-bros-television-overall-deals-suspended-greg-berlanti-bill-lawrence-mindy-kaling-1235538736/
Max Streaming Service in Shambles, Warners Bros Offloads 'Batman', 'Aquaman', and More https://insidethemagic.net/2023/09/max-warner-bros-offloads-batman-nk1/
Heels (Season 2, Episode 6)
Out of 5 Carol is the Worst Person in the Worlds
Darryl: 4/5
Brian: 4.12/5
Title: "Appearances"
Directed by: Pete Segal
Written by: Blake Masters
Aired: August 1, 2023
Summary:
Jack, Ace, and Staci prepare for a potentially life-changing meeting; Willie and Wild Bill think back on an exciting time in the DWL's infancy, when a young Tom Spade faced a similar opportunity.
Ahsoka (Season 1, Episode 4)
Out of 5 Anakin Stop, We'll Take Him Togethers
Darryl: 3.5/5
Brian: 2.99/5
Title: "Part Four: Fallen Jedi"
Directed by: Peter Ramsey
Written by: Dave Filoni
Aired: September 5, 2023
Summary:
Ahsoka thinks about the implications of reaching Thrawn and Bridger, giving Wren pause since she remains determined to find her friend. Moments later, they are attacked by several of Skoll's forces, but are able to quickly dispatch them. Fearing that Skoll will acquire the coordinates to Thrawn's location, Ahsoka and Wren head to his base but are intercepted by Hati and Marrok. Ahsoka kills Marrok and continues on alone, while Wren stays behind to hold off Hati, who realizes that Wren cannot wield the Force. Ahsoka reaches Skoll and the two engage in a duel. Ahsoka is able to retrieve the map, but she tosses it aside after it burns her hand. Skoll overpowers and sends Ahsoka plummeting into the ocean as Wren watches in horror. Wren then holds the map at gunpoint, but Skoll verbally manipulates her into handing it over by promising her that she will see Bridger again. After Thrawn's location is revealed, Skoll destroys the map and boards the Eye of Sion with Hati and Wren as their prisoner. A squadron of New Republic fighters, led by Syndulla, arrives at Seatos and tries to stop the freighter from jumping into hyperspace, but fails to do so. Meanwhile, Ahsoka awakens in the "World Between Worlds", where she is seemingly reunited with her former Master.
The State of The MCU TV
Marvel Reshuffles Entire Disney Plus TV Schedule: 'Ironheart', 'Daredevil: Born Again', And 'Wonder Man' Placed On Indefinite Hiatus, 'Agatha' Renamed For A Third Time https://boundingintocomics.com/2023/09/01/marvel-reshuffles-entire-disney-plus-tv-schedule-ironheart-daredevil-born-again-and-wonder-man-placed-on-indefinite-hiatus-agatha-renamed-for-a-third-time/
MCU Phase 5 Television https://en.m.wikipedia.org/wiki/Marvel_Cinematic_Universe:_Phase_Five#Television_series
Infamous Shirts for Naked Bodies

…

You'll feel "shirty" when you buy our gear from the Flying Pork Apparel Co.
Contact Us
The Infamous Podcast can be found wherever podcasts are found on the Interwebs, feel free to subscribe and follow along on social media. And don't be shy about helping out the show with a 5-star review on Apple Podcasts to help us move up in the ratings.
@infamouspodcast
facebook/infamouspodcast
instagram/infamouspodcast
stitcher
Apple Podcasts
Spotify
Google Play
iHeart Radio
contact@infamouspodcast.com
Our theme music is 'Skate Beat' provided by Michael Henry, with additional music provided by Michael Henry. Find more at MeetMichaelHenry.com.
The Infamous Podcast is hosted by Brian Tudor and Darryl Jasper, is recorded in Cincinnati, Ohio. The show is produced and edited by Brian Tudor.



Subscribe today!