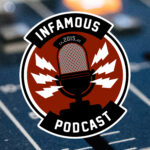 Do Togruta's Dream of Jedi Masters?
This week on the podcast, Brian and Darryl are talking about Ahsoka's near-death experience, the Friday Night Lights… err Heels' penultimate season 2 episode, and a bunch of DC Comics news.
Episode Index
Intro: 0:07
Fables: 7:13
Alan Moore: 13:40
Aquaman 2: 18:55
Heels: 27:21
Ahsoka: 35:22
News Bites
Fables Creator Releases Hit Comic Book Series Into the Public Domain After Dispute With DC https://www.ign.com/articles/fables-creator-releases-comic-book-series-public-domain-after-dc-dispute
Alan Moore Says He "Asked For DC Comics To Send All Of The Money From Any Future TV Series Or Films To Black Lives Matter" https://boundingintocomics.com/2023/09/14/watchmen-and-the-saga-of-the-swamp-thing-scribe-alan-moore-says-he-asked-for-dc-comics-to-send-all-of-the-money-from-any-future-tv-series-or-films-to-black-lives-matter/
Aquaman and the Lost Kingdom | Trailer https://www.youtube.com/watch?v=FV3bqvOHRQo
Heels (Season 2, Episode 7)
Out of 5 The Most Friday Night Lights Episode Evers
Darryl: 3.25/5
Brian: 3.75/5
Title: "The Things That Matter"
Directed by: Jessica Lowery
Written by: Victoria Morrow
Aired: September 15, 2023
Summary:
In the wake of The Condamned's growing popularity, Ace begins to lose himself in the myth of his character. The Dome prepares to further woo Continuum. Staci digs further into the Dome's sordid secrets.
Ahsoka (Season 1, Episode 5)
Out of 5 Drowning Togruta Fever Dreams
Darryl: 3/5
Brian: 2.59/5
Title: "Part Five: Shadow Warrior"
Directed by: Dave Filoni
Written by: Dave Filoni
Aired: September 12, 2023
Summary:
Syndulla arrives on Seatos, where she finds Ahsoka and Wren gone. While investigating alongside his mother, Jacen Syndulla senses that Ahsoka is in the World Between Worlds, thus revealing his own connection with the Force. In the in-between space, Anakin explains to Ahsoka that he had been watching her through the Force and deduces that her loss with Skoll is partially due to her unresolved guilt over the events that drove them apart. Ahsoka loses a duel with Anakin and relives fragments of her past during the Clone Wars, during which she grows concerned that her legacy will only be one of fighting. Believing Anakin's teachings include his legacy as Darth Vader, she initially refuses him, determined to not be held back by the past, which leads to another duel between them. Finally understanding that she wasn't involved in Anakin's downfall and that her legacy is her own choice, Ahsoka chooses to live and continue fighting. Ahsoka is recovered by Syndulla's crew, and through her powers she learns that Wren is with Skoll. Syndulla is contacted by Mothma, who informs her that New Republic forces are en route to take her and Ahsoka into custody. As the Republic fleet detachment arrives, Ahsoka recruits a pod of Purrgil to take her and Huyang to Ezra and Sabine, while Syndulla, Jacen, and Chopper stay behind.
Infamous Shirts for Naked Bodies

…

You'll feel "shirty" when you buy our gear from the Flying Pork Apparel Co.
Contact Us
The Infamous Podcast can be found wherever podcasts are found on the Interwebs, feel free to subscribe and follow along on social media. And don't be shy about helping out the show with a 5-star review on Apple Podcasts to help us move up in the ratings.
@infamouspodcast
facebook/infamouspodcast
instagram/infamouspodcast
stitcher
Apple Podcasts
Spotify
Google Play
iHeart Radio
contact@infamouspodcast.com
Our theme music is 'Skate Beat' provided by Michael Henry, with additional music provided by Michael Henry. Find more at MeetMichaelHenry.com.
The Infamous Podcast is hosted by Brian Tudor and Darryl Jasper, is recorded in Cincinnati, Ohio. The show is produced and edited by Brian Tudor.



Subscribe today!