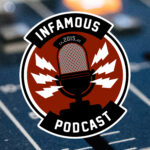 Hey, Buddy… Are You Sure The Force is There for You?
This week on the podcast, Brian and Darryl review the penultimate episode of Boresoka… err Ahsoka.
Episode Index
Intro: 0:07
Ahsoka: 3:51
Ahsoka (Season 1, Episode 7)
Out of 5 Ezra, DUDE! Take the lightsabers
Darryl: 2.11/5
Brian: 2.11/5
Title: "Part Seven: Dreams and Madness"
Directed by: Dave Filoni
Written by: Geeta Vasant Patel
Aired: September 26, 2023
Summary:
On Coruscant, Syndulla faces a disciplinary hearing, with tribunal member Senator Xiono objecting to her reports of the secret Imperial Remnant conspiracy. C-3PO arrives and provides the tribunal with a fake authorization by Leia Organa, which came after the mission had already been completed, forcing the court to absolve Syndulla and convincing Mothma that the threat is real; an overruled Xiono is forced to comply. Arriving at Peridea, the Purrgils run into a minefield left by Thrawn's forces and retreat. Continuing alone, Ahsoka and Huyang are attacked by enemy fighters and hide in a debris field, compelling the Grand Admiral to adopt a more calculated approach. Ahsoka locates Wren through the Force and heads to the planet's surface. Bridger, Wren, and the Noti are attacked by Hati, the bandits Wren had previously encountered, and Thrawn's Night Troopers, while Skoll leaves to pursue his own agenda. Bridger refuses to use a weapon, instead relying on the Force to fight. Ahsoka's intervention forces Thrawn to withdraw his remaining Night Troopers and prepare for his imminent departure. Ahsoka invites Hati, who has been left behind, to join them, but Hati instead runs away. Ahsoka, Bridger, and Wren then joyously reconnect.
Infamous Shirts for Naked Bodies

…

You'll feel "shirty" when you buy our gear from the Flying Pork Apparel Co.
Contact Us
The Infamous Podcast can be found wherever podcasts are found on the Interwebs, feel free to subscribe and follow along on social media. And don't be shy about helping out the show with a 5-star review on Apple Podcasts to help us move up in the ratings.
@infamouspodcast
facebook/infamouspodcast
instagram/infamouspodcast
stitcher
Apple Podcasts
Spotify
Google Play
iHeart Radio
contact@infamouspodcast.com
Our theme music is 'Skate Beat' provided by Michael Henry, with additional music provided by Michael Henry. Find more at MeetMichaelHenry.com.
The Infamous Podcast is hosted by Brian Tudor and Darryl Jasper, is recorded in Cincinnati, Ohio. The show is produced and edited by Brian Tudor.



Subscribe today!