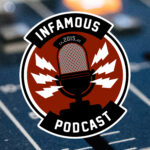 They Are Trying to Make Us Forget Snow Brown is a Thing
This week on the podcast, Brian and Darryl are talking about film delays for Mission Impossible 8 and Snow Brown, South Park's Kathleen Kennedy takedown. Then they review the Netflix Original 'Old Dads' and episodes 6 and 7 of Gen V season 1.
Episode Index
Intro: 0:07
Mission Impossible: 3:56
Snow Brown:11:51
Kathleen Kennedy: 18:21
Old Dads: 22:52
Gen V: 36:42
News Bites
Tom Cruise's Next 'Mission: Impossible' Movie Delayed a Year to 2025 https://www.hollywoodreporter.com/movies/movie-news/mission-impossible-dead-reckoning-part-2-1235611645/
The Walt Disney Company Releases First Look At Rachel Zegler's 'Snow White,' Delays Film's Release An Entire Year https://boundingintocomics.com/2023/10/27/the-walt-disney-company-releases-first-look-at-rachel-zeglers-snow-white-delays-films-release-an-entire-year/
Old Dads (2023)
Out of 10 Math is Maths
Darryl: 7.5/10
Brian: 7.53/10
Summary
Old Dads is a 2023 American comedy film directed by Bill Burr his directorial debut, who produced and co-wrote with Ben Tishler. It stars Bill Burr, Bobby Cannavale, and Bokeem Woodbine. After selling their business, the three men find themselves out of step with the modern world.
Directed by
Bill Burr
Written by
Bill Burr
Ben Tishler
Produced by
Monica Levinson
Ben Tishler
Bill Block
Bill Burr
Mike Bertolina
Starring
Bill Burr
Bobby Cannavale
Bokeem Woodbine
Cinematography
Sean McElwee
Edited by
Patrick J. Don Vito
Adriaan van Zyl
Music by
Christopher Willis
Production Companies
Miramax
All Things Comedy
All of Us Productions
Distributed by
Netflix
Release date
October 20, 2023
Running Time
104 minutes
Gen V (Amazon Prime)
Out of 10 How Hot Is Victoria Neuman Knowing She Can Explode Your Heads
Darryl: 7.78/10
Brian: 8.01/10
Gen V is an American superhero television series, developed by Craig Rosenberg, Evan Goldberg, and Eric Kripke, serving as a spin-off of The Boys by Kripke, and based on The Boys comic book story arc "We Gotta Go Now" by Garth Ennis and Darick Robertson. The series serves as the third entry in The Boys franchise.
Infamous Shirts for Naked Bodies

…

You'll feel "shirty" when you buy our gear from the Flying Pork Apparel Co.
Contact Us
The Infamous Podcast can be found wherever podcasts are found on the Interwebs, feel free to subscribe and follow along on social media. And don't be shy about helping out the show with a 5-star review on Apple Podcasts to help us move up in the ratings.
@infamouspodcast
facebook/infamouspodcast
instagram/infamouspodcast
stitcher
Apple Podcasts
Spotify
Google Play
iHeart Radio
contact@infamouspodcast.com
Our theme music is 'Skate Beat' provided by Michael Henry, with additional music provided by Michael Henry. Find more at MeetMichaelHenry.com.
The Infamous Podcast is hosted by Brian Tudor and Darryl Jasper, is recorded in Cincinnati, Ohio. The show is produced and edited by Brian Tudor.



Subscribe today!