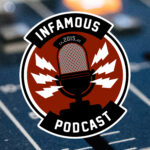 Young Heroes are > Old Heroes
This week on the podcast, Brian and Darryl are talking about the final episode Gen V season 1, the Panderverse, and a rare dip into sporting news.
Episode Index
Intro: 0:07
Ohio State FuckNuts: 2:57
Panderverse: 18:11
Gen V: 30:17
News Bites
Michigan launches investigation into PIs allegedly connected to family of Ohio State HC Ryan Day https://www.on3.com/college/michigan-wolverines/news/report-michigan-launches-investigation-into-pis-allegedly-connected-to-family-of-ohio-state-hc-ryan-day/
South Park: Joining the Panderverse
Out of 10 Make Her a Girl, Make Her Gay, Make it Lames
Darryl: 7.85/10
Brian: 8.2/10
Summary
Eric Cartman is transported to an alternate universe, designated Universe 216-B, which is populated entirely by racially diverse women, while his counterpart from that universe takes his place in his own universe. At the same time, Randy Marsh cannot find a repairman to fix his oven door. He and his neighbors learned that every handyman in town has become extremely wealthy, as the inability of people to make simple repairs has increased demand for their services, making it impossible to find such professionals. Meanwhile, Bob Iger and his board at The Walt Disney Company realize that something is "different" about board member Kathleen Kennedy (who resembles Cartman), whose practice of shoehorning racially diverse women into the company's productions has been resulting in repeated failure at the box office.
Gen V (Amazon Prime)
Season 1
Out of 10 Holy Shit Is That Homelanders
Darryl: 8/10
Brian: 8.25/10
Episode 8
Out of 5 Blood Knives Are Cools
Darryl: 4.25/5
Brian: 4.7/5
Directed by: Sanaa Hamri
Written by: Brant Englestein
Aired: November 3, 2023
Summary:
While Vought CEO Ashley Barrett meets with Godolkin University's trustees on how to spin Luke's suicide, Cate and Sam return to the Woods to free the remaining captives before leading them in killing non-supes across campus. As Marie, Jordan, and Emma attempt to contain the chaos, Marie demonstrates increased mastery of her powers. Sam suffers hallucinations of Luke, who asks him to stop and reveals how he died, but Sam ignores him and allows Cate stop him from feeling emotions. After being rejected by Sam, Emma realises she can change her size without purging or eating. Andre learns that Polarity's seizure was the result of brain damage caused by use of his powers before receiving the Polarity mantle to help fight the rampaging supes. Cate tries to brainwash Jordan, but Marie detonates Cate's arm before the Homelander arrives, and seeing Marie to have been "attacking her own kind", lasers her through the chest. Sometime later, Marie, Jordan, Emma, and Andre awaken in a sealed hospital room at an unknown location whilst has Vought has framed them for Sam and Cate's attack, with Sam and Cate heralded as the Guardians of Godolkin. Later, Billy Butcher investigates the Woods' ruins.
Infamous Shirts for Naked Bodies

…

You'll feel "shirty" when you buy our gear from the Flying Pork Apparel Co.
Contact Us
The Infamous Podcast can be found wherever podcasts are found on the Interwebs, feel free to subscribe and follow along on social media. And don't be shy about helping out the show with a 5-star review on Apple Podcasts to help us move up in the ratings.
@infamouspodcast
facebook/infamouspodcast
instagram/infamouspodcast
stitcher
Apple Podcasts
Spotify
Google Play
iHeart Radio
contact@infamouspodcast.com
Our theme music is 'Skate Beat' provided by Michael Henry, with additional music provided by Michael Henry. Find more at MeetMichaelHenry.com.
The Infamous Podcast is hosted by Brian Tudor and Darryl Jasper, is recorded in Cincinnati, Ohio. The show is produced and edited by Brian Tudor.



Subscribe today!