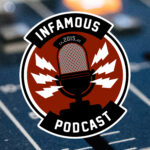 Invincible on Prime is as Uneven as Amber's character on Prime
This week on the podcast, Brian and Darryl revisit the University of Michigan nonsense from the Big-10, talk about The Marvels' box office woes, and review Invincible Season 2 Episodes 1 & 2.
Episode Index
Intro: 0:07
Wolverines: 6:00
The Marvels: 18:07
Invincible: 31:52
News Bites
University of Michigan board considers leaving Big Ten https://sports.yahoo.com/si-university-michigan-board-considers-234631406.html
Box Office Bomb: 'The Marvels' Opens to $47M in New Low for Marvel Studios https://www.hollywoodreporter.com/movies/movie-news/the-marvels-box-office-bombing-opening-1235644758/
Invincible (Amazon Prime)
Season 2
Episode 1
Out of 5 How Many Angstroms Does it Take to End the Worlds
Darryl: 3.85/5
Brian: 4/5
Title: "A Lesson For Your Next Life"
Directed by: Sol Choi
Written by: Simon Racioppa
Aired: November 3, 2023
Summary:
On a devastated alternate Earth where Mark sided with Nolan, scientist Angstrom Levy escapes through a mysterious portal. One month after Nolan's departure, Mark continues to struggle with his father's betrayal while performing his duties as Invincible. Cecil appoints the revived Immortal to succeed Rudy as the Guardians' leader and adds a new hero called Bulletproof to their ranks. The Maulers escape prison with help from their version of Angstrom who tasks them with building a device capable of transferring the memories of various alternate universe variants of himself to him so he can use their collective knowledge to advance Earth's technology and save other planets. Cecil sends Mark to stop the Maulers as they begin the process, forcing Angstrom to use his multiversal powers to summon variants of the Maulers, who nearly kill Mark against his wishes. Angstrom stops the transfer prematurely, killing all of the variants present and horrifically scarring his body. Driven mad by his variants' memories of their versions of Invincible and Omni-Man, Angstrom vows revenge on Mark and escapes.
Episode 2 Fish Weddings Are Weirds
Out of 5
Darryl: 3/5
Brian: 3.25/5
Title: "In About Six Hours I Lose My Virginity to a Fish"
Directed by: Ian Abando
Written by: Matt Lambert
Aired: November 10, 2023
Summary:
During his graduation, Mark defeats Doc Seismic and his Magmanites. In the summer, he continues his work as Invincible, but tension grows between him and Debbie when she realizes he is only doing it to avoid Nolan's legacy. She confronts Cecil about Mark working under him but is shocked to see Donald alive. After completing a damaged apartment in Chicago, Eve argues with her father, believing he is incapable of accepting she can help. The stowaway Martian sees what Martian Man became on Earth and joins the Guardians as the Shapesmith. After encountering and defeating Darkwing's son, Mark meets with Cecil, who explains he must appease the Atlanteans for Aquarus' death. In a trial by combat, Mark battles a kaiju and is injured when it produces a sound that damages his ears. Against Cecil's orders to abandoned them, he saves the Atlanteans when the kaiju attacks them. Eve is horrified to learn the apartment she rebuilt has collapsed, built over unstable ground, though no one was killed. Confronted with aspects of her life that remind her of Nolan, Debbie breaks down and is embraced by Mark.
Infamous Shirts for Naked Bodies

…

You'll feel "shirty" when you buy our gear from the Flying Pork Apparel Co.
Contact Us
The Infamous Podcast can be found wherever podcasts are found on the Interwebs, feel free to subscribe and follow along on social media. And don't be shy about helping out the show with a 5-star review on Apple Podcasts to help us move up in the ratings.
@infamouspodcast
facebook/infamouspodcast
instagram/infamouspodcast
stitcher
Apple Podcasts
Spotify
Google Play
iHeart Radio
contact@infamouspodcast.com
Our theme music is 'Skate Beat' provided by Michael Henry, with additional music provided by Michael Henry. Find more at MeetMichaelHenry.com.
The Infamous Podcast is hosted by Brian Tudor and Darryl Jasper, is recorded in Cincinnati, Ohio. The show is produced and edited by Brian Tudor.



Subscribe today!