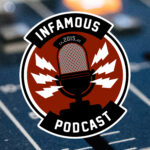 All the Good Rudy Stuff Went to Monster Girl
This week on the podcast, Brian and Darryl are talking about box office failures of current movies, the Chris Gore controversy (but not really a controversy), the Invincible's Season 2 Part 1 penultimate episode, and the Netflix Original film The Killer.
Episode Index
Intro: 0:07
Marvels: 3:27
Hunger Games: 13:05
Chris Gore: 23:40
Invincible: 36:30
The Killer: 47:45
News Bites
The Marvels Box Office https://www.boxofficemojo.com/release/rl247366145/?ref_=bo_hm_rd
Hunger Games Box Office https://deadline.com/2023/11/box-office-hunger-games-songbirds-and-snakes-1235616095/
Chris Gore Sparks Controversy https://youtu.be/KMyZ38HeNAc?si=2QtUiUAxWbICr0MI
The Post on X https://twitter.com/ThatChrisGore/status/1723916798976799014
Invincible (Amazon Prime)
Episode 3
Out of 5 Is It a Dog or Is It a Bugs
Darryl: 3.75/5
Brian: 4.12/5
Title: "This Missive, This Machination!"
Directed by: Tanner Johnson
Written by: Adria Lang
Aired: November 17, 2023
Summary:
In flashbacks, Allen's homeworld of Unopa was attacked by the Viltrumites, leading to his people joining the Coalition to stop them and breeding him to become the strongest Unopan. In the present, Allen discusses his findings from Earth with the Coalition, explaining that Mark is unaffiliated with Viltrum and Nolan left Earth. Over several members' skepticism, Coalition leader Thadeus supports Allen, believing they possess an advantage, before secretly tasking him with rooting out a Viltrumite mole within their ranks. After Allen is attacked by three Viltrumites demanding information on Mark, Earth, and Nolan however, Thadeus secretly sabotages his recovery. Concurrently, Mark attends college and meets a shapeshifting insectoid alien from the planet Thraxa, who claims his people are in danger. Upon arriving, Mark is unexpectedly reunited with Nolan, who has become Thraxa's ruler. Meanwhile, Debbie joins a support group for superhero spouses, only to be accosted by original Guardian member Green Ghost's widower, Theo, for being previously married to Omni-Man and leaves in shame.
The Killer (2023)
Out 10 Brian and Darryl Grossly Disagree About This Movies
Darryl: 5/10
Brian: 3/10
An unnamed skillful professional assassin (credited as "The Killer") stakes out a Parisian hotel room. He prepares to use a sniper rifle to kill a target who will check into the hotel room at an unspecified time. While waiting for the target, he eats, practices yoga, listens to the Smiths, and talks on the phone with his handler, an attorney named Hodges. The Killer narrates about these activities, stressing the mantra of his rules and the routine, even boring, nature of his job and how his cynicism and lack of empathy are beneficial for his chosen occupation. The target eventually arrives in the company of a dominatrix. The Killer misses his target, accidentally shooting the dominatrix. He flees, successfully evades the police, and flies to the United States under one of his numerous fake identities.
Infamous Shirts for Naked Bodies

…

You'll feel "shirty" when you buy our gear from the Flying Pork Apparel Co.
Contact Us
The Infamous Podcast can be found wherever podcasts are found on the Interwebs, feel free to subscribe and follow along on social media. And don't be shy about helping out the show with a 5-star review on Apple Podcasts to help us move up in the ratings.
@infamouspodcast
facebook/infamouspodcast
instagram/infamouspodcast
stitcher
Apple Podcasts
Spotify
Google Play
iHeart Radio
contact@infamouspodcast.com
Our theme music is 'Skate Beat' provided by Michael Henry, with additional music provided by Michael Henry. Find more at MeetMichaelHenry.com.
The Infamous Podcast is hosted by Brian Tudor and Darryl Jasper, is recorded in Cincinnati, Ohio. The show is produced and edited by Brian Tudor.



Subscribe today!