Did Weeee DOOOOOO That?
This week on the show Johnny is off in the Happiest Place on Earth, so Brian is joined by the guys from Roma Collectibles, Aaron and Cousin Kenny sit in. The guys have something special planned… they are going to try their hand at fan fiction and pitch a Family Matters reboot, with a twist!
News Bites
Star Wars Episode VIII Trailer
The Orville/Star Trek: Discovery | Inhumans/The Gifted Talk
Where to Find ROMA Collectibles 
Family Matters (1989)
Summary
Policeman Carl Winslow has enough to deal with on the job. But when he gets home, he still has to handle kids, his wife, Harriette (whose character was first introduced on the sitcom "Perfect Strangers"), his mom, a sister-in-law and Urkel, the nerd next door who doesn't understand that he doesn't actually live with the Winslows.
Cast & Crew
Created by
William Bickley
Michael Warren
Developed by
Robert L. Boyett
Thomas L. Miller
Starring
Reginald VelJohnson – Carl Winslow
Jo Marie Payton – Harriette Baines-Winslow
Rosetta LeNoire – Estelle Winslow
Darius McCrary – Eddie Winslow
Kellie Shanygne Williams – Laura Winslow
Jaimee Foxworth – Judy Winslow
Joseph & Julius Wright – Richie Crawford
Telma Hopkins – Rachel Baines Crawford
Bryton McClure
Jaleel White – Urkel
Shawn Harrison – Waldow Faldo
Michelle Thomas – Myra Monkhouse
Orlando Brown – Jerry Jamal Jameson
Judyann Elder – Harriet Winslow
New Comics This Week
Johnny
BRIGGS LAND LONE WOLVES #5
FLASH #32
HAL JORDAN AND THE GREEN LANTERN CORPS #30
STAR TREK BOLDLY GO #12
STAR TREK TNG MIRROR BROKEN #4
STAR WARS DOCTOR APHRA #13
WOODS #36
Brian
ACTION COMICS #989
AMAZING SPIDER-MAN RENEW YOUR VOWS #12
DARK NIGHTS METAL #3
DETECTIVE COMICS #960
DETECTIVE COMICS #966
OPTIMUS PRIME #11
STAR TREK BOLDLY GO #10
STAR TREK BOLDLY GO #12
STAR TREK TNG MIRROR BROKEN #4
STAR WARS DOCTOR APHRA #13
X-MEN BLUE #13
Contact Us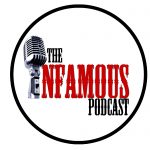 The Infamous Podcast can be found wherever podcasts are found on the Interwebs, feel free to subscribe and follow along on social media. And don't be shy about helping out the show with a 5-star review on iTunes to help us move up in the ratings.
@infamouspodcast
facebook/infamouspodcast
instagram/infamouspodcast
stitcher
iTunes
Google Play
contact@infamouspodcast.com
The music in this episodes is Moose from Bensound.com. The Infamous Podcast is Johnny Pottorf and Brian Tudor, and is produced and edited by Brian Tudor.

Subscribe today!