Dynotherms Connected!
This week Johnny and Brian are back talking Voltron: Legendary Defender and the new Lion Force! They also continue the month of Disney Sci-fi looking back at Flight of the Navigator and there has been a bunch of news since the last episode, so there is a lot of cover this week.
News Bites
RIP Anton Yelchin
Justice League Movie News
Supergirl Has Her Superman
DC Comics Wastes No Time Announcing First Crossover
IDW M.A.S.K. Character Designs and Other Reveals
Voltron Legendary Defender
Voltron: Legendary Defender is an American animated television series produced by DreamWorks Animation Television and World Events Productions and animated by Studio Mir. It is a reboot of the 1984 Voltron series, and its animation is a mix of anime influence for characters and background and CGI for Voltron action sequences.
Watch: Netflix
Flight of the Navigator
Flight of the Navigator is a 1986 American science fiction-comedy film directed by Randal Kleiser and written by Mark H. Baker and Michael Burton, about David Freeman, a 12-year-old boy who is abducted by an alien spaceship and finds himself caught in a world that has changed around him.
Source: Wikipedia
New Comics This Week
Johnny
ACTION MAN #1
AUTUMNLANDS TOOTH & CLAW #11
BACK TO THE FUTURE #9
BITCH PLANET #8
DETECTIVE COMICS #935
DIVINITY II #3
FLASH #1
GUIDE MARVEL CINEMATIC UNIVERSE AGENTS SHIELD SEASON ONE
JUSTICE LEAGUE #52
LUCAS STAND #1
MOON GIRL AND DEVIL DINOSAUR #8
POWER MAN AND IRON FIST #5
RAI #14
SHE WOLF #1
STAR WARS FORCE AWAKENS ADAPTATION #1
TOTALLY AWESOME HULK #7
Brian
ARCHIE #9
CAPTAIN AMERICA SAM WILSON #10 CW2
CIVIL WAR II CHOOSING SIDES #1
DETECTIVE COMICS #935
DOCTOR STRANGE #9
DRIFTER #12 CVR A KLEIN
FLASH #1
MIGHTY THOR #8
MOON GIRL AND DEVIL DINOSAUR #8
ROBIN SON OF BATMAN #13
THIEF OF THIEVES #32
TOTALLY AWESOME HULK #7 CW2
WONDER WOMAN #1
Contact Us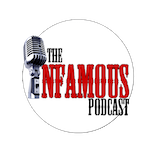 The Infamous Podcast can be found wherever podcasts are found on the Interwebs, feel free to subscribe and follow along on social media. And don't be shy about helping out the show with a 5 star review on iTunes to help us move up in the ratings.
@infamouspodcast
facebook/infamouspodcast
stitcher
iTunes
Google Play
contact@infamouspodcast.com
The music in this episodes is Pomade by Silent Partner. The Infamous Podcast is Johnny Pottorf and Brian Tudor, and is produced and edited by Brian Tudor.

Subscribe today!