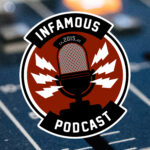 Free Comics, Battling Superheroes and the Red Woman
On this the 41st episode of the Infamous Podcast Johnny and Brian talk about what is happening in the world of geekiness this week, the return of Game of Thrones, the X-Men Apocalypse Trailer reveal, Free Comic Book Day on May 7th and they break down what made the Civil War Comic so good, and what they are expecting from Captain America: Civil War.
X-Men Apocalypse Trailer Reveal
What did you think about the real of [Spoiler] at the end of the new trailer? And by spoiler we mean <blah> Wolverine and his claw.
Free Comic Book Day Preview/Issues We Want
With Free Comic Book Day about a week away (May 7th) it is time to talk about all the really cool things that happen on FCBD. Plus we got a sneak peek at a few of the books and have spoiler free reviews several books.
Civil War – The Comic
Johnny and Brian are both fans of the Civil War story, they share their thoughts on the comic and how it will impact the movie (out May 6th)and the larger world of the MCU now that Spider-Man has entered the fold.
New Comics This Week
Johnny
ALIENS DEFIANCE #1
AVENGERS STANDOFF ASSAULT ON PLEASANT HILL OMEGA #1
BILL & TED GO TO HELL #3
FAITH #4
GUIDE MARVEL CINEMATIC UNIV IRON MAN THOR DARK WORLD
IMPERIUM #15
MOON GIRL AND DEVIL DINOSAUR #6
OUTCAST BY KIRKMAN & AZACETA #18
PEANUTS VOL 2 #32
PREVIEWS #332 MAY 2016
SAGA #36
STAR WARS #18
VELVET #14
Brian
AMAZING SPIDER-MAN #11
ANGELA QUEEN OF HEL #7
DISNEY`S DARKWING DUCK #1
DOCTOR STRANGE #7
GRAYSON #19
MOON GIRL AND DEVIL DINOSAUR #6
SAGA #36
SEX CRIMINALS #15
STAR-LORD #6
STAR WARS #18
WE ARE ROBIN #11
Contact Us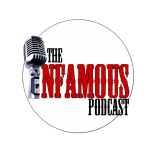 The Infamous Podcast can be found wherever podcasts are found on the Interwebs, feel free to subscribe and follow along on social media. And don't be shy about helping out the show with a 5 star review on iTunes to help us move up in the ratings.
@infamouspodcast
facebook/infamouspodcast
stitcher
iTunes
contact@infamouspodcast.com
The music in this episodes is Pomade by Silent Partner. The Infamous Podcast is Johnny Pottorf and Brian Tudor, and is produced and edited by Brian Tudor.

Subscribe today!