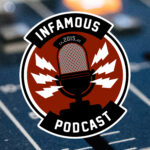 That Dragon Was as Cold as Ice
This week on the show Johnny and Brian are FINALLY joined by Cousin Kenny! And they are only talking one thing… Game of Thrones Season 7! So listen up as they share their thoughts on how GoT Season 7 panned out. Did they love it? Hate it? You'll have to listen to find out.
Game of Thrones Season 7 (2017)
Summary
Like the sixth season, Season 7 is based on an outline of the two final, presently-unpublished novels in George R. R. Martin's A Song of Ice and Fire series, The Winds of Winter and A Dream of Spring. And after a summer lasting almost ten years, the words of House Stark have finally become reality once again: winter is here.
Cast & Crew
Starring Cast
Peter Dinklage as Tyrion Lannister (7 episodes)
Nikolaj Coster-Waldau as Ser Jaime Lannister (6 episodes)
Lena Headey as Queen Cersei Lannister (6 episodes)
Emilia Clarke as Queen Daenerys Targaryen (7 episodes)
Kit Harington as King Jon Snow (7 episodes)
Aidan Gillen as Lord Petyr Baelish (7 episodes)
Liam Cunningham as Ser Davos Seaworth (7 episodes)
Sophie Turner as Princess Sansa Stark (7 episodes)
Maisie Williams as Princess Arya Stark (6 episodes)
Carice van Houten as Lady Melisandre (2 episodes)
Nathalie Emmanuel as Missandei (5 episodes)
Indira Varma as Ellaria Sand (2 episodes)
Alfie Allen as Theon Greyjoy (4 episodes)
Gwendoline Christie as Brienne of Tarth (5 episodes)
Conleth Hill as Varys (6 episodes)
John Bradley as Samwell Tarly (5 episodes)
Isaac Hempstead-Wright as Prince Bran Stark (5 episodes)
Jerome Flynn as Ser Bronn (4 episodes)
Hannah Murray as Gilly (3 episodes)
Joe Dempsie as Gendry (2 episodes)
Kristofer Hivju as Tormund Giantsbane (4 episodes)
Rory McCann as Sandor Clegane (4 episodes)
Iain Glen as Ser Jorah Mormont (6 episodes)
Guest Starring Cast
Richard Rycroft as Maester Wolkan (6 episodes)
Anton Lesser as Qyburn (5 episodes)
Rupert Vansittart as Lord Yohn Royce (5 episodes)
Jim Broadbent as Archmaester Ebrose (4 episodes)
Pilou Asbæk as King Euron Greyjoy (4 episodes)
Jacob Anderson as Grey Worm (4 episodes)
Hafþór Júlíus Björnsson as Ser Gregor Clegane (4 episodes)
Richard Dormer as Lord Beric Dondarrion (4 episodes)
James Faulkner as Lord Randyll Tarly (4 episodes)
Vladimir Furdik as the Night King (4 episodes)
Tom Hopper as Dickon Tarly (4 episodes)
Paul Kaye as Thoros of Myr (3 episodes)
Ellie Kendrick as Meera Reed (3 episodes)
Tim McInnerny as Lord Robett Glover (3 episodes)
Daniel Portman as Podrick Payne (3 episodes)
Diana Rigg as Lady Olenna Tyrell (2 episodes)
Mark Gatiss as Tycho Nestoris (2 episodes)
Bella Ramsey as Lady Lyanna Mormont (2 episodes)
Rosabell Laurenti Sellers as Tyene Sand (2 episodes)
Gemma Whelan as Yara Greyjoy (2 episodes)
David Bradley as Walder Frey ("Dragonstone")
Keisha Castle-Hughes as Obara Sand ("Stormborn")
Ben Crompton as Eddison Tollett ("Dragonstone")
Aisling Franciosi as Lyanna Stark ("The Dragon and the Wolf")
Ben Hawkey as Hot Pie ("Stormborn")
Jessica Henwick as Nymeria Sand ("Stormborn")
Joseph Mawle as Benjen Stark ("Beyond the Wall")
Wilf Scolding as Prince Rhaegar Targaryen ("The Dragon and the Wolf")
Crew
Producers
David Benioff: executive producer & showrunner
D.B. Weiss: executive producer & showrunner
Bernadette Caulfield: executive producer
Frank Doelger: executive producer
Carolyn Strauss: executive producer
George R.R. Martin: co-executive producer
Vince Gerardis: co-executive producer
Guymon Casady: co-executive producer
Bryan Cogman: co-executive producer
Greg Spence: producer
Chris Newman: producer
Lisa McAtackney: producer
Michele Clapton: costume designer
Deborah Riley: production designer
Ramin Djawadi: composer
Nina Gold: casting director
Robert Sterne: casting director
Writers
David Benioff & D.B. Weiss: episodes 1, 3, 4, 6 and 7
Bryan Cogman: episode 2
Dave Hill: episode 5
Directors
Jeremy Podeswa: episodes 1 and 7
Mark Mylod: episodes 2 and 3
Matt Shakman: episodes 4 and 5
Alan Taylor: episode 6
Episodes
EP #
Title
Directed by
Written by
Original air date
U.S. viewers
1
Dragonstone
Jeremy Podeswa
David Benioff & D. B. Weiss
16-Jul-17
10.11
At the Twins, Arya fatally poisons the remaining lords of House Frey. The White Walkers march toward the Wall, where Tollett allows Bran and Meera inside. At Winterfell, despite Sansa's disapproval, Jon secures the loyalties of Houses Umber and Karstark, who fought alongside Ramsay in the Battle of the Bastards. At the Citadel, Samwell steals books that reveal a large reservoir of dragon glass in Dragonstone and sends word to Jon. He later finds Jorah in a cell. In the Riverlands, Arya meets a group of friendly Lannister soldiers, who take her intention to kill Cersei as a joke. Thoros shows Sandor a vision in the fire. The revelation leads him to believe in the Lord of Light. In King's Landing, Jaime tells Cersei of the crucial need for allies. She welcomes Euron, who proposes marriage to her in exchange for his Iron Fleet and a chance to kill Theon and Yara. Cersei declines citing trust as a concern, so Euron promises to return with a "gift" to prove his loyalty. Daenerys arrives at Dragonstone, the home of House Targaryen once occupied by Stannis, with her army and dragons.
2
Stormborn
Mark Mylod
Bryan Cogman
23-Jul-17
9.27
Daenerys sends the Dornishmen with Yara's fleet to Sunspear and the Unsullied to Casterly Rock, deciding to place King's Landing under siege. She questions Varys' loyalty and threatens to burn him alive if he ever betrays her. Melisandre arrives and encourages her to invite Jon Snow to Dragonstone. Grey Worm and Missandei consummate their relationship. Cersei gathers several lords, asking for their fealties and elevating Randyll Tarly as Warden of the South. Qyburn shows Cersei a prototype ballista capable of killing dragons. Arya meets with Hot Pie and learns of Jon's ascension to King in the North, halting plans to travel to King's Landing and instead setting a course for Winterfell. After receiving Samwell's letter, Jon leaves for Dragonstone in hopes of convincing Daenerys to support the fight against the White Walkers. He leaves Sansa in charge and aggressively warns Littlefinger to keep his distance. Samwell applies a forbidden treatment on Jorah's Greyscale infection. Euron's fleet attacks Yara's. Obara and Nymeria are killed, while Ellaria, Tyene, and Yara are captured. Theon shows flashes of his time as Reek, hesitating to challenge Euron before fleeing the carnage by jumping into the sea.
3
The Queen's Justice
Mark Mylod
David Benioff & D. B. Weiss
30-Jul-17
9.25
Jon arrives at Dragonstone. Daenerys demands his fealty. He refuses and focuses instead on convincing her to fight the Army of the Dead. Following Tyrion's advice, Daenerys grants Jon access to the island's dragon glass. Melisandre hides her presence from Jon and leaves for Volantis. Bran arrives at Winterfell and reveals his newfound role as the Three-Eyed Raven to Sansa. In King's Landing, Euron returns with Ellaria and Tyene as a gift for Cersei, who promises to marry him after the war is won. She also awards him co-control of her military alongside Jaime. Cersei administers the same poison to Tyene used to kill Myrcella, forcing Ellaria to watch her daughter's impending death. In Oldtown, a healed Jorah leaves to find Daenerys. Ebrose forgives Samwell. Grey Worm and the Unsullied attack Casterly Rock, only to find it mostly abandoned. Jaime led most of the Lannister forces in an attack on Highgarden, while Euron's fleet ambushes and destroys the Unsullied's ships. The Lannister forces overwhelm Olenna's army. Jaime induces Olenna to drink poison, offering her a quick and painless death. After drinking it, she confesses to poisoning Joffrey.
4
The Spoils of War
Matt Shakman
David Benioff & D. B. Weiss
6-Aug-17
10.17
Arya returns to Winterfell, where she reunites with Sansa and spars with Brienne, both of whom are unnerved by her exceptional fighting skills. Bran unemotionally bids farewell to Meera, divulging that he is no longer the boy she accompanied through the North. Littlefinger presents Bran with the dagger that was previously used in his attempted assassination. Cersei assures the Iron Bank a full return on their investment, as a train carrying gold from Highgarden is on its way to King's Landing. In a cave filled with dragon glass, Jon reveals ancient paintings to Daenerys depicting the First Men and the Children of the Forest joining forces against the undead. Later, Daenerys learns of the sacking of Highgarden by Lannister forces and realizes her attack on Casterly Rock was a distraction. Despite Tyrion's protests, she decides to take action. Led by Daenerys riding Drogon, the Dothraki cavalry catches the Lannister army by surprise and decimate or capture its remaining forces. Drogon is wounded during the fight by a spear fired from the scorpion ballista being manned by Bronn. Jaime mounts a desperate charge on horseback at a vulnerable Daenerys, but Drogon spews fire in time to thwart the attack. Bronn tackles Jaime into the river in time to save him.
5
Eastwatch
Matt Shakman
Dave Hill
13-Aug-17
10.72
Jaime and Bronn return to King's Landing. Against Tyrion's advice, Daenerys has Drogon burn Randyll and Dickon alive for remaining allegiant to Cersei, forcing the other captives to pledge fealty to the former. Jorah arrives at Dragonstone and reunites with Daenerys. Maester Wolkan alerts Jon and the Citadel about the approaching wights to the Eastwatch by the Sea. Jon decides to travel beyond the Wall and capture a wight in order to convince Cersei for a temporary alliance. Davos smuggles Tyrion inside King's Landing, where he secretly meets with Jaime and offers an armistice, which Cersei accepts, informing Jaime that she is pregnant. Davos rendezvouses with Gendry and returns him to Dragonstone. With the Citadel ignoring Wolkan's letter, Samwell steals several books and leaves with Gilly and Little Sam. At Winterfell, Littlefinger notices Arya spying on him and leads her to take a letter written by Sansa from his room. Jon, Jorah, and Gendry joined by the Hound, the Brotherhood, and a group of the Free Folk led by Tormund, leave Eastwatch and pass the Wall, intending to capture a wight as evidence for Cersei that the Army of the Dead is real.
6
Beyond the Wall
Alan Taylor
David Benioff & D. B. Weiss
20-Aug-17
10.24
At Winterfell, Littlefinger plots to isolate Sansa. Tensions between Arya and Sansa grow following Arya's discovery of the letter Sansa sent as a child begging for Robb's fealty to Joffrey. Sansa discovers Arya's bag of faces she took from Braavos. At Dragonstone, Tyrion counsels Daenerys about her upcoming negotiations with Cersei. Beyond the Wall, Jon leads a raiding party to capture a wight to bring South as evidence of the White Walkers' existence. After successfully capturing one, the group is besieged by the White Walker army. Jon has Gendry return to Eastwatch and send a raven to Daenerys to request her help. Thoros freezes to death overnight. Daenerys arrives and saves the group from the wights, with the help of her dragons. The Night King, the leader of the White Walkers, throws an ice spear at Viserion, one of Daenerys' dragons, and kills it. Daenerys flies off, along with the raiding party, but is unable to save Jon. Benjen Stark intervenes and sacrifices himself to allow Jon to escape. When Jon and Daenerys are reunited, Jon pledges himself and the North to Daenerys as Queen. The Night King resurrects Viserion, making the dragon a part of his army.
7
The Dragon and the Wolf
Jeremy Podeswa
David Benioff & D. B. Weiss
27-Aug-17
12.1
At King's Landing, the wight is presented to the Lannisters. Cersei demands Jon's neutrality in the Great War, but he upholds his oath to Daenerys, provoking Cersei to leave. Tyrion meets privately with Cersei, apparently persuading her to ally. Cersei later reveals to Jaime that she was lying and instead intends to use the Golden Company of Braavos to secure her hold on Westeros. Disgusted, Jaime deserts her and rides north. Bound for White Harbor, Jon and Daenerys make love. At Dragonstone, Theon earns the respect of his men and leads them to rescue Yara. At Winterfell, Littlefinger sows dissent using Arya's threatening demeanor with Sansa, who assembles a trial. After listing Littlefinger's acts of treason against House Stark and the North, Sansa has Arya execute him. Samwell arrives at Winterfell and meets with Bran, where both discuss Jon's parentage. They realize Jon is a trueborn Targaryen named Aegon and valid heir to the Iron Throne, with his parents—Rhaegar Targaryen and Lyanna Stark—having married in secret. At Eastwatch, an undead Viserion damages the Wall, allowing the Army of the Dead to march south.
New Comics This Week
Johnny
GREEN LANTERNS #30
HARBINGER RENEGADE #7
JOURNEY SW LAST JEDI CAPT PHASMA #1
NIGHTWING #28
OUTCAST BY KIRKMAN & AZACETA #30
SEVEN TO ETERNITY #9
STAR WARS ADVENTURES #1
STAR WARS DARTH VADER #5
STAR WARS ROGUE ONE ADAPTATION #6
WALKING DEAD #171
WOODS #35
Brian
ALL NEW GUARDIANS OF GALAXY #9
BATMAN #30
JOURNEY SW LAST JEDI CAPT PHASMA #1 (OF 4)
NIGHTWING #28
ROCKET GIRL #9
STAR WARS ADVENTURES #1
STAR WARS DARTH VADER #5
X-MEN GOLD #11
WALKING DEAD #171
Contact Us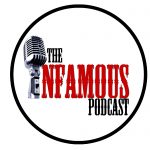 The Infamous Podcast can be found wherever podcasts are found on the Interwebs, feel free to subscribe and follow along on social media. And don't be shy about helping out the show with a 5-star review on iTunes to help us move up in the ratings.
@infamouspodcast
facebook/infamouspodcast
instagram/infamouspodcast
stitcher
iTunes
Google Play
contact@infamouspodcast.com
The music in this episodes is Moose from Bensound.com. The Infamous Podcast is Johnny Pottorf and Brian Tudor, and is produced and edited by Brian Tudor.

Subscribe today!